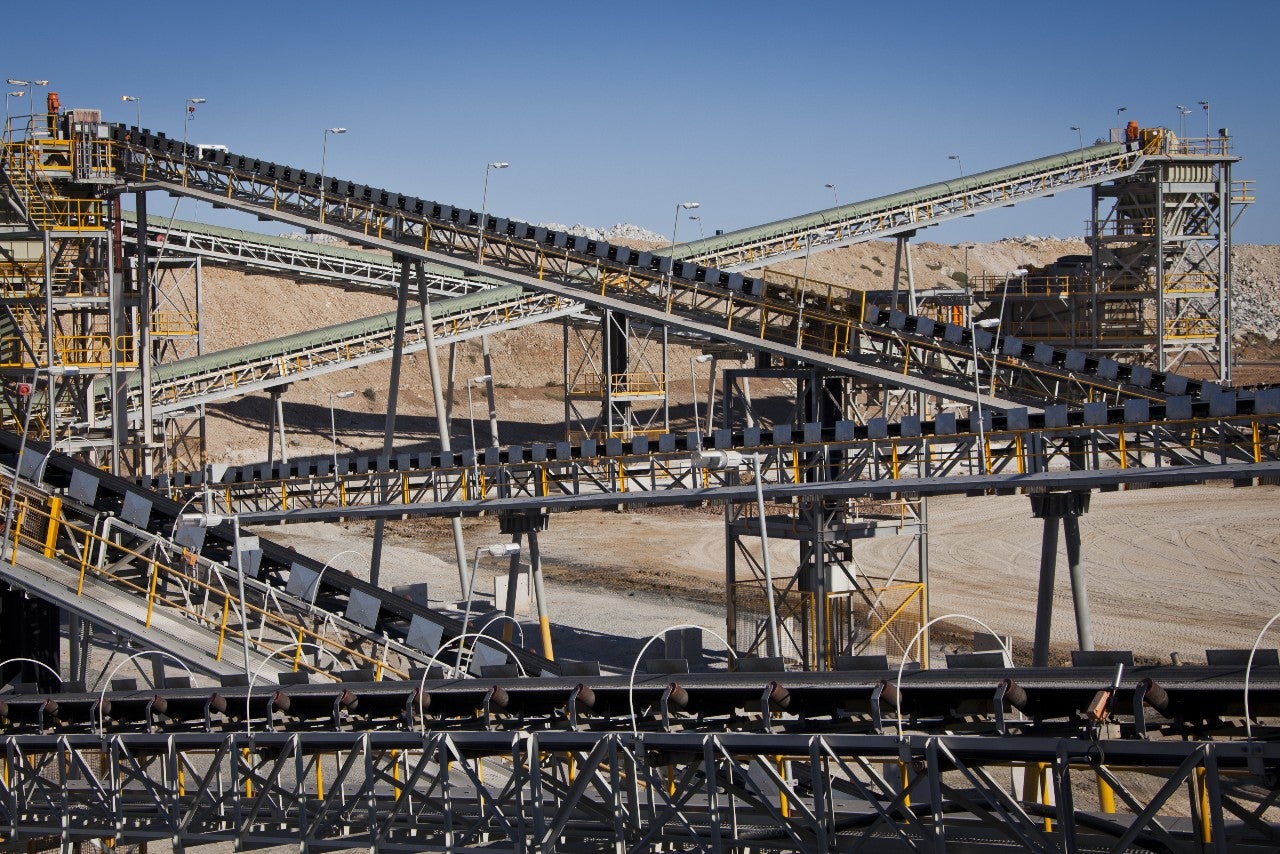 Robotics, automation, and related technologies look set to radically transform the mining sector. New innovations like remote monitoring and surveillance, predictive analytics, AI and Big Data, and IoT deployment can reshape future mines and projects. Yet tech-driven safety, efficiency, and sustainability gains must coexist with significant workforce changes.
A growing market
According to analysis by GlobalData, the mining IT market is expected to grow significantly over the coming years, outpacing several comparable industries like manufacturing and energy.
The market for mining artificial intelligence and Big Data is predicted to grow at a much faster rate than the wider mining IT market. The sheer scale of the opportunity is vast, and shows no sign of slowing down.
Data and danger
According to the World Economic Forum, AI is already having an impact on mining via data analytics and machine learning by "maximising" productivity and efficiency. The WEF emphasise how data "collection and evaluation" represents an invaluable initial step in modern mining which affects most aspects of the process, including "the integration of new technologies."
Data collection can prove hazardous. One way advanced technologies are expected to transform mining involves using remote controlled machines or robots to undertake expeditions which would be dangerous for human workers. A recent project called UNEXMIN showed how harnessing robotics and automation can assist with data collection and exploration to safely provide enhanced intelligence on abandoned and flooded mines, which could be reopened.
The future is now
Some companies are already taking advantage of the power of AI, automation, and data by deploying a range of new technologies For example, according to GlobalData, Rio Tinto has made use of "73 autonomous trucks using precision GPS", which can detect "obstacles using radar and laser sensors". The vehicles are monitored remotely from a control centre 750 miles away. Autonomous vehicles like these are likely to be used first with open-pit mines before being applied underground.
Two other companies have partnered to install and test "a tailored IoT system" providing "geofencing" to keep crew members safe when using "heavy machinery engaged in marine diamond mining operations".
One company to have successfully developed an integrated robotics product designed specifically for sprayed concrete applications is Normet, a Finnish mining company specialising in underground mining and tunnelling. Their SmartScan technology combines remote scanning and real-time data visualisation to enhance efficiency, quality, and reduce waste. Using 3D laser scanning and mechanized equipment, operators can get automatic calculations, and monitor the thickness and volume of sprayed concrete, via a software package that creates "accurate point-cloud data". Automated reports can then be consulted for retrospective analysis and evaluation.
Other use cases include wireless sensors to "avoid unplanned maintenance or downtimes", a "subsurface Wi-Fi network", to support equipment, personnel tracking, and control, and a "fully autonomous mine site", which automatically moves coal directly to a port.
Yet global mining is thought to be barely on the cusp of the next industrial revolution, with paradigmatic change still looming on the horizon.
The state of play
Most current mines and projects remain operational, with surface, underground, and marine projects leading the way.
By contrast, prospective mining projects with a high to medium likelihood of becoming operational in the future are already attracting billions of dollars of capital expenditure, with Australia and Canada ahead of other countries. Many prospective mines are likely to be built based on smart mining, and will require ongoing maintenance.
Moving towards Mining 4.0
According to a report by MAPFRE Global Risks , a harmonious transition to an authentic industry 4.0 paradigm requires a combination of "automation and robotics", AI, IoT, sector-specific sensors, drones, digital twins, VR, and "taking advantage of mining cavities for energy transmission and storage".
Ángel Cámara Rascón, Ph.D. in Mine Engineering and Professor in the Department of Energy and Fuel at the School of Mining Engineering at the UPM, writing in the same report, highlighted two major industry concerns in the move to mining 4.0: Public perception and equitable distribution of resources. For Rascón, it is critical that society understands how "mining is the cornerstone of sustainable development", and "resources produced by sustainable, efficient mining" are distributed so that all stakeholders see the benefit of the industry to their quality of life.
Another collaborative, crowd-sourced simulation by idoba and Wikistrat, based on an online discussion by 28 professionals from mining and related industries, sought to evaluate how new technologies would affect workers. These experts cited AI and robotics as being "at the forefront of workplace safety", with "sensors, real-time data, and analytics" being used to track "changes in temperature and vibrations" to keep workers safe.
Wearable technologies are also thought to be important to monitor workers' overall health and energy levels, thereby reducing the risk of incidents caused by factors like fatigue, dehydration, or adverse cardiovascular events. Increasingly smart mines may improve worker safety and make the maintenance of current mining operations more efficient whilst driving down costs.
Yet the broad consensus of these industry experts was that mining "is not particularly well-prepared" for a future characterised by machines replacing large portions of the human workforce. This could create opportunities for creative companies who can reimagine how mining projects operate by integrating "digitalisation", providing retraining opportunities for existing workers, and successfully integrating robotics, automation, and human expertise.
A changing workforce
As mining projects and markets continue to grow, so do the number of jobs related to mining 4.0 themes. GlobalData's proprietary thematic analysis shows that despite the pandemic, the proportion of jobs tagged with themes related to robotics and automation has steadily increased since 2019.
Mining 4.0 technologies are also driving a parallel shift in the demand for specific skills required by the workforce of the future. According to analysis by GlobalData, though various forms of engineering remain the most popular education stream for mining jobs related to robotics since 2019, categories like robotics, automation, and computer science are rapidly catching up.
Future snapshots
The mining landscape is being dramatically reshaped by the closely intertwined forces of AI, robotics, automation, and a radical new era defined by enhanced interconnectivity. The stage is set for mining companies, workers, communities, and wider society alike to see myriad benefits from the rapid rollout of new technologies.
Research by GlobalData has revealed that some projects, like a Gold field in South Africa, are already painting a picture of how a fully integrated variety of mining 4.0 technologies can propel mining operations into the future. Their project will be equipped with a "private LTE network…assisted by remote controlled vehicles, excavators, drills, and drones", catapulting the gold industry firmly into a new phase of automated operations.
Yet the promise of smart, automated technologies also brings new challenges as greater levels of automation may translate into lower demand for human workers. The mining sector must plan to address rapid changes in the make-up of its workforce to ensure the smoothest possible paradigm shift.
As mining wrestles with the necessity of becoming increasingly sustainable and prepares to alter its focus on coal to embrace the green revolution, these sorts of technological advances could galvanise the industry's efforts to realise its potential as a crucial part of the energy transition, and the battle against climate change.