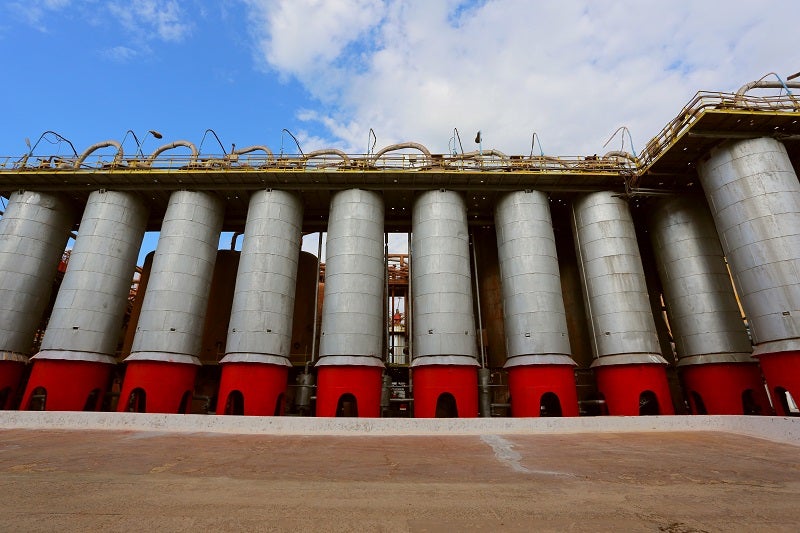 Alumina powder is derived from bauxite ore using the Bayer process. The powder is then smelted using a fused salt electrolysis process to extract pure liquid aluminium.
Before alumina powder is taken for smelting it is stored in silos, where it is imperative that levels are monitored to ensure that operations remain optimal. A range of process instrumentation is available to the mining industry to monitor levels in alumina powder silos, providing operators with data on how much material is being stored and alerting them if levels rise too high or fall too low.
Level measurement equipment
Before choosing process instrumentation for alumina silos, operators must consider what specific challenges that this material presents. Firstly, alumina powder is stored in tall containers, so equipment with a wide measuring range is important. Secondly, alumina processes generate a lot of dust, so equipment must be able to work efficiently in dusty environments.
The VEGAPULS 69 is a non-contact adaptable sensor used for continuous measurement of bulk solids, including alumina power, for a number of processes and conditions. It offers excellent signal focus so is suitable for large silos and vessels.
The sensor also has a high frequency of 80GHz. Not only does this make it suitable for a variety of bulk solid material, but it also means it can work optimally even in dusty conditions. Setup is simple, and it can be installed internally or externally of the silo/vessel.
The VEGAWAVE 62 is a level switch used to detect minimum and maximum limit levels of powders and bulk solids. Operators may choose to use it in conjunction with the VEGAPULS 69 to monitor alumina powder levels.
The level switch's robust tuning fork is suitable for grain sizes up to 10mm (the typical grain size of alumina powder is 0.045mm) and with its cable extension the position of the switching point can be set up to 80m away from the installation location, making it suitable for tall silos.
Why VEGA?
VEGA is an international manufacturer of sensors for level measurement, level switches and pressure measurement.
VEGA's network of distributors and subsidiaries are active in more than 80 countries. All products are fully certified with safety and quality approvals for worldwide applications.