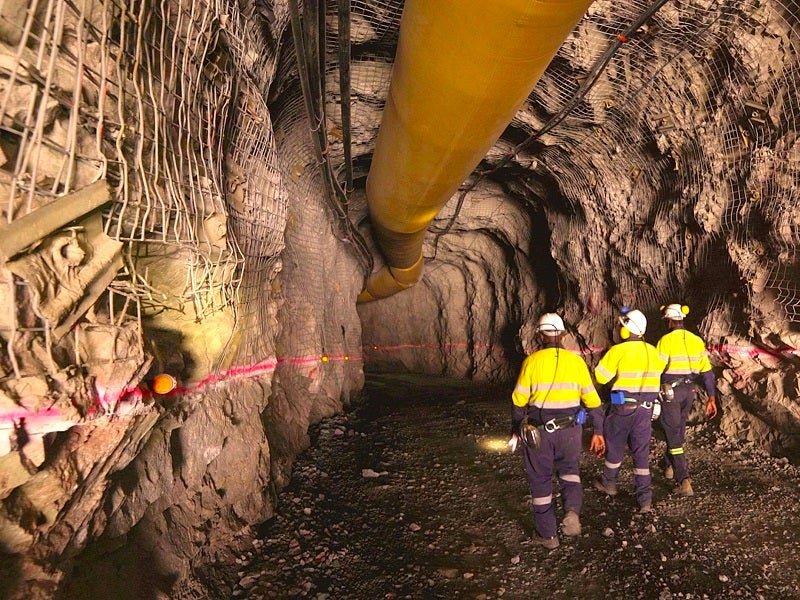 A leaky feeder system is used to enable communication between mining staff above and below ground over long distances, using both wired and wireless systems. A coaxial cable with sections of outer shielding shaved away allows radio signals to "leak" in and out, transmitting them over long distances. A leaky feeder amplifier acts as an antenna for devices to receive a signal, and drastically expands the distance over which miners can communicate with each other.
This means a worker ten miles underground can easily speak to a colleague on the surface, using the antenna between them to connect the signal. This is done via a stationary telephone console such as the Pyott Boone Electronics (PBE) 112 mine telephone, a two-way radio which can be integrated into a leaky feeder system.
This phone, which is distributed by leading mine safety equipment supplier Carroll Technologies Group, can be incorporated into PBE's fourth generation of leaky feeder technology. This incorporates systems such as proximity alerts, gas monitoring, as well as both text and voice communication into the leaky feeder system, improving safety throughout an operation as notice of emergency can be passed through the site more efficiently.
Leaky feeder systems require an amplifier to expand their reach
PBE's bidirectional line amplifier 4 (BDA-4) maintains signal levels throughout a leaky feeder system, and can be used as a tag reader, modem or gateway. It incorporates SAW filter design to increase bandwidth and provide solid and consistent RF performance.
BDA-4 supports voice and data transmission, with wireless tracking interconnectivity and wires interconnectivity on select models.
The device also is designed to adjust to the radio signal it receives accordingly to minimise the risks of noise degradation, with three multi-platform communications adapter slots which allow it to adapt to multiple leaky feeder systems.
The BDA-4 also provides both remote and local diagnostics to indicate the current state of the amplifier for ease of maintenance. Carroll Technologies Group representatives are always on hand, through either a scheduled visit or via a phone call to one of its expert MinerCare operatives, to provide all necessary repairs and technical support a customer of theirs may need on their leaky feeder amplifier.
MinerCare support is available 24/7, meaning there's always a helping hand available for customers of Carroll, even during a late-night shift. The brand prides itself on fostering a healthy working relationship with its clients, meaning when you buy a Carroll Technologies product, you aren't just investing in a device that will serve you here and now but in your business' future.