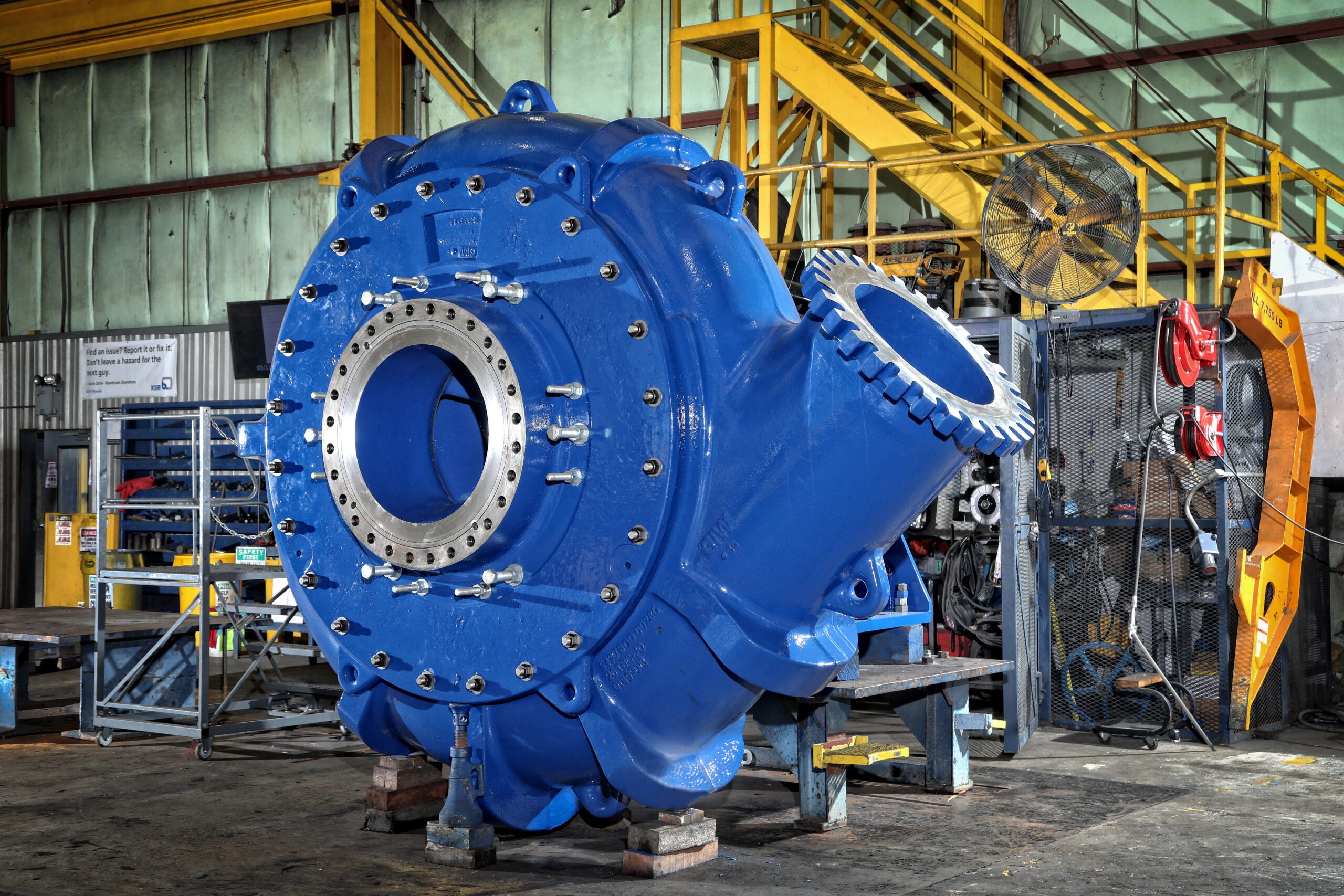 Mine operators are always looking for a global partner that can supply specialised and custom-engineered heavy slurry transport equipment and systems that reduce downtime, lower total cost of ownership and increase efficiency.
In 1871, Johannes Klein invented a unique boiler feed apparatus and, together with investors Friedrich Schanzlin and Jakob Becker, set up Frankenthaler Maschinen- & Armaturen-Fabrik Klein, Schanzlin und Becker (KSB).
For 150 years, KSB has innovated in the fields of pumps for an increasing range of industries and applications. KSB now owns and operates 27 manufacturing sites and has subsidiaries and representatives in over 100 countries to provide product service and maintenance support.
KSB acquired GIW Industries of Grovetown, USA in 1988. GIW has been manufacturing slurry pumps since 1891, and its acquisition heralded KSB's entry to the global mining industry and made them one of the leading providers of slurry pumps and parts to the hard rock, mineral mining and dredging markets. GIW is now part of the KSB Mining division.
Aggressive slurries that are heavily laden with suspended minerals need to be transported to different parts of a mine site, and you need robust slurry pumps that will be up to the job.
Moving the heavy sediment-laden material is an extremely tough proposition. GIW® slurry pumps are designed with superior hydraulic and mechanical designs making them robust and reliable. Along with the industry-leading wear and material technology, they provide customers with long-wearing solutions that will meet and exceed their needs for many years.
Decades of experience
KSB Group's technical experts have decades of experience in heavy-duty centrifugal slurry pumps and hydraulics systems. They understand each operation is different and that an off-the-shelf system is not necessarily the most efficient solution. They offer everything from pump design and selection to testing, application engineering, spare parts and services and on-site support. This support is also tailored to the customer's individual needs, with elements of commissioning and startup, equipment monitoring, pump maintenance and turnkey repairs.
KSB's line of GIW® slurry pumps can handle extreme conditions found in hard rock and mineral mining applications. Pumps and wear parts engineered for use in SAG (semi-autogenous grinding) and ball mill circuits, mill discharge (best suited to grind materials down to particle sizes ranging from 60 to 100 mesh), cyclone feed and screen pumps, hydraulic transport, and pipeline booster stations.
Satisfied customer
One recent solution by KSB was for a South American copper mine. The client needed a cyclone feed pump with a reliable shutdown schedule to minimise costs. The GIW® MDX-750, the world's largest mill pump, proved to be the best one for the application. Once it was commissioned, the copper mine saved an estimated US$6m per operating line.
In order to meet the run-time targets, KSB engineers applied their latest material technology called Endurasite®. This material is capable of resisting abrasion for longer periods, and when applied to the MDX-750 wet-end parts, this white-iron alloy improves pump wear life and extends the time between maintenance shutdowns.
Testing a new material in an active mine carried its own problems.
What if the new pump fails?
What if it shuts down mid-operation?
How much will it add to operational costs?
However, with the skills and experience that KSB brought to the project, the client was able to realise a 50% reduction in expensive unanticipated shutdowns. The KSB team supervised all phases of testing, performing on-the-spot and timely maintenance to ensure optimum results were achieved. They initially set a target of 4,500 hours for the first test cycle, but soon realised it would be possible to extend test cycles to over 5,000 hours without operational risk.
At the end of the project, not only did KSB experts achieve the customer's goal, but they were also able to deliver excellent results, in that annual shutdowns were cut in half and the total cost of ownership was substantially improved. The client benefitted from the pumps being able to operate continuously for 5,000 hours, up from 800.
Efficient and cost-effective
It is well known that all types of slurries are challenging in their own ways. Mine operators need to overcome a multitude of factors if they want to have an operation that is efficient, cost-effective, and produces results in line with corporate expectations.
Slurry pumps are designed to move a mixed composition of rocks, sand and chemicals, which can be extremely abrasive and/or corrosive. Transporting such material wears pump parts quickly. And when pump parts wear out before scheduled maintenance points, production stops, and the loss of production time can be costly. That is why the range of GIW® mining pumps is engineered to give your equipment maximum and reliable uptime.
Rugged, long-wearing and cost-effective slurry pumps and associated services are what KSB designs and delivers with every project. Clients achieve maximum productivity and minimised costs, as they are given a custom-engineered system that will be backed by a specifically tailored support package.
Further details
For more information, please visit https://www.ksbmining.com/