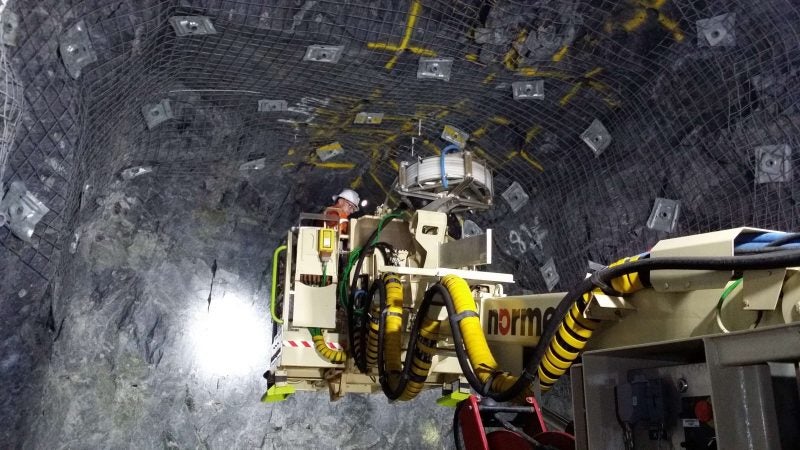 Recent years have seen a huge upsurge in the number of electric vehicles on our roads. By the end of 2018, global cumulative sales of highway-legal light-duty plug-in vehicles reached 5 million, up 3 million from 2016. An increasing number of people are realising the benefits of electric vehicles, with electric battery technology paving the way to improved sustainability.
It's not surprising then, that the technology is making an impact in various global industries looking to reduce their environmental impact, with mining and tunnelling one of the areas currently crying out for an energy overhaul.
As underground operations tunnels deeper into the earth, the energy levels required for diesel-powered equipment increases. But with many countries placing restrictions on diesel particulate output, this source of energy is not always a viable option.
Battery electric vehicles (BEV), on the other hand, produce far less damaging emissions and use less energy, with a range of additional features that benefit not only an operation's carbon footprint, but a company's bottom line.
Fully emission-free, BEVs provide safe operation in all underground situations, including downhill, level and uphill tramming. With the whole driveline is optimised, many low-efficiency components such as the gearbox, dropbox and shafts of the machine are eliminated, while the hydraulic circuit is reduced to a minimum. With so many maintenance-heavy parts no longer needed, BEVs can help to increase productivity while lowering repair and upkeep costs.
According to Jukka Ristimäki, product line director of new technologies at leading underground equipment provider Normet: "With battery electric vehicles, you always compare the diesel savings first, but for mining operators, the ventilation and cooling savings must also be considered.
"These can be really significant, especially where mines are expanding to deeper and deeper locations and require more ventilation, which is not always possible with other equipment."
This cost-reducing knock-on effect in areas such as ventilation and air conditioning means that in many cases, this new technology can regularly outperform diesel counterparts of the same standard.
When it comes to health and safety for personnel, there are further benefits to be found, with no heat generated and no exhaust emissions, as well as lower noise levels with battery electric vehicles. They also require less maintenance and avoid emission of known carcinogen DPM.
At the forefront of technology
While BEV technology is still in its infancy, developments are progressing rapidly. For Normet, being at the forefront of these advancements is key to providing their customers with the very best in underground equipment, whilst keeping a firm focus on sustainability in the industry.
A new range of electric battery architecture the company recently launched is one example of this drive for positive progress. Introduced in April, Normet's SmartDrive battery electric vehicle fleet utilises the latest long-life industrial grade Lithium-Ion battery technology alongside fast charging capability and electric motors. Specially designed for harsh environments, the equipment covers all major machines in the mining and tunnelling portfolio
According to Ristimäki: "Our battery electric vehicles are attractive to mining customers because they already have electrical power sources built in, with electricity already running through the operation for drilling equipment, etc. There is no need to invest in additional infrastructure.
"That's why our SmartDrive models are equipped with on-board charging, so operators can actually plug into any existing connection to charge the vehicle and charging can happen while it is in operation. For example, concrete spraying can be taking place while the battery is charging, making is as easy as possible for the customer and also increasing operational productivity."
This onboard charging ability requires just two and a half hours to load the battery from 0% to 80%, and can be charged from any standard underground AC-socket, without the need for operators to spend time swapping batteries.
New developments in BEV
With many countries imposing strict legislations on air quality in mines and tunnels, many operators are now investing in cleaner equipment, such as batter electric vehicles. In countries where no such rules exist, pick-up of this ground-breaking technology is somewhat slower.
"Interest is gradually increasing," says Ristimäki. "In the mining industry, many operators are now still in a trial phase with the technology, but I think in the next three to five years, it will really pick up."
And the future looks just as bright for Normet, with a range of developments on the horizon: "We have recently launched our M-series, which is a medium sized mining fleet. It includes have seven different models; one of those is for tunnelling, while the rest are more or less aimed at mining. When we have rolled this out successfully, we hope to expand to larger as well as smaller sized battery electric vehicles."
With so many innovative developments underway, the new generation of Normet mining and tunnelling equipment is more sustainable and cost-effective than ever before.