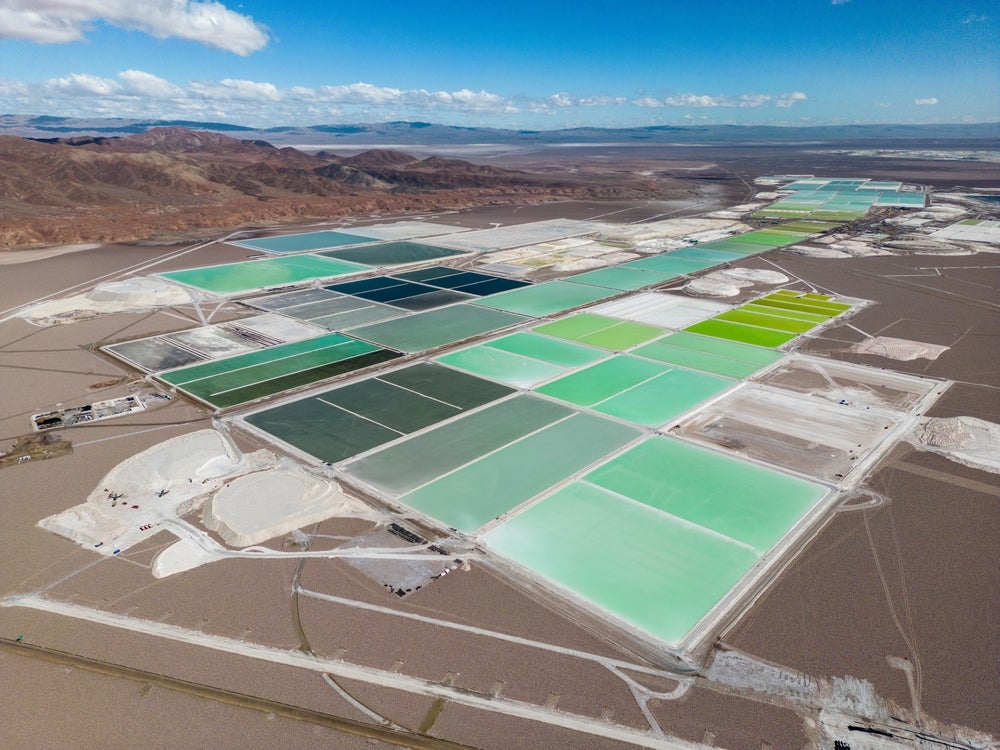 The electric vehicles (EVs) market is growing rapidly, and with government incentives and consumer demand making them more attainable, this increase is unlikely to slow anytime soon. Eight million EVs were sold around the world in 2022, and sales are projected to top 50 million in 2035.
Most EVs today use NMC batteries, a type of lithium-ion (Li-ion) unit that consists of nickel, cobalt, and manganese cathodes. Mining of these raw materials is needed on a much greater scale to meet the surging demand for batteries. Existing operations will need to be improved and new ones established to ensure supplies are economically and environmentally sustainable.
As it stands, clear leaders in the extraction of these metals have already emerged. However, much untapped potential remains. Use the interactive visualisation below to explore the production and reserves of critical battery minerals by country.
Challenges with battery mining around the world
While all mining locations present challenges, the altitude of many battery metal mining sites is often cited as a key obstacle that must be managed carefully and where planning is vital – not just for the extraction itself, but also for the storage and transportation of mined metals.
"Geographic location is always a challenge for lithium processing, e.g. if it is to be obtained from brines in Latin America found in salars. Most of the projects and their prospects are located in excess of 2,000 metres and often up to 4,500 metres above sea level," says Barbara Abarca, Business Development Manager for green minerals in slurry and non-slurry pumps at KSB.
"Due to the remoteness of these sites, electrical power availability, water supply, and other factors are always a challenge. Among the KSB pumps portfolio, we offer diesel-driven pumping equipment to extract the brine which is an excellent alternative." she adds. 
"Another aspect to keep in mind is that brines are like big chemical reactors, leading to variations in composition and concentration. Regardless of the location of the salars, the equipment material selection is an important factor to have in mind"
"Lithium solids obtained from spodumene, or clays contain sulphuric acid. Sulphuric acid can combine with certain metals causing an exothermic reaction –which is a concern for the safety of the operators."
Abarca's colleague, Tony Robins, Key Account Manager for Australia global mining at KSB, says it is crucial to consider some issues during the early stages of planning operations.
"Besides contending with the issues of operating in a remote location, environmental approvals need to be in place, social issues must be considered with consideration of the government and local populations," he says.
Lithium: in liquid solutions or in ore minerals.
Mining for lithium requires a particular level of expertise due to the high amounts of energy and complexity involved. There are two types of mining, which are mostly found in North America and the Lithium Triangle, comprising Bolivia, Chile, and Argentina, where 58% is stored over 2,000m above sea level – Argentinian salars are at 4,500 masl.
Robins says the first type "includes an evaporation stage, which can take up to 24 months, before gaining access to the lithium-rich brines from which lithium carbonate is produced".
"The second type of mining is referred to as ore minerals. There are two ways of obtaining lithium: from spodumene and from clays. Lithium is extracted from spodumene concentrates via leaching and acid roasting; then sulphuric acid is added to the process. After adding the sulphuric acid, it is important to ensure that there is no leakage of the acid into the atmosphere creating a risk to the operators. Oftentimes, double mechanical seals with a Plan 53A or 54 design are fitted to the pumps to prevent this from occurring".
"To extract lithium clays (e.g., Thacker Pass Project, USA), the mineral is crushed and screened. It is then transferred as a slurry to the leaching circuit where sulphuric acid will be added to liberate the lithium from the clays."
"The difference with the spodumene process is the high temperature necessary to change the internal structure from the α-spodumene to β-spodumene. A pertinent step that must be done before adding the acid." Barbara adds.
"As in any mining operation, whether it's a gold mine, a copper mine, or nickel mine, it typically takes four to 15 years to begin production from the initial, discovery phase."
"Recently, technologies have evolved to adopt new methods in brine mining. The direct lithium extraction method (DLE), which is currently in the pilot stage, speeds up the process from 18-24 months to 12-24 hours, using much less water. Although a newer technology in the industry, China has been using DLE for several years. It could become a game-changer in the near future.
Demand for lithium
When planning battery-mining operations, data regarding the vital metals and materials required should be taken into consideration.
Lithium leads the electric revolution. Demand for the material has skyrocketed to produce Li-ion batteries. A metric ton of lithium is currently valued at more than $40,000.
According to a survey conducted by Mining Technology, lithium was the commodity most likely to experience significant price growth, according to 29% of respondents. It narrowly topped gold (28%) and copper (26%).
Although production has been ramped up, it will struggle to meet demand. Australia currently leads the producers, (mainly) extracting lithium from hard rock. Argentina, Chile, and China follow, producing lithium from brines or salt lakes.
Starting at 38 kilotons (kt) in 2016, production more than doubled to 95kt in 2018, before hitting a pandemic slump. Production recovered to 159kt in 2023, and it is anticipated to reach 303kt by 2030.
Despite this strong growth, demand has outpaced supply since 2022. Generally, this has been somewhere between one to four kilotons of excess demand, but the deficit is projected to grow.
Making lithium extraction more efficient
Extracting lithium can result in significant volumes of water and energy being used. GIW® Slurry Pumps can help optimise these processes and decrease the operation's footprint.
"A pump selection always considers the efficiency as the first criteria, followed by the materials of construction. As a pump manufacturer, we advise the customer to invest in the best option to ensure positive results. Using the most reliable solution avoids unforeseen downtime and premature pump failure that could result in lost production," says Abarca.
"Slurry and non-slurry pump material selection would be optimised through the R&D that the KSB group has developed over decades of considering abrasive and corrosive resistant applications," he says.
"KSB subsidiary, GIW Industries Inc. has been designing, manufacturing and supplying slurry pumps to the mining industry for decades, and [it] uses the data gathered in the field to ensure the customer receives a final product with the most advanced materials and efficient (hydraulic) characteristics available."
Nickel production
Nickel is a vital component of EV (Electric Vehicles) battery production and is only likely to become more integral in the coming years.
The shorter range of early EVs often incited anxiety among potential buyers. To address these concerns, manufacturers are increasingly pivoting to the energy-dense nickel to produce smaller, lighter, and longer-range batteries.
Industry leaders such as Tesla, Ford, Volkswagen, and Hyundai are already using nickel-based batteries in some of their newer vehicles, and they are likely to incorporate them in future models.
Currently, EV production commands a relatively small share of the demand for nickel. According to GlobalData analysis, roughly 13% of the world's nickel went towards battery production in 2021. In comparison, stainless steel production accounted for nearly 70%.
More nickel will need to be extracted to meet growing demand for it. Generally, production and consumption have increased steadily year on year, but consumption is expected to outpace production from 2021 to 2026. As demand for EV batteries grows, there could be a strain on production.


Cobalt production increases
Much like lithium, demand for cobalt is primarily driven by EVs and other batteries. Production has increased significantly in recent years to meet this new demand. From the 82.25kt produced in 2010, 177.1kt was mined in 2023, and this is expected to increase further to 212kt in 2023.
As it stands, the cobalt market is dominated by the Democratic Republic of Congo (DRC), which holds 46% of this resource.
The central African nation produces more than triple the amount of cobalt than the rest of the world combined. Cobalt production elsewhere has stagnated after peaking at 51.45kt in 2015 – a record that will not be topped until 2028. Data regarding cobalt consumption is less clear than for other similar minerals, but it is likely to increase in line with other battery metals.
Yet with the DRC's unstable political environment and issues with social unrest, companies are increasingly looking to exploit sources of cobalt elsewhere.
Manganese potential
Unlike other minerals mentioned in this article, manganese is rarely considered in discussions about EVs. Demand has typically been driven by iron and steel production, accounting for 90% of global manganese. However, in recent years, EV battery manufacturers have looked to the mineral as an easier and cheaper solution to meet consumer demand.
Manganese is a relatively common mineral, with extraction being less centralised compared with other EV metals. South Africa leads, producing more than a third of the world's manganese in 2021, with countries such as Gabon and Australia making significant contributions.
Manganese production is projected to exceed demand over the next decade, with both increasing gradually. However, the gap between the two is narrower than it has been in previous years.
Speaking to factory employees in March 2022, Tesla chief executive Elon Musk highlighted an "interesting potential for manganese", believing its relatively low cost and ease of extraction could be vital in scaling up battery production.
If EV manufacturers follow this lead, manganese consumption could increase and necessitate greater investment in its extraction.
Increasing the sustainability profile
Given that EVs are crucial for the transition to clean energy, there are growing calls to increase the sustainability profile of mining operations that extract the materials used in batteries.
KSB Mining offers three GIW® slurry pump ranges that are suited to decreasing the mining footprint of battery metals. By being energy-efficient and easily repairable, with a long service-life, KSB's line of non-slurry pumps also provides a sustainable option for mining operations.
"KSB has been designing, manufacturing and supplying non-slurry pumps that lead the market in efficiency regardless of the application – whether it is designed to handle water, sea water or aggressive chemicals," says Robins.
"KSB is perfectly positioned as a manufacturer of all centrifugal pumps, whether they are applied in the transfer of slurry, non-slurry, water, or chemical applications. Added to this, we have a vast range of valves in material options to match the arduous applications."
Powerful software selections
The role of software cannot be overlooked, particularly modelling tools and proprietary pump selection software, which can make mining operations more efficient.
"If we talk about selection through our software programmes, we need to be sure the duty points are specified according to the application and match with the reality in the field. That's when the support from our vendors and our service team has a key role," says Abarca.
"This holistic work method will ensure the correct performance of our equipment, ensuring that the pumping equipment matches or exceeds our customer's expectations for reliability and maintenance intervals.
"Our slurry and non-slurry pump selection software, Slysel and KSB Easy Select, provide the application, and site engineers a tool to optimise pipeline and pump selection. Both software programs guarantee that the pump selected is the most efficient, requiring the least amount of power, with the best-in-class wear-resistance product for the application, resulting in the lowest total cost of operation for the end-user," says Robins.
"Finally, KSB has in excess of 100 sales and service centres globally, located in the vicinity of most mining jurisdictions, providing after-market support on a 24/7 basis."
To find out more, download the whitepaper below.