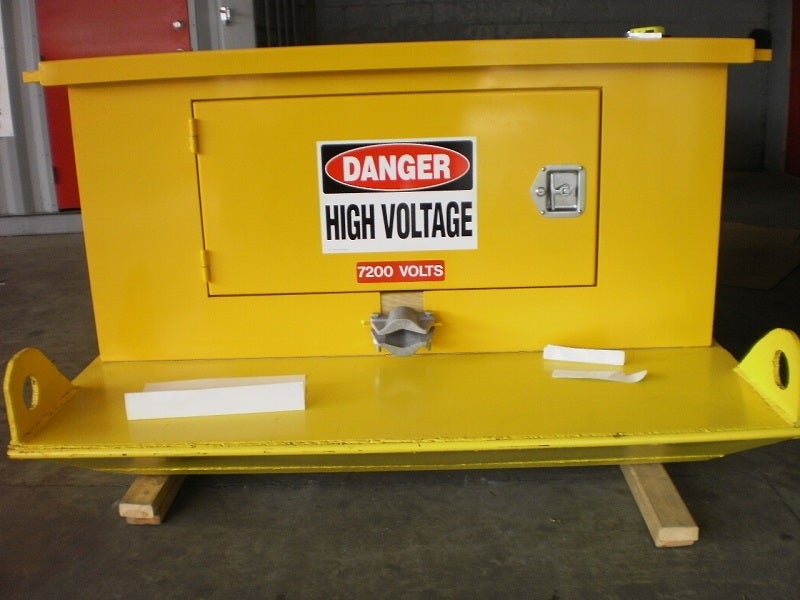 High voltage electrical cables and connectors used in mines can pose significant risks if they aren't maintained and handled safely. This is especially true in the case of splicing, the process of combining two lengths of wire so they can carry a current together. A high voltage splice box is used in a mine to protect the spliced wire connections between an electrical control panel and a piece of equipment.
High voltage splice boxes can be installed internally and externally to pieces of equipment. They protect the splice wire connections from mishaps such as water damage or crushing, both of which are risks in the environment of a mine.
A splice box also provides a safety barrier for workers, should the connection between two wires malfunction and become a hazard.
A high voltage splice box can help with the challenges of handling high voltage cables. Because of the dynamic operations of a mine, cables are often moved around and must be lain together to minimise the number of crossing points. Mining cables are also typically restricted to about 1000ft in length, so to cover long distances multiple cables will need to be connected.
Carroll Technologies Group is able to manufacture splice boxes to meet the electrical requirements of its customers. An essential piece of tech for every mining operation, Carroll is able to customise them for use in a variety of settings.
High voltage splice boxes can be used in many different circumstances
Carroll Technologies Group is able to customise these as per its customers request for both cable size and voltage. The high voltage splice boxes are suited for stationary cable and considered as permanent splice by MSHA.
These aren't the only things the company is able to manufacture to order. Carroll prides itself its multifaceted range of solutions for its customers, and is able to set them up with advanced communications systems like a leaky feeder radio system.
Should a customer of Carroll Technologies Group experience any trouble with a product they've purchased, the company is committed to providing as much support as possible. The company is able to swiftly dispatch a technician to the site, or repair the product in one of its 13 workshops. That's why Carroll is trusted by over 800 mining and tunnelling operations across North America to provide the solutions they need.