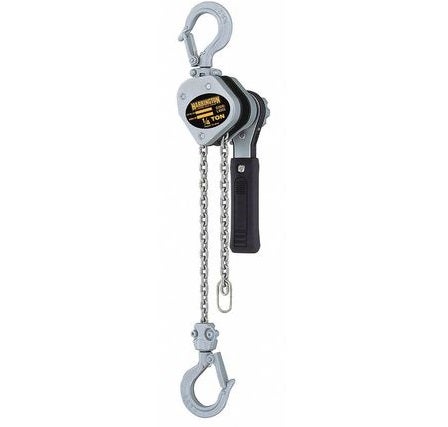 Offering a broad range of lifting solutions across the mining industry and beyond, Harrington Hoists is a leading name and recognized innovator in the hoist and crane industry. The company sells its products through a carefully selected group of qualified distributors throughout the U.S, one of which is Carroll Technologies.
According to Carroll president Allen Haywood: "Harrington hoists are wonderful products in terms of quality. They have proven themselves over the years in comparison with competitors.
"As a large distributor, Carroll Technologies stock many different chain links in different sizes across several locations. We try to provide a good variety to suit whatever the customer needs are. Carroll also offers a trained authorized repair facility for Harrington, with a test station here that was custom-built by Harrington from the factory.
"So once we do repairs on hoists, we can also conduct a load test on a factory-calibrated machine, giving test results and certifications to show that it has been properly tested and repaired."
As one of the oldest, most established hoist and crane suppliers in the U.S. market today, Harrington Hoists has grown to become of the hoist and crane industry's most trusted suppliers, with a product range that includes electric and air powered chain hoists and trolleys, electric wire rope hoists and trolleys, lever hoists, manual hand chain hoists, push and geared trolleys, overhead cranes, crane accessories and a full line of replacement parts.
The Carroll Technologies mining shop includes a selection of Harrington's most popular mining hoists, including the Mini Lever Chain Hoist ¼ Ton in 10ft (LX003-10) and 15ft (LX003-15) lift length options and the Mini Lever Chain Hoist ½ Ton in 5ft (LX005-5), 10ft (LX005-10), and 20ft (LX005-20) lift length options.
These lever pullers are ultra-lightweight and compact whilst offering great durability and power.  They come with a low headroom design for use in tight quarters, as well as a low pulling force and ease of transportation, installation and storage. The free-chain adjusting mechanism also allows for rapid adjustments.
Other products include:
3 Ton Hoist Lever, 10', 15′ and 20' Lift
1 ½ Ton Hoist Lever, 15′ and 20' Lift
¾ Ton Hoist Lever, 10′, 15' and 20' Lift
2 Ton Hoist, 10' and 20′ Lift
1 Ton Hoist Lever, 15′ Lift
5 Ton Hoist Lever, 15′ Lift
2 and 3 Ton Hoist, Chain Fall, 20'
1 Ton Hoist, Electric Chain
1 ½ Ton Hoist with Slip Clut
5 Ton Hoist, Hand, Chain Fall
¾ Ton Hoist with Slip Clutch
6 Ton Hoist Lever, 20' Lift
Motor Shaft with Rotor for SNE
To discover more about Harrington Hoists mining products, as well as Carroll Technologies extensive supply of equipment from world-leading manufacturers, visit www.carrolltechnologiesgroup.com or call 606-573-1000.