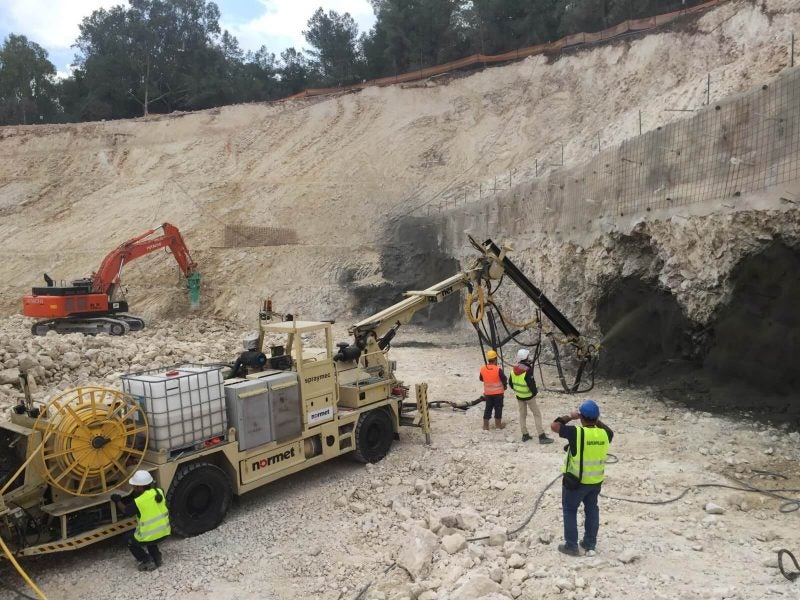 Concrete spraying or shotcrete has become a critical component of safe and productive mine and tunnel operations around the world. Unlike the traditional methods of pouring or form work, shotcrete is a process which involves pneumatically spraying concrete at high velocity to construct solid surfaces.
When working underground, concrete spraying creates a number of significant benefits to mine and tunnel operators. With the ability to support and stabilise tunnels, sprayed concrete linings can have a significant impact on improving worker safety, as well as reducing operational costs, cycle time and a project's impact on the environment.
Unlike manual methods, concrete spraying equipment allows personnel to operate machinery from a safe distance, positioning staff away from the dangers of falling rocks and within a secure area. It also requires fewer members of staff to complete the task, reducing the number of people being put at risk as well as operational overheads. Plus, with less effort required by staff, working conditions are significantly improved and there is less chance of exposure to harmful dusts.
But as one of the most demanding tasks in underground construction, concrete spraying requires skilled personnel and highly effective machinery; a combination not always easy to find.
Automated support for concrete spraying
In April, leading underground equipment provider Normet launched the SmartSpray System; a suite of concrete spraying machinery that reduces operator effort, increases productivity of spraying, and minimises personnel risks thanks to a number of innovative design features.
Manufactured in response to the shortage of workers skilled in effectively operating concrete spraying equipment, Normet's SmartSpray models mean concrete spraying is no longer complex and labour-intensive.
The suite is available in three versions: Lite, Pro, and ProPlus. Instead of operating two or more joysticks, the SmartSpray Lite gives personnel the ability to control one spraying nozzle with a single joystick that performs basic spraying movements. Providing automated support, the position of the nozzle is maintained in order to align the direction of the spray towards the intended surface.
SmartSpray Pro, meanwhile, allows automatic movements in regular spraying, moving the nozzle from point to point. With spraying automatic, the operator simply adjusts the distance required to the surface, allowing for large areas and smooth surfaces in tunnel environments.
The top tier, SmartSpray ProPlus has been specially designed to automatically spray concrete on a previously defined area, while maintaining the speed and required distance between the wall and nozzle to achieve the desired thickness. The equipment is able to automatically calculate the path the nozzle must travel, allowing staff to expertly operate with ease.
Laser technology
Complementing SmartSpray, Normet has developed 3D laser scanning technology. Named SmartScan, the innovative development combines successful features of concrete spraying equipment with the latest in sensor technology to create machinery that is designed for the unique environments and challenges associated with shotcrete.
Scanning the desired surface at a maximum range of 50m, the IP65 rated laser can be adjusted to a 0 to 180 degree horizontal angle, or a -60 to +140 degree vertical angle prior to spraying. Once the spraying is complete, a second scan uses specialised software to compare measurements and deliver a thickness result in real time.
To allow operators to make instant assessments, the scan results are presented on-screen in easy-to-digest colours and giving a fast concrete thickness report that outlines which areas may have been under or over-sprayed.
As well as supplying a comprehensive range of the latest in shotcrete equipment, Normet are an expert partner throughout the entire concrete spraying process, providing guidance on concrete admixtures and accelerators, technical advice, ongoing support, problem-solving and extensive personnel training.