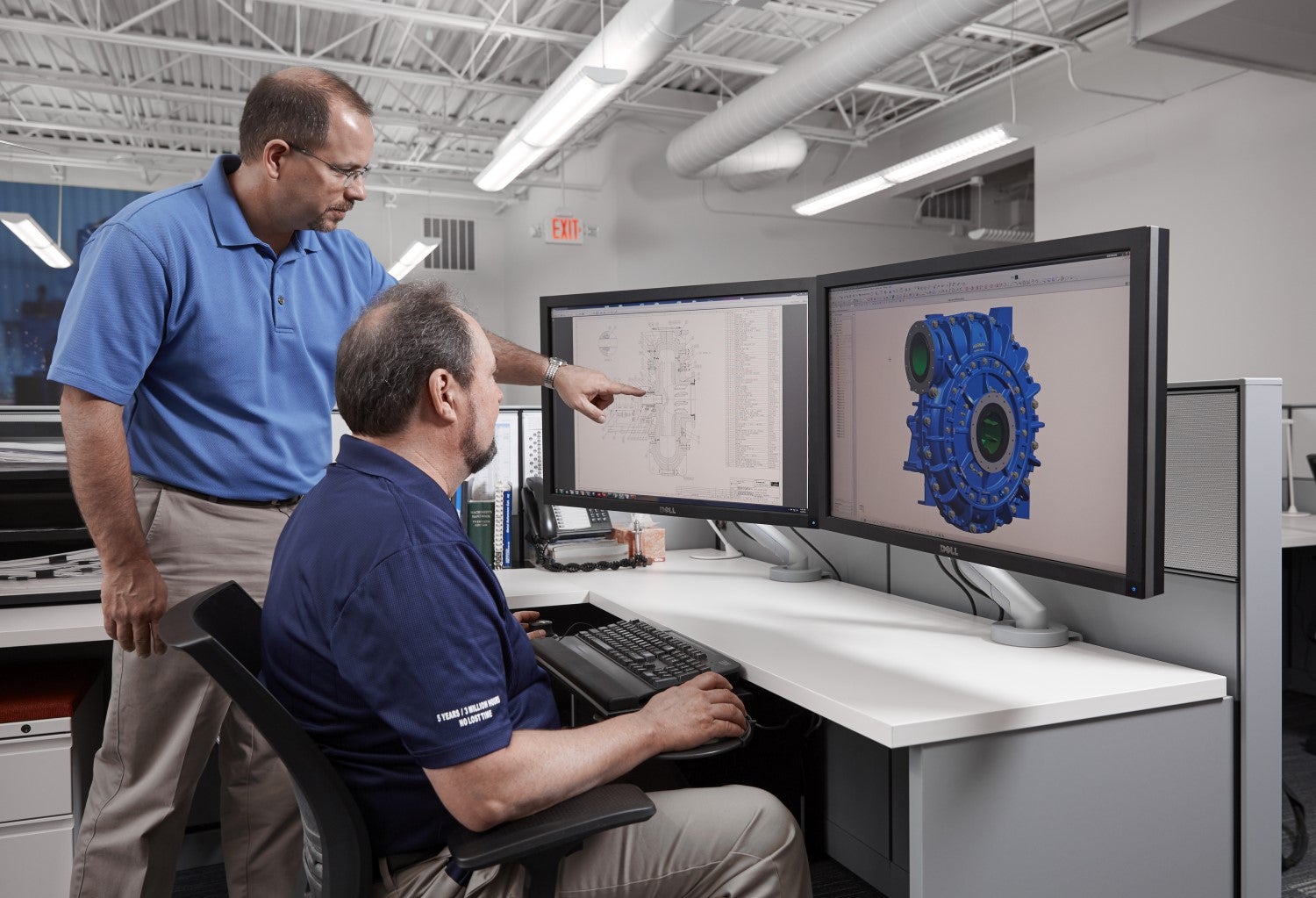 When you buy genuine spares for pumping equipment, you get so much more than just a volute liner, impeller or side liner. You're making an investment in a product that will receive expert lifetime support, achieve higher pump performance, last longer and reduce your process' risk profile.
Weir Minerals provides genuine spare parts for its Warman® range of pumps, designed for heavy-duty applications. Operators who recognise the value of sourcing spare parts from the original equipment manufacturer (OEM) enjoy the winning combination of peace of mind and lower lifetime costs.
OEM spares are the safer choice 
Because replicators cut corners in design, manufacturing and transport, use inferior wear-resistant materials and don't supply safe lifting methods, using replicated parts introduces significant risk to pump operations.
Even tiny gaps between imperfectly replicated components can lead to leakage, vibration or excessive stress concentration which causes dangerous and unpredictable cracks in components – a problem that OEM parts don't have thanks to strict quality control. 
Failure of critical components can lead to high-pressure slurry spray, which is often toxic, corrosive or heated to very high temperatures. It can also cause high-energy brittle fracture projectiles which can travel dozens of metres. The risk of hitting other equipment or personnel is high.
Warman® slurry pumps are designed, manufactured and installed to operate under demanding conditions that place every component in the pump under a significant amount of stress. Ensuring components meet such a challenge is an enormous task, requiring the highest quality construction materials, lengthy and precise design processes, stringent quality control in manufacturing and extensive safety testing.
Superior manufacturing makes OEM spares a reliable choice 
There's no way around it, replicator components aren't built to the same standards as genuine, OEM equipment.
Without the appropriate tolerances, replicated spares can fail to perform in any number of ways, ranging from high localised wear caused by gaps between liners to excessive vibration during operation, and fitment interference leading to an inability to thread the impeller or close the pump without cracking the volute liner.
Aside from the rapid wear these issues cause, any geometrical divergences from the OEM design will naturally interrupt the intended hydraulic performance of the pump, reducing throughtput, total head and efficiency.
Built in state-of-the-art manufactories all around the globe, Weir Minerals' cast alloy components require specific heat treatment, together with a variety of proprietary moulding, methoding and pouring techniques to achieve a high-quality casting with all the required mechanical properties.
As these complex manufacturing processes are difficult to reverse engineer and are different for every size and component, replicators either produce a structurally inferior and possibly defective product, prone to cracking in the high-pressure environment of a Warman® slurry pump, or modify the geometry component to suit their manufacturing process, which won't achieve the fit required due to their poor tolerancing.
OEM equipment is supported by OEM expertise 
Sadly, no mining equipment lasts forever under the tremendous strain we subject it to. That's why the support you receive from your supplier is almost as important as the part itself.
Weir Minerals' spare parts are backed up by a unique global support network, which includes dedicated service centres within 200km of almost all of the world's major mining regions. That means Weir Minerals engineers with decades of experience are there to support you every step of the way, from installation to replacement or even decommissioning and disposal.
Superior materials last longer 
The inferior alloys found in replicated parts are not only prone to failure – their lower, unpredictable lifespans also make it extremely challenging to efficiently align the pump's maintenance needs to overall campaigns.  
Perhaps the greatest advantage of buying genuine Warman® spare parts is that you receive Weir Minerals' cutting-edge wear-resistant materials.
For most situations, nothing compares with Ultrachrome® A05, the near eutectic high chromium white iron alloy that provides a great balance of hardness and toughness, without sacrificing corrosion resistance.
However, the true strength of Weir Minerals' global materials technology group is that they don't just rely on one alloy for every situation. The ever-expanding range of Ultrachrome® and Hyperchrome® chromium carbide alloys allow Weir Minerals engineers to specify the optimum wear solution to fit the needs of your application.
The Weir Minerals difference  
Long-term customer relationships are at the heart of Weir Minerals' business. By working closely with your teams, Weir Minerals engineers can ensure that future spares are optimised to the changing feed conditions and wear profiles experienced on your mine.
Should the worst come to pass and component failure shut down a piece of equipment, Weir Minerals' local distribution centres and global logistics network means they can deliver the right part quickly, with the team close at hand to help you get back and up and running.
The choice of spare parts is a choice that affects the efficiency, safety and lifespan of operations. It is essential to make the smart decision.