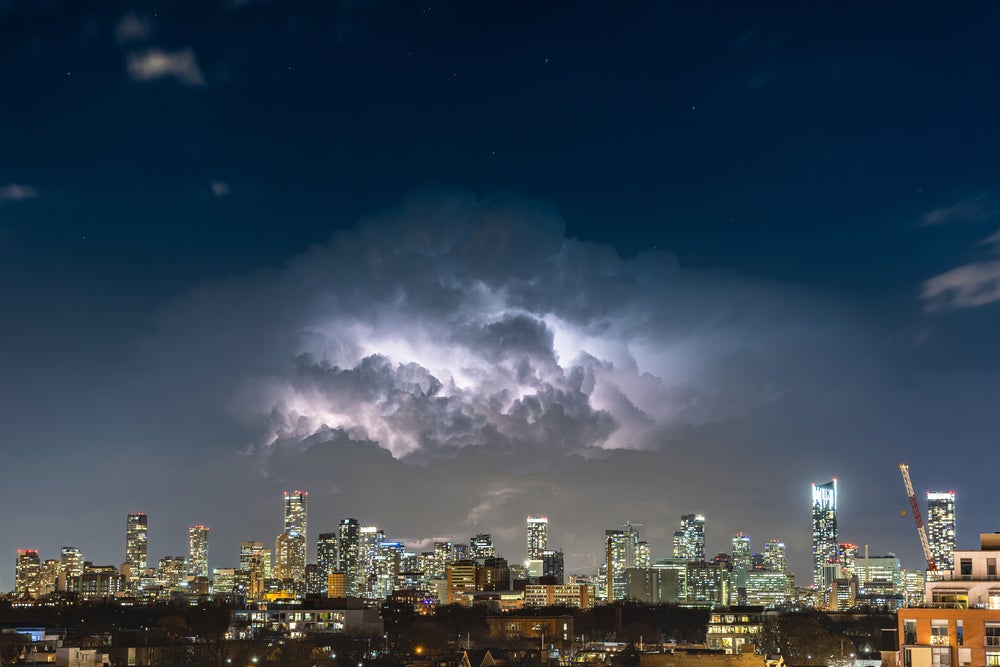 Both above and below ground, there are a lot of moving parts during any mining project. Mining processes and machinery are becoming increasingly advanced, but one thing has remained a top priority: safety.
Electrical safety systems ensure that personnel are safe, and that equipment is protected from electrical related hazards such as lightning and electrical surges. As one of the only companies in the world that manufactures a complete solution from start to finish, nVent is ideally positioned to help protect your mining project from top to bottom.
Starting from the top: Outdoor lightning protection
According to Matthew Caie, Vice President (APAC) at nVent: "There are a lot of open, outdoor mining areas that need protection for people working outdoors, so we have a solution that protects these personnel from lightning."
nVent's lightning protection falls under the ERICO brand, which includes lightning strike termination devices that prevent damage and limit power disturbances. These devices protect your mine by redirecting lightning to lightning air terminals that would otherwise cause devastating damage, both to people and electronic equipment. nVent offers a comprehensive range of lightning protection hardware and engineering design support to provide an effective protection solution.
The foundation of electrical safety: Stay grounded
The key to electrical protection for any mine or industrial facility is an effective earthing and bonding system. Equipment must not only be connected to earth, it needs to be protected by bonding connections to create a complete equipotential bonding system.
Earthing and bonding is not a one solution fits all problem. Soil and weather conditions will affect the choice of system that is most appropriate for your mining facility, nVent offers a comprehensive range of earthing and bonding products, as well as the knowledge to suggest the most suitable equipment. Its product range includes ground rods, ground mats, earth enhancement compounds and associated equipment.
Code compliance and building to last
Safety codes in the mining industry are stringent, so it's essential to have earthing systems that are correctly installed, tailored for the applications, and built to last. Furthermore, no one wants to waste money on an electrical safety system which will need to be replaced at the first sign of trouble.
nVent ERICO provides specialised earthing and bonding tools that ensure code compliance, proper installation and long-term performance, such as ground resistance testers and conductor insulation stripping tools. Additionally, the CADWELD exothermic range of products protects the most susceptible part of the system from corrosion; the connections between below-grade ground electrode conductors. CADWELD products will not loosen or corrode over time and will often even outlast the life of the conductors they connect.
Protect power and communication systems from surges
"We provide solutions from above to below grade, all the way through to protecting the communication systems, the power systems that keep mining projects operating, even during those lightning conditions," Caie explains.
Even the most effective earthing and bonding system can't prevent electrical transient events and disturbances. Unfortunately, these events lead to a loss of electrical equipment and increase downtime. By investing in a coordinated surge protection system, mining operations prolong the life of equipment by reducing the impact of these disturbances. nVent ERICO's data/signal and power surge devices can be integrated into an effectively staged electrical protection plan to protect power and communication lines from disturbances caused by lightning, electrical noise and other switching events.
Trust in safety experts and customer support
nVent ERICOoffers a complete range of electrical safety solutions that can protect your entire mine, and choosing to protect your mine from lightning and power surges with a single OEM does more than save you time and money. Combining global resources and localised expertise, built on the experience of in-field engineers and participation in global standards committees, nVent ERICO can provide cohesion and code compliance across the entire mining network to ensure improved performance, lower total life cycle costs and reduced downtime.
"We have experienced application engineers on the ground who work closely with end users," Caie explains. "While we're a global company, we offer local solutions."