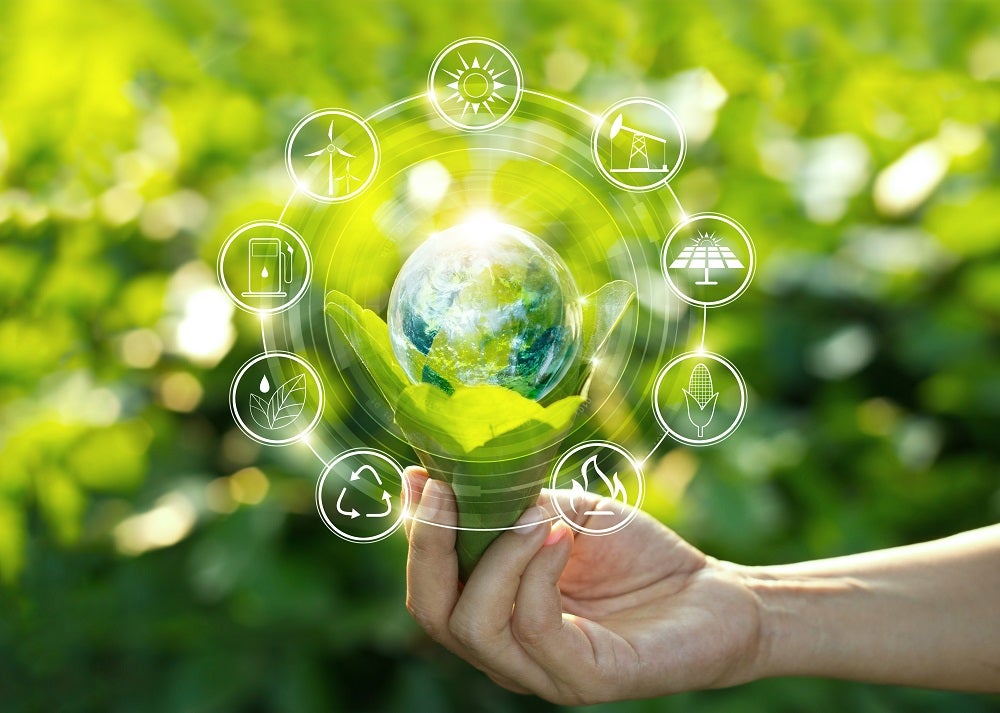 Humanity faces an existential threat from global heating. As world leaders move on from COP26 in the UK having thrashed out a strategic vision for tackling the climate crisis, every country, sector, community, and individual must reckon with the increasingly pressing need for a paradigm shift. The mining sector is no exception and companies are already thinking about how they can play their part on the road to net zero.
The mining industry is increasingly talking about sustainability and themes related to climate change, according to GlobalData's latest analysis of company filings.
Despite the pandemic, sustainable mining remained firmly on the agenda throughout 2020, with a quarterly increase in various topics relevant to the environment.
Company documents talking about sustainability reports have also increased in prevalence during the same period.
Environmental and economic challenges
Yet despite sustainability being on the radar, the road to carbon neutrality remains fraught with challenges. According to an analysis by McKinsey, climate change presents both an urgent global problem and a disruptive force which will have a serious impact on the sector.
Previously placid environmental conditions are set to become more unstable and volatile. Unprecedented challenges brought on by droughts and flooding will lead to "water stress". Mining sites are expected to be hit by water supply shortages and high temperatures will make working conditions in some areas more perilous. Rising sea levels have also been cited as a significant risk to coastal infrastructures. Areas in the Southern hemisphere are forecast to be particularly badly affected. Yet as highlighted in GlobalData's recent mining ESG report, even formerly stable mining locations in Northern Europe have suffered unexpected water stress, with two potash mines in Germany forced to close in 2018 incurring daily costs as high as $4m.
More inhospitable physical environments are not the only problem businesses face as climate change makes waves across the market. As coal becomes increasingly unsustainable, mining companies with a narrow focus on minerals scheduled for industrial obsolescence risk becoming financially unsustainable unless they adapt to changes in demand.
Commodities like copper, nickel, and bauxite are crucial to the energy transition, and the number of mines specialising in these resources is forecast to grow considerably in the coming years.
Keeping pace with the green revolution is not simply a matter of reshuffling company portfolios to stay solvent. To become truly sustainable, the sector must grapple with how to mobilise in pursuit of global resource equilibrium.
An integrated vision of harmony and plurality
For mining to play its unique role in facilitating carbon neutrality, a dynamic unity amidst diversity is required to achieve net zero by 2050, according to a recent EU-commissioned study on the renewable energy supply chain by the University of Leoben. The report outlines the concept of "planetary boundaries" to keep global temperature increases below the 1.5°C threshold thought to be critical to averting the catastrophic consequences of severe climate change.
Split into nine interrelated parts including climate change, stratospheric ozone levels, global freshwater use, and biodiversity loss, the urgency and scale of the challenge to course correct before upper limits are breached represents a call to action for all stakeholders.
The authors highlight the need for mining companies to embrace an integrated and cohesive approach to sustainability, something the sector currently lacks. Following a comprehensive analysis of the types of sustainability standards and schemes currently in place across the industry, the report recommends a "harmonisation" of standards in the form of a new "joint framework", removing ambiguity and addressing currently unmet areas of concern.
Powering the push to net zero
Improving resource efficiency on a macro level is also thought to be essential to achieve net zero. In tandem with renewables, developed economies are betting big on switching to electric vehicles to reduce emissions and clean up transport infrastructures. Some mining companies are starting to think about following suit by electrifying their equipment portfolios. GlobalData's latest analysis of mining patents mentioning electric vehicles paints a picture of current industry emphases.
One of the companies already driving electric innovation is Normet, a Finnish company who have developed battery electric mining vehicles and products promising to transform underground operations. Their SmartDrive technology balances the need for robust battery-life, fast charging times, the ability to operate in harsh environments, and a modular design comprised of multiple battery units ensuring continuous operation should one of the modules fail. Normet's low maintenance SmartDrive also boasts zero emissions, thus making underground ventilation much more cost-effective.
"Electrification is a key driver not only for driving down the CO2 emission, but also to improve the working environment in form of reduced diesel particle emissions", says Riku Helander, head of Services Business Line at Normet.
The drive towards automotive electrification means demand for lithium, already the green fuel of choice for the current generation of battery electric vehicles, is set to skyrocket. An analysis of mining data from 2015 shows how lithium mining has grown at a faster rate than other non-ferrous metals.
According to GlobalData, there are approximately 22 working Lithium mines scattered across the globe, yet this is set to increase dramatically. At present there are nearly four hundred prospective new lithium mines already being actively considered, the majority of which are concentrated in the Americas.
Canada is a potential hotspot for future lithium mining, with vast reserves estimated to number nearly three million tons according to the US geological survey. Recent reports suggest that the United States is planning to leverage local trade links with its nearest neighbour to optimise domestic battery production in partnership with Canadian mining initiatives.
Concrete plans for decarbonisation
Transitioning to electric vehicles is only part of the picture for mining companies. Another critical step on the path to decarbonisation involves tackling the widespread use of concrete and cement. The scale of the problem is significant according to One Earth, who produced a paper claiming that cement, a key constituent in concrete, has seen its "relative" contribution to "total fossil-derived CO2 emissions" double since 1990.
A separate report by the climateworks foundation said that in 2019, the "production, transport, use, and demolition" of concrete and cement "was estimated to account for roughly 9-10% of global energy-related CO2 emissions". Reducing this to acceptable levels is thought to require a "broader portfolio of low-carbon levers", encompassing all aspects of production and demand including measures like "low-carbon cement", "carbon capture", and "material efficiency strategies".
Normet are one of the companies offering significant efficiency savings with their spray concrete solutions. According to Helander: "Whilst electrification is an important building block in driving down the CO2 emissions, improvements in key processes where Normet solutions are used, such as sprayed concrete, can have even a bigger impact on CO2 emissions, as the concrete consumption can be reduced by 15-20% - resulting in similar reduction in CO2 emissions in the process."
The road ahead
An exponential increase in global lithium extraction carries considerable risks when it comes to treading the narrow path toward sustainability within the planetary boundaries model. A study by Friends of the Earth highlighted some of the potentially negative environmental and social impacts of lithium mining, including "water depletion and pollution", the use of toxic chemicals, soil damage, air contamination, and "water-related conflicts".
Responsible, sustainably sourced lithium is not a panacea for all the world's climate-related ills, but as the electric vehicle market aggressively expands, ethical lithium extraction presents both an opportunity and a challenge for the mining sector.
Crucial steps on the road to net zero include electrifying future mining equipment and revolutionising the production and use of concrete and cement to reduce the sector's own carbon footprint. Companies wishing to have a truly sustainable future will need to seize such opportunities within an integrated, international framework of standards to meet the coming explosion in demand for the commodities required to drive the clean energy revolution.