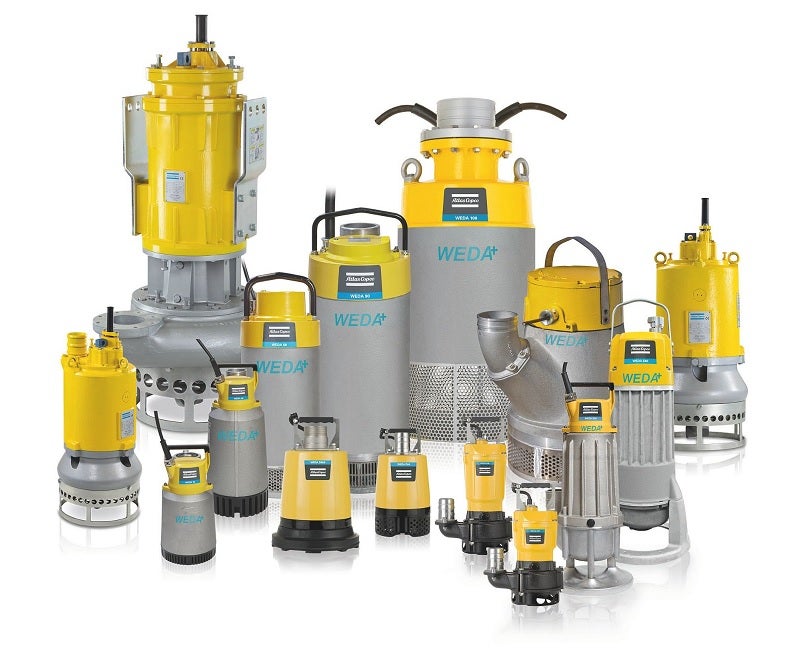 Atlas Copco has a complete range of high-quality and lightweight electric pumps designed specifically for drainage, sludge and slurry pumping applications and available in global voltages.
Available in submersible and surface variants, we have a pump suitable for your needs.
Submersible dewatering pumps
Atlas Copco's WEDA electric submersible pumps and accessories are designed for an extensive range of dewatering applications, across multiple industries.
WEDA pumps feature a built-in starter and motor protection system, along with optional automatic level control. Adjustable wear-resistant rubber diffusers and hardened high-chrome impellers ensure durability in adverse environments.
Featuring a unique sealing system and modular design, they are among the most flexible pumps on the market. Easy to use and maintain, WEDA pumps promise optimal performance. The WEDA seal system is designed to provide the optimum maintenance solution and can be easily fitted at the job site.
Accordingly, our submersible range is developed for drainage (D), sludge (S) and slurry (L) applications.
The WEDA D pumps handle either clean or dirty water, even with small solids with the best performance and efficiency. Applications include general dewatering, groundwater, raw water and construction sites.
The WEDA S pumps can handle thick, soft, wet mud or other similarly viscous mixtures of liquids and solids, especially the product of an industrial or refining process. They are suitable for applications involving water containing mud, sludge or light slurry, tank clean-out, trench and pond cleaning, as well as mining.
The WEDA (L) slurry pumps have the largest apertures to facilitate handling of slurry with the most challenging solids. They are designed for abrasive media with high solids content, quarries, dredging and settling ponds.
Surface dewatering pumps
Atlas Copco's surface dewatering pumps are designed and developed to offer high performance, reliability and ease of use across multiple industries for applications such as construction and mine site dewatering, removing floodwater, and other municipal applications.
Our PAS range of dry prime pumps is engineered to offer high performance in any condition. Comprising an air separator unit and a vacuum pump, it offers rapid automatic priming and quickly evacuates the air from the suction pipe and starts to pump, even with suction heights of several metres.
The addition of the semi-open impeller enables the PAS range to also be suitable for pumping liquids with solids in suspensions.
The VAR range of wet prime pumps offers a robust and flexible solution for dewatering applications. The technology allows having a simple first prime due to its first water fill-in capabilities. Due to its open impeller and solids handling capabilities, the equipment is ideal for medium construction and flood controls.