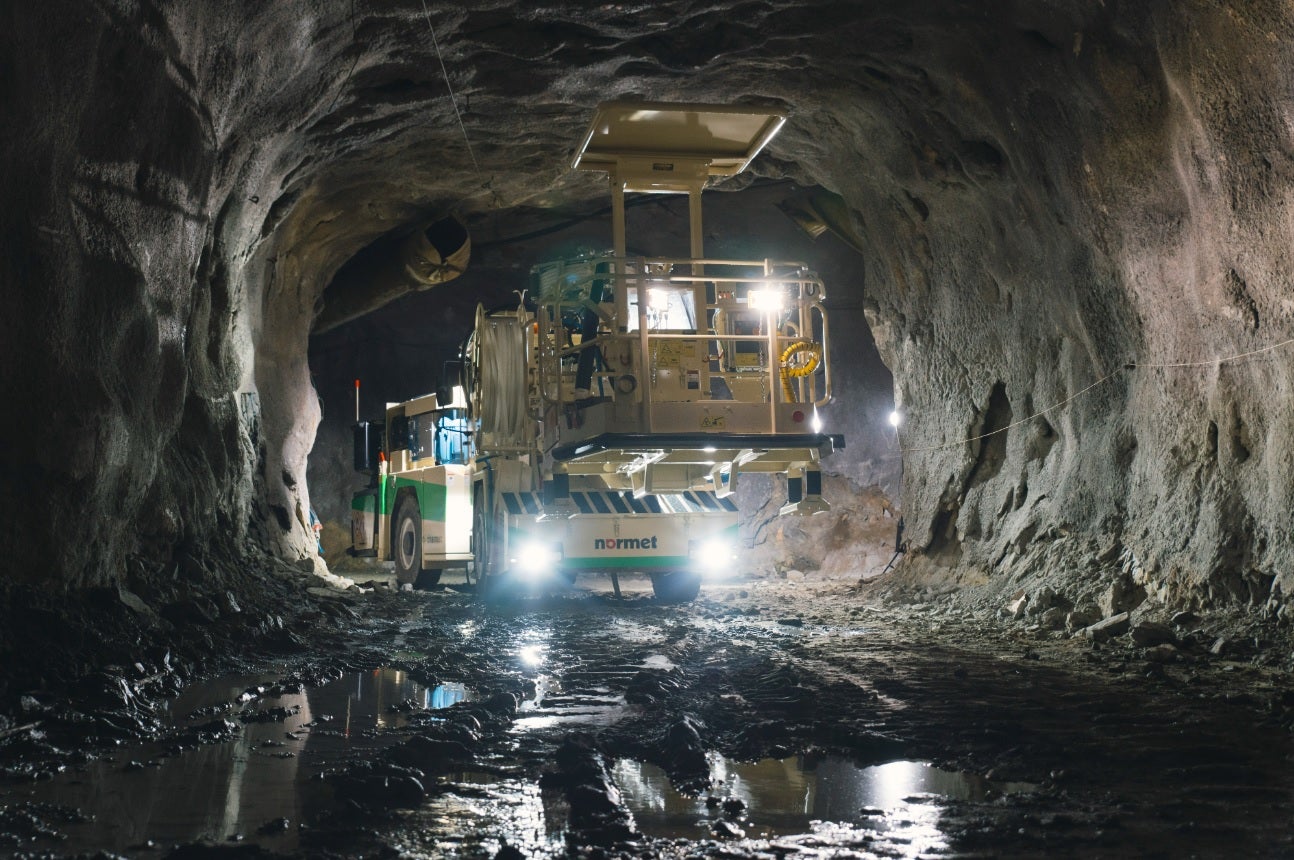 As an increasing number of open pit operations move underground, the requirements for efficiency and safety are growing, and expanding along with it is the demand for underground services and charging options, including emulsion chargers. More than ever, the industry is focused on the development of safe, reliable, and technically mature equipment to meet these evolving requirements.
Battery-electric emulsion charging
Safe to transport and handle underground until placed in the drill hole where they must be charged in order to detonate, the use of emulsion has made blasting significantly safer. Battery-based charging makes the explosives charging process safer still, as there is no need to plug into the mine's electric grid.
Leader in underground technology Normet was the first company to bring out a commercially available battery-powered charging device. Its Charmec range is a series of emulsion trucks that have the capability to charge explosives to development and production holes once they have been driven to the blasting site.
Normet's Charmec charging systems are built for safety and productivity. This modern emulsion charging concept was developed in close cooperation with explosives manufacturers and has been delivered to hard rock mines and civil tunnelling projects worldwide.
Normet equipment is built to last and has a very low failure rate because it is designed with mining in mind and expert attention to detail. For example, the Earth cables of the Charmec equipment are made of flat stainless steel rather than copper, to avoid erosion by explosives.
Mechanical vs manual charging
Greater automation, information and intelligence are improving operations, and emulsion charging has seen improvements in efficiency, cost and environmental protection.
Mechanical charging is much more efficient than manual charging. For one Normet customer, manual charging required six to seven workers to load the explosive tank, hold the charging hose, stir the explosive tank and manage the hose. Two workers were required to hold and feed the charging hose because of the length of the borehole, and the process required a lot of strength from operators.
Now, with the use of Normet's Charmec system, only three people are needed for this function. They can feed the charging hose into the borehole, and it is fed to the bottom automatically.
This equipment also improves the quality of charging and blasting by increasing charging density. Using Charmec, four to five rows can be loaded at once and blasted simultaneously, compared to only two or three by manual charging. In manual charging, workers might get tired after two rows, causing a bottleneck, but mechanical charging can carry on for much longer.
ANFO charging
While emulsion is largely replacing ANFO charging, it is still used at some blasting sites. Normet's ANFO charging equipment includes optional genuine electro-hydraulic processes, which allows more ergonomic charging without diesel fumes and with lower noise level. If electricity is not available, charging work can be done with diesel.
Charging excellence
Normet has designed a complete range of underground explosive chargers around the needs of customers across the globe. Innovations like the Charmec system are paving the way for the future of mining and come as a result of over 40 years of accumulated experience and close partnerships with tunnelling and mining customers around the world.
To find out more about how Normet's Charmec systems could modernise your fleet, download the whitepaper below.