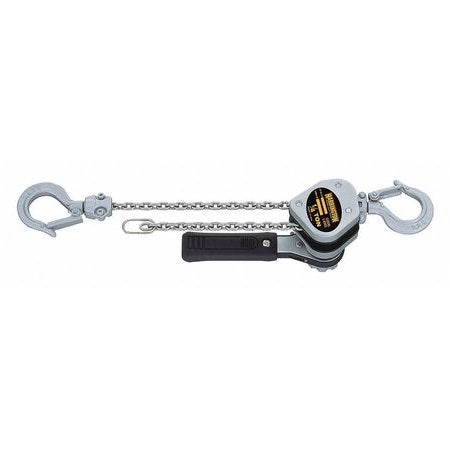 To pick up and transport equipment that would otherwise be too heavy, it is worth investing in high-quality chain hoists for mines and tunneling operations.
To ensure reliability when lifting a heavy load, chain hoists are manufactured from durable metal and comprise three components: the hook, the lifting mechanism, and the chains themselves.
There is a vast array of chain hoists available on the market, and to reduce downtime and ensure productivity, it is essential to seek out the highest quality hoists available. Long-term savings are worth an investment over buying cheaper, inferior products.
Harrington Hoists is an industry-leading manufacturer of hoists for mines and tunnelling. As an innovator in the hoist and crane industry, Harrington products have a proven track record of providing reliable results.
Carroll Technologies, a leading supplier of mining safety equipment for more than 800 mines across the US, is a trusted distributor of Harrington Hoists products.
"The Harrington chain company has been in business for many years. There have been a lot of other companies that have tried to be competitive with their pricing, therefore making an inferior product in comparison to Harrington's," explains Carroll Technologies president Allen Haywood.
"We have seen it over the years, where we would lose that business with a customer to a competitive product, and then we would see them come back to us because they were not happy with the inferior, cheaper product that they were receiving."
When purchasing hoists through Carroll Technologies, you can further increase the value of your investment by utilising their factory-authorise repair facilities and testing certification services. Through Carroll's MinerCare 24/7, you will also have access to around the clock technical support.
Carroll supplies the following Chain hoists for mines and tunneling:
LX Mini Lever Hoists:
Lx003-10
Lx005-10
Lx003-15
Lx005-20
Lx005-15
CB hand chain hoists:
CF hand chain hoist
Cf050-15
Cf030-20
Cf050-20
Cf020-20
Cf005-12
Cf020-10
Cf015-20
Cf005-15
Cf005-10
Cf015-15
Cf010-15
LB lever chain hoists:
L5lb008-15
L5lb010-15-d
L5lb020-10
Lb008sc-15
L5lb008-20
L5lb015-15-lwh
L5lb060-20
L5bu0081001
L5lb010-10
SNER Single Phase Hoists/Trolleys electric hoists:
For more information about Carroll Technologies' lifting solutions or to get a quote for one of Harrington's products, call 606-573-1000 or send an enquiry here.