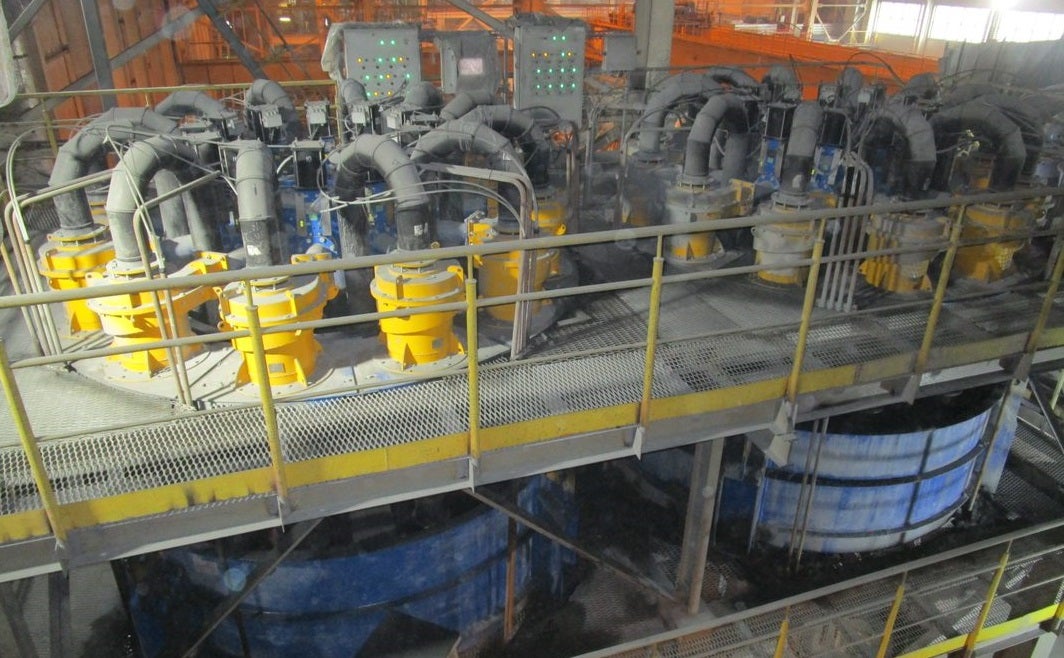 Sustainable mining continues to be a topic of contention, with operators under immense pressure to minimize their environmental impact. As the world moves towards a more environmentally friendly way of living, the importance of sustainability in mining is driving the development of new technology within the sector.
We develop equipment that enables efficient and sustainable delivery of natural resources, especially within the classification and separation process, where hydrocyclones significantly influence: valuable mineral recovery, production of waste in terms of both tailings and spare parts, water and energy consumption of comminution circuits.
The importance of sustainable hydrocyclone technology
Minerals recovery is a key factor in determining the economic feasibility of a mining operation. Based on grade values, it denotes the portion of mined raw ore which can be turned into a saleable product. Recovery also relates to the mineral liberation size, which defines the required product size to be produced by a plant's comminution circuit.
Hydrocyclones define particle size distribution, and therefore the operation's recovery rate. An inefficient hydrocyclone installation with lower recovery, wastes mineral resources and increasing tailings.
Generally, comminution and grinding circuits consume more than 50% of a mine site's total energy expenditure. In closed circuit grinding applications, ball mills are typically used and very energy inefficient as less than 1% of absorbed energy is consumed for grinding in ball mills. Operating hydrocyclones in conjunction with a ball mill significantly impacts the entire grinding circuit's efficiency and consumption rates because in addition to defining particle size, hydrocyclones also define the material loads in the highest energy consuming circuit and the feed rate of the most energy inefficient equipment.
Efficient hydrocyclone operation is crucial to reduce unnecessary loads and related energy, water and spare parts consumption throughout the plant. Correctly sized hydrocyclones with specialised design features improve recovery and reduce consumption for increased efficiency and sustainability. Although the original Cavex® hydrocyclone chamber design remains the most advanced on the market, we altered the equipment's geometry for enhanced cut point, fines bypass and unit capacity to provide a more sustainable operation.
Finer separation and higher capacity delivered by the Cavex® 2 hydrocyclone
Another consideration for classification and separation is a hydrocyclone's cut point. This refers to the size of a particle when it has a 50/50 chance of reporting to either the overflow or underflow. The specific gravity, feed percent of solids, pressure and hydrocyclone geometry all help determine the cut point.
Pressure is a key factor used to apply centrifugal force to particles after they have entered the feed chamber. Coarse particles are pushed away from the hydrocyclone's air core, sending fine fragments to the overflow. A higher pressure generates a finer product. However, higher pressure requires higher energy in pumping and increase spare consumption in both pump and cyclone.
Feed percent solids have the most significant effect on cut point in relation to pulp viscosity and particle population density around the air core. For a finer cut point, the feed should be diluted. The more diluted the feed, the higher the water consumption in a grinding circuit.
Acknowledging the need for more sustainable minerals processing equipment that addresses the above parameters, Weir Minerals has developed the Cavex® 2 hydrocyclone.
When embarking on this development journey, Weir Minerals envisioned a hydrocyclone which could achieve a finer cut point without sacrificing water,energy, or service life of spare parts.
Testing has shown that the new Cavex® 2 hydrocyclone can produce a finer cut point when compared to other Cavex® models under the same conditions. This is primarily due to the advanced LIG+™ inlet and chamber design.
In addition to finer cut point, another feature provided by LIG+™ inlet and chamber design is more hydraulic capacity per unit. he Cavex® 2 achieves up to 30% additional hydraulic capacity, enabling operators to increase throughput with fewer hydrocyclones. The result? Significant monetary savings, with reduced footprint and spares consumption providing a sustainable operation.
The advantages of lower bypass
Bypass refers to the ratio of fine particles in the feed to coarse product that is transported by water to the hydrocyclone's underflow, relative to water split ratio to underflow. All hydrocyclones will bypass fines to some extent, but this can be minimised through careful design and operating conditions.
Increasing bypass negatively impacts grinding circuit performance by generating high circulation loads, consuming energy and spares throughout the entire circuit.
Designed to minimise bypass, the Cavex® 2 hydrocyclone lowers circulation loads for high grinding efficiency, saving operators both energy and spare parts consumption.
Sustainable classification and separation
Hydrocyclones are a crucial part of both grinding and beneficiation circuits, and Cavex® 2offers unprecedented classification efficiency, capacity, cut point and bypass. With its new feed chamber design LIG+™ reducing turbulence, classification sharpness is increased for higher recovery and reduced tailings.
Up to 30% increased capacity, finer separation and lower bypass rates lower water and energy consumption, reducing carbon emissions and aiding sustainable water management. A reduction in hydrocyclone cluster footprint and lower wear rates also reduce the production of waste generated by spare part consumption.
As the push for sustainable mining grows, operators understand that economic viability and profitability will become increasingly dependent on environmentally and socially responsible operation. By reducing water and power consumption, the Cavex® 2 hydrocyclone is a considered design working towards a more sustainable future of mining.