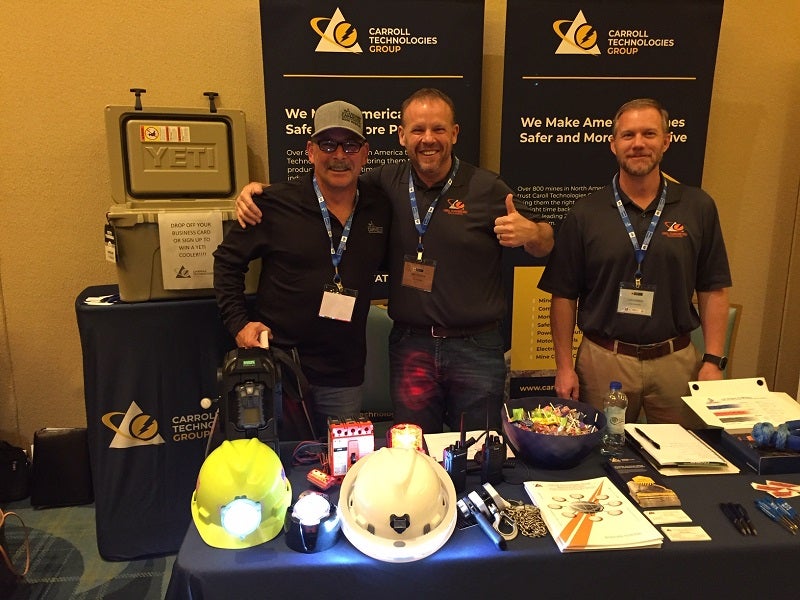 The 14th annual Southeast Mine Safety and Health Conference returned this month to Birmingham, Alabama, to showcase innovations in the mining health and safety industry across the United States.
The Ross Bridge conference centre hosted 46 exhibitors displaying vendor booths, technical sessions and keynote speakers. The conference took place between 5-7 November and welcomed more than 500 attendees.
Among the exhibitors was Carroll Technologies, a distributor of mining safety equipment and the Wi-Fi sponsor for the event.
Welcoming a number of visitors to their booth, Carroll Technologies reported particular interest in the Samson rope from attendees. Samson rope is a high-quality synthetic rope that is used across numerous applications and industries, such as mining, mooring, safety & rescue and defence.
The company's mining products are designed to be robust in the most challenging environments, with a product portfolio including ropes for conveyor belt pulling, dragline dumps, longwall shield haulers, tow recovery and winch lines. The use of high-performance synthetic rope is effective in improving both the safety and the efficiency of mining operations because synthetic materials are just as strong as metallic materials despite being approximately one-seventh of the weight.
Events of this year's SE Mine Safety & Health Conference
Executive committee member and MSHA Compliance and Minerals Contractor Safety Lead for Mosiac LLT Jon Heaser said: "With a packed house, the SE Mine Safety & Health Conference delivered energy and motivation to the attendees."
The event hosted a total of 45 speakers, including nine featured speakers, with 400 paid visitors and more than 500 attendees in total including speakers, vendors and volunteers.
The roll call of States comprised attendees from Alabama, Florida, Georgia, Kentucky, Maryland, Mississippi, North Carolina, Puerto Rico, South Carolina and Tennessee.
A special tribute was paid to fallen miners in the past year, including three miners in the local district.
Additionally, the conference hosted the 40 Year Miners Awards, which recognised 19 miners who have each worked safely for over 40 years without a recordable injury.
On the second night of the conference, the 'Not so Silent, Silent Auction' raised more than $10,000, which will provide scholarships to students who will and have attended the conference and are entering the workforce as OSH professionals.