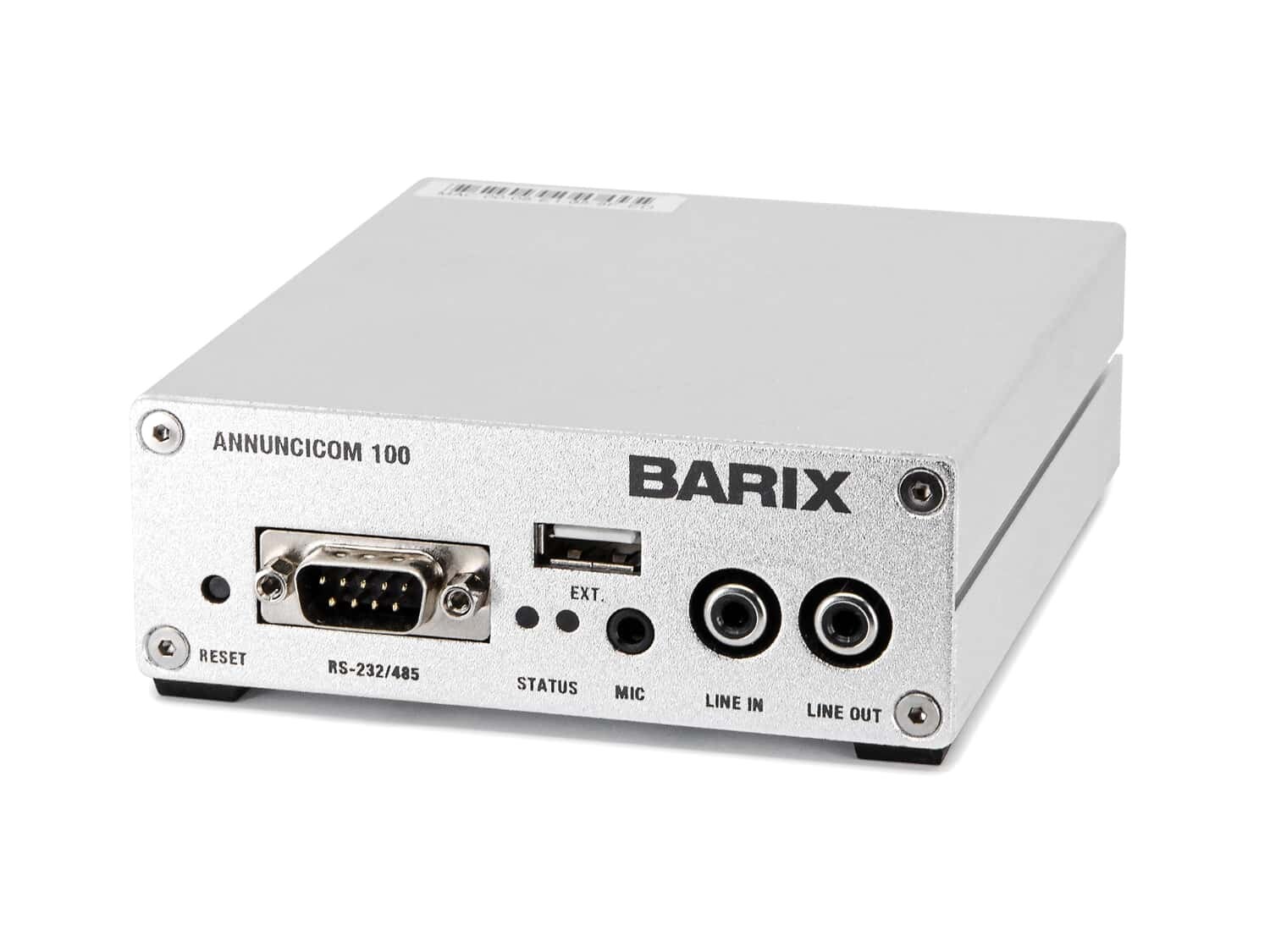 The Annuncicom 100 Intercom Paging device features contact closure inputs and relay output, a 2W amplifier, a microphone/ speaker and line-level interfaces.
The paging device supports both MP3 and voice codecs, as well as protocols such as shoutcast and SIP, making it ideal for both background sound and Voice over Internet Protocol (VoIP) applications. Used in thousands of locations across the globe, this device can be utilised as a paging gateway, small zone device or intercom device. The intercom paging device measures 108 x 38 x 125 mm and is rack and wall mountable.
The Annuncicom 100 Intercom paging device is expertly designed and engineered by Barix, an innovative company based in Switzerland that supplies internet radio, intercom and paging, SIP/VoIP/MOH and radio broadcast solutions. As experts in mining safety and communication solutions, Carroll Technologies stocks and supplies Annuncicom 100 Intercom Paging devices to the US through its online mining store.
Features and technical specifications:
MP3, G.711, G.722, PCM Encoding and Decoding
Shoutcast/Icecast Source capability
Audio Level Supervision with SNMP Trap generation
IP Streaming via TCP, UDP, RTP and Multicast
Nine to 30 VDC, 12 to 24 VAC
Terminal block and 2.1mm barrel connector
10/100Mbps auto
RJ-45 connector with integrated Link/Activity LED
With more than 30 years of experience, Carroll Technologies is ideally positioned to provide customised communication networks for mines and tunnelling projects. Through its MinerCare 24/7 support service, Carroll offers factory-authorized repair and certification, as well as rapid response for mining emergencies, expert around the clock technical support, an extensive spare parts inventory, and training for equipment from major manufacturers.
For more information about Annuncicom 100 Intercom paging device or communication solutions for your mining project, call Carroll Technologies on 606-573-1000 or send an enquiry here. Browse Carroll Technologies' online mining store for a vast range of underground mining communication devices to build a rugged, reliable and comprehensive mining communication network.