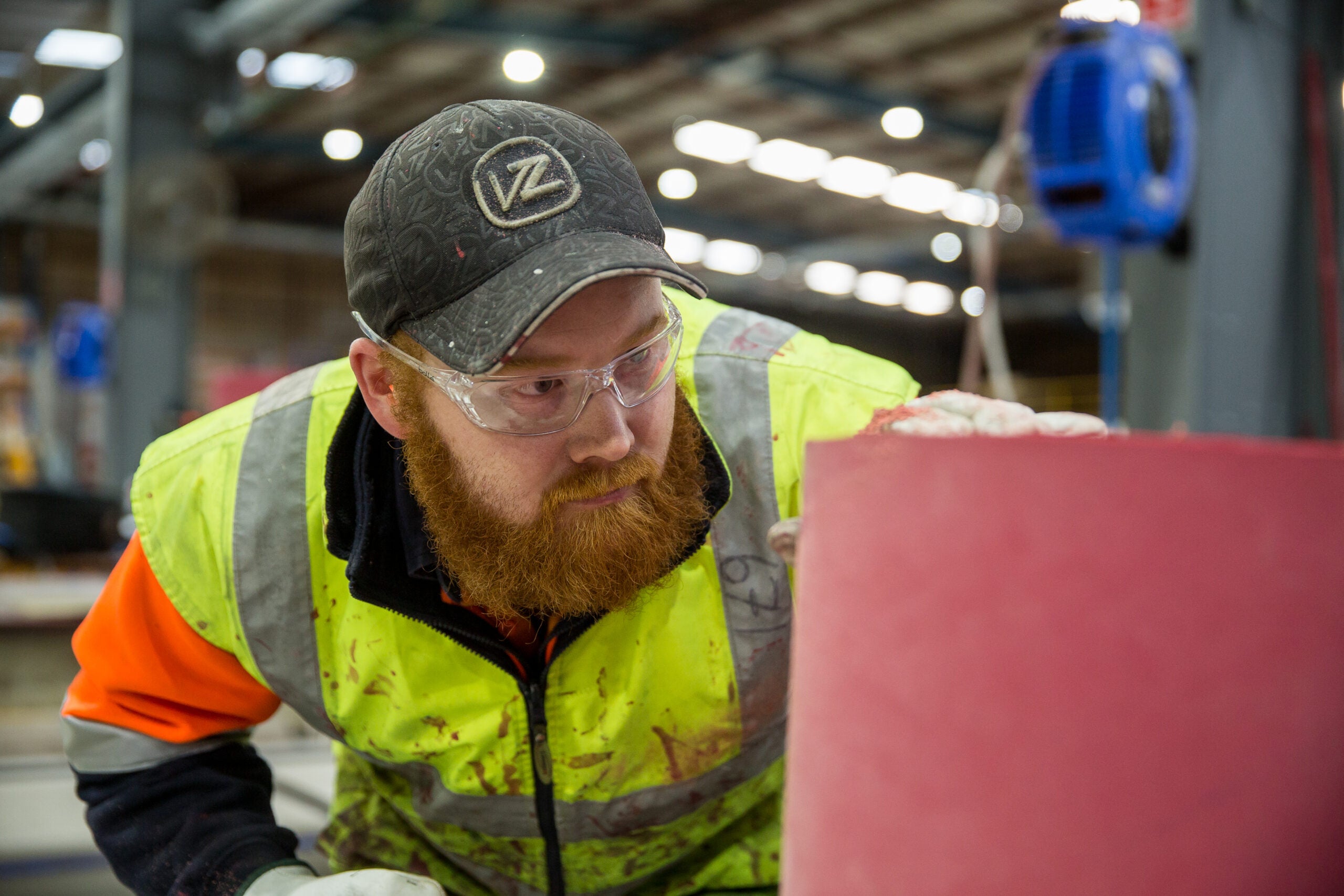 Material selection is a critical part of any equipment decision: get it wrong and you run a high risk of negatively impacting your entire process.
While the range of wear materials can seem overwhelming, it's vitally important to select the right material for the job. A sub-optimal material will last fewer campaigns and increase the risk of a serious failure that could result in unplanned maintenance.
When to use an elastomer 
Whenever possible, an elastomer should be your first choice, as it will generally achieve a much longer wear life and achieve a significantly lower total cost of ownership than metals in a like-for-like application.
Rather than degrading, elastomers temporarily deform when struck by smaller objects, absorbing the impact's kinetic energy. It then returns energy back to the particle, thus limiting damage to the substrate.
This resilience frequently makes elastomers the material of choice for applications including spools and valve lining.
A number of factors influence which elastomer will function best in a given application, including the size and shape of particles in the slurry or tailings, which chemicals have been introduced into the process and the temperature of the slurry.
Compared to metals, elastomers also reduce material handling risk to personnel, as they're lighter and don't wear away to a sharp edge.
Natural rubber remains the most effective material for managing long-term wear by fine particles. Rubber's wear resistance is at its highest when preserved and maintained as close as possible to the natural latex found in the tree.
Synthetic rubbers are formulated to meet a variety of specific applications where characteristics other than pure particle wear resistance are required. These include the processing of a variety of chemicals such as leaching acids and hydrocarbons, as well as slurry temperatures above 70°.
When to use metal alloys 
In some applications, rubber simply isn't suitable. Metal alloys remain the material of choice for dealing with larger, coarser particles, high temperatures and hydrocarbons.
Another scenario where metal is preferred are 'high head' areas, where an impeller or some other rotating object is spinning quickly next to the rubber and initiates a process called hysteresis reversion. In this situation, the frequent pressure pulses would lead to a heat build-up inside the rubber, degrading it from the inside out.
High head areas are present throughout a mine, especially if there are undersized pumps being overworked. In this case, metal alloys are the best choice.
Common mistakes 
Failing to use the right material for the job can significantly degrade a component's wear life and put a plant at risk of an unplanned shutdown.
Perhaps the easiest mistake to make when selecting a wear material is failing to consider the disparate processes and chemicals a slurry feed is subject to upstream of your application. The right wear material isn't just determined by the immediate parameters of your application: a wide variety of upstream processes can have significant repercussions for downstream wear, often in ways that are difficult to anticipate.
Seemingly small amounts of 'safe' chemicals can have an outsized impact on the overall wear life of materials not designed for deployment in corrosive environments.
Another key mistake is using natural rubber in circuits with large amounts of chemicals. A common example is the use of natural rubber to handle slurries containing floatation collector chemicals. These hydrocarbons (often diesel fuel) cause swelling in natural rubber and can cause accelerated wear to rubber components.
When selecting a material for critical components, there's no substitute for working directly with your OEM to ensure you deploy a cost-effective material which will go the distance.
Inside Weir Minerals industry-leading materials 
Weir Minerals offers a wide range of wear materials designed to excel in different applications.
Linatex® premium natural rubber offers legendary resilience. It retains the excellent molecular weight and abrasion resistance of natural rubber. For lining applications with coarser materials, the Linard® range combines high flexibility with excellent cut resistance.
The R55 natural rubber compound provides outstanding wear resistance across a wide variety of slurry pumping applications, and in highly erosive applications the new R508 premium natural rubber compound offers even better wear life.
Weir's Linathane® polyurethane compound is chemically formulated to provide superior resistance for general duties.
When metals are better, Weir Minerals' chromium white irons, Hyperchrome® and Ultrachrome®, provide outstanding wear life. Ultrachrome® provides industry-leading resistance in corrosive environments. Hyperchrome® is Weir Minerals' strongest metal.
To find out more, visit https://www.global.weir/industries/mining/processes/wear-lining-and-corrosion-protection/