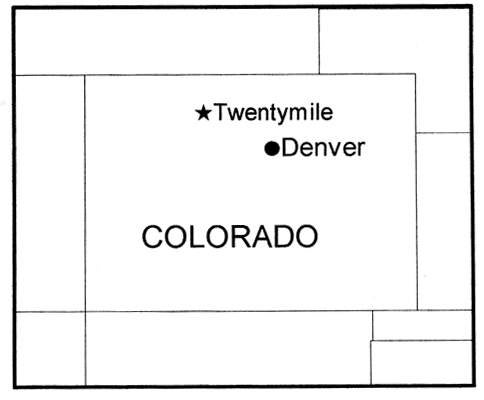 Twentymile is located in northern Colorado, 30km from Steamboat Springs and 180km north west of Denver.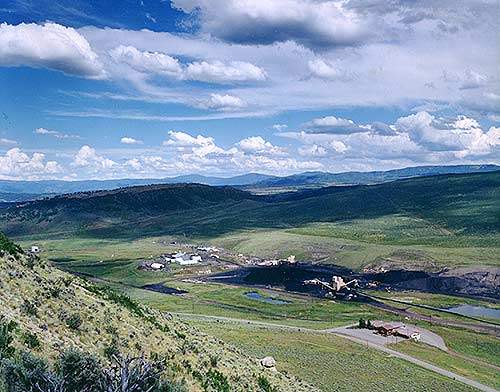 Twentymile's coal stockpiles dominate the mine site, the area behind the current mine having been worked previously by a strip mine and then restored to productive ranch land.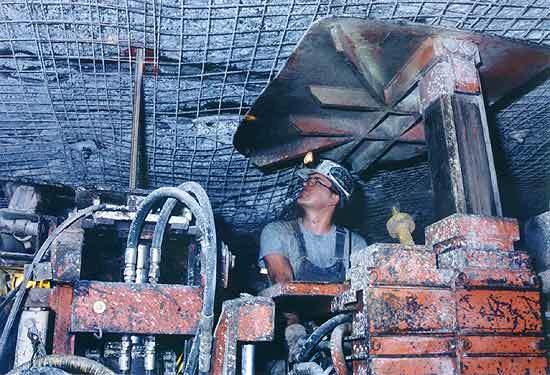 Installing rock bolts and protective steel mesh in a gateroad development heading.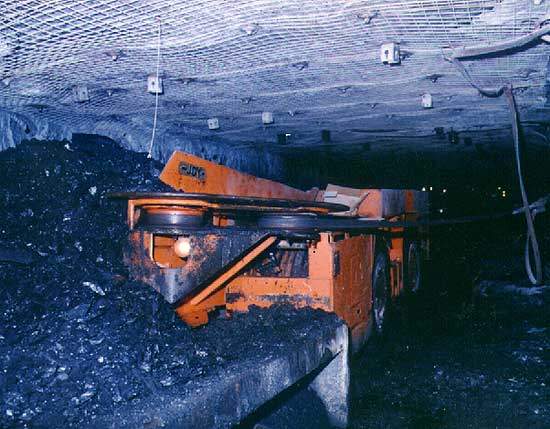 Coal being discharged from one of the electric-powered shuttle cars used in gateroad development.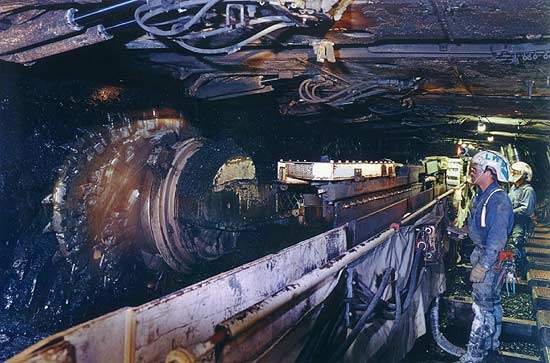 The Long-Airdox Electra 3000 shearer, which can cut a 900 mm-thick slice of coal at speeds of over 40 m/minute along the longwall face.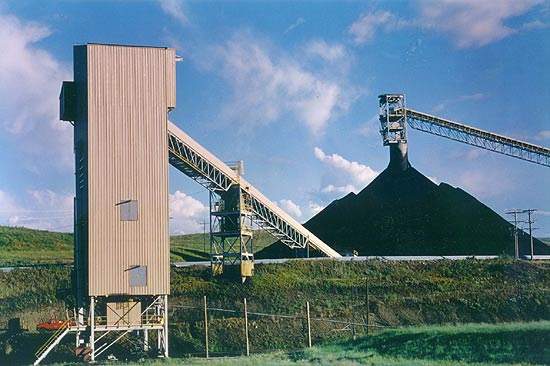 The rail loadout at Twentymile; 95% of the coal produced is sold as mined, with only crushing and screening to size.
Twentymile is serviced by the Union Pacific Railroad, which runs two or three 10,000t-capacity unit trains per day from the mine.
The Twentymile longwall coal mine is located 30km south west of Steamboat Springs in north-western Colorado, USA. It is the world's most productive underground coal mine in terms of output per man-year. The mine was developed by Cyprus Amax, which sold it to the German company, RAG Coal International, in 1999. In 2004, RAG in turn sold Twentymile to Peabody Energy as part of its divestment programme for its US and Australian assets.
The mine's annual production depends on its customers' requirements. In 2005, it achieved another record in terms of output with 8.7Mt of power station fuel, significantly higher than the 7.0–7.3Mt/y. achieved in previous years. The mine has a labour force of some 240, plus 80 salaried staff. Peabody installed a new longwall system at the mine during 2006, with the aim of increasing its output to 10.9Mt/y by 2008.
The mine opened in 1983 with initial production from a small room-and-pillar operation. Longwall development began in 1987 with the first face commissioned in 1989. Since that time, Twentymile has produced a cumulative total nearing 100Mt of coal, with Peabody planning major investment in new longwall equipment for the mine during 2005. Twentymile received a state environmental award for the success of its discharge water-treatment programme in 2005.
GEOLOGY AND RESERVES
Twentymile lies in the upper cretaceous Green River coalfield that extends through northern Colorado into southern Wyoming. The operation mines the 2.6–2.9m-thick Wadge seam, which dips at a maximum of 10° and lies beneath 300m and 400m of overburden.
While reserves of more than 65Mt (as at the end of 2005) had been sufficient to support production at previous rates beyond the existing long-term mine plan, the installation of the new, higher-capacity longwall will inevitably mean that depletion will occur sooner than had been planned in the past.
COAL QUALITY
Twentymile produces thermal coal that is almost entirely shipped to customers without washing. Typical product quality parameters are:
"The installation of the new, higher-capacity longwall will inevitably mean that depletion will occur sooner than had been planned in the past."
Moisture – 10.3%
Ash – 9.8%
Volatiles – 35.5%
Heating value – 26.3MJ/kg
PANEL DEVELOPMENT
The mine has two development units, each consisting of a Joy 12CM12 continuous miner, two Fletcher roofbolters, Joy shuttle cars and a Stamler feeder-breaker. 6m-wide by 2.9m-high gateroads are roofbolted using 1.8m-long resin-bonded bolts, with Jennmar cable trusses used for additional support where roof conditions require it.
MINING METHOD
Twentymile uses a single longwall as its main production unit. The first nine longwall panels, which were extracted between 1989 and 1996, were located in the western area of the mine, with the output since then coming from the eastern area. The last of eight longwall panels here was completed in 2001, with production shifting to the Northern block, which has reserves for 15 panels.
From an initial face length of 195m, the eastern area faces have been mined using a 260m face that was further lengthened to 305m in 1999. After experimenting with 5.5km-long panels on the first two eastern block faces, the panel length was reduced to the current 3.6km to 4.5km range on account of faulting within the reserve area. Face equipment includes a Long-Airdox Electra 3000 double-drum shearer with the 174 face supports, armoured face conveyor and stage-loader supplied by Deutsche Bergbau Technik (DBT). The coal transport system has been supplied by Continental Conveyor, with a 1.8m-wide main belt conveyor capable of handling 5,000t/h of run-of-mine coal at a speed of 4m/s. This system was upgraded during 2006 with the purchase of a new longwall equipment set.
The shearer travels along the face at a speed approaching 40m/m, cutting 900mm of coal from the face at each pass. It typically completes 20–22 production cycles per shift, cutting at a rate of around 2,700t/h. Maximum daily (24-hour) output has been 46,340t. Computerised monitoring systems shut down the shearer to prevent the conveyor network from being overloaded if the face output rate approaches the conveyor's maximum rating.
SURFACE HANDLING AND SHIPPING
Only out-of-specification, run-of-mine coal (typically from development headings) is washed, with around 95% of the mine's output screened and crushed to –50 mm before loading into unit trains for transport to Twentymile's customers. The mine is serviced by Union Pacific, which runs two or three, 105-car trains each carrying 10,000t per day to power stations in Colorado and as far away as Kentucky, Georgia and northern Mexico.