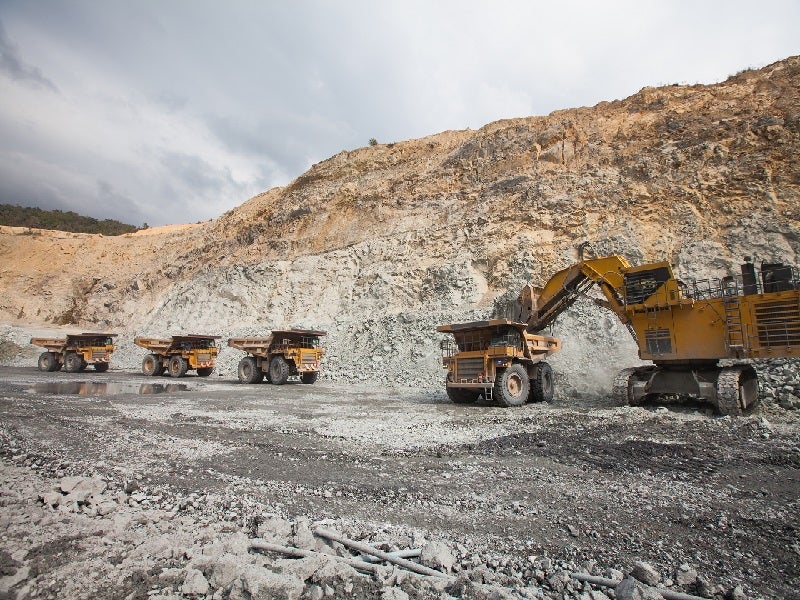 Tiris uranium will be developed as a free-dig open-pit mining operation. Credit: phetsamay philavanh/Shutterstock.com.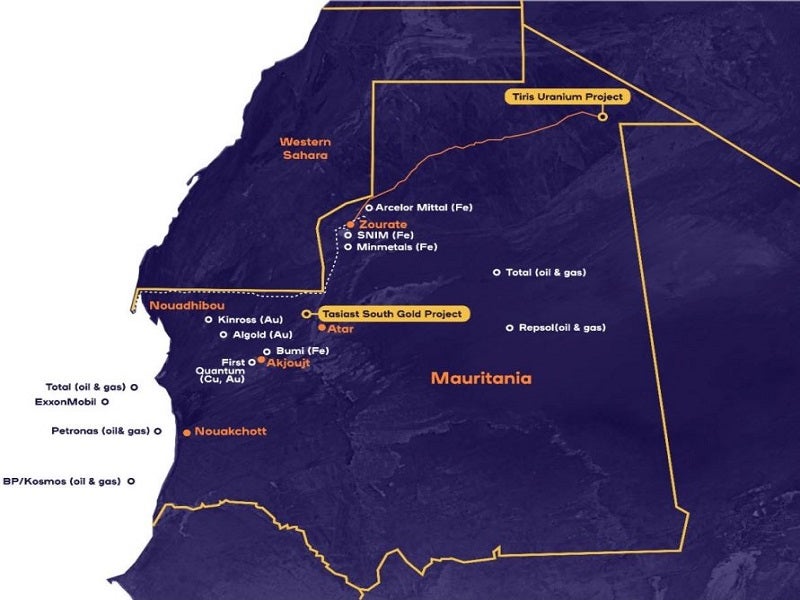 The project is located in the Tiris Zemmour region of Mauritania. Credit: Aura Energy.
Tiris is expected to produce 2Mlbs of U3O8 a year. Credit: Aura Energy.
Tiris is a greenfield open-pit uranium mining project being developed by Australian uranium exploration company Aura Energy in the Tiris Zemmour region of Mauritania, West Africa.
Aura Energy holds an 85% interest in the project through its subsidiary Tiris Resources, while the remaining 15% is held by Mauritania's National Agency for Geological Research and Mining Heritage.
A definitive feasibility study for the project was completed in July 2019, followed by an enhanced feasibility study (EFS) in March 2023.
The EFS highlighted an increased average annual production of two million pounds (Mlbs) of triuranium octoxide (U3O8) over an initial mine life of 16 years with an estimated capital investment of $178.2m.
Aura Energy is expected to reach a final investment decision on the project in the fourth quarter of 2023 and begin commercial production in early 2025.
Project location
The Tiris uranium project is located in the Tiris Zemmour region of Mauritania, 680km from Zouerat and 1,400 km from the capital city, Nouakchott.
Geology and mineralisation
The Tiris uranium project lies in the northeastern part of the Reguibat shield, which forms the northern part of the West African Craton (WAC).
The regional geology is characterised by granitoid meta-sediments and meta-volcanics of the Archaean and Lower Proterozoic age.
Lazare, Hippolyte and Sadi are the three main uranium deposits within the project area, with mineralisation hosted either within weathered and partially decomposed red granites or in colluvial gravels developed on or near red granites.
Uranium mineralisation principally occurs as fine dustings and coatings of carnotite on granite or granite mineral fragments mixed with calcium carbonate.
Uranium reserves at Tiris
The Tiris project was estimated to hold 40.3 million tonnes (Mt) of proven and probable mineral reserves grading 254 parts per million (ppm) U3O8­, as of March 2023.
Mining methods
Tiris will be a shallow, free-dig open-pit uranium mining operation employing conventional open-pit dry mining methods. The mining fleet will comprise a combination of bulldozers, excavators and trucks.
Three mining hubs, Lazare, Hippolyte and Sadi, are planned as part of the project. The Lazare hub will host the Lazare South and Lazare North pits. The Hippolyte hub will host the Hippolyte Z3, Hippolyte North and Hippolyte South pits, while the Sadi hub will host the Sadi North and Sadi South pits.
Although drilling or blasting will not be required for ore extraction, grade control drilling will be undertaken at each mining area prior to excavation.
The waste from strip mining will be returned to a previously mined area, thereby excluding the need for building waste dumps or rehandling.
Processing
The run-of-mine (ROM) ore will undergo beneficiation to separate uranium-bearing carnotite from barren particles by scrubbing and screening.
The ore material will then pass through leaching, ion exchange and precipitation circuits to produce the final uranium oxide product.
Alkaline leaching will be undertaken using sodium carbonate and sodium bicarbonate at 90°C temperature with a residence time of 12 hours. The leached solution will be filtered and washed using a filter-repulp-filter configuration before undergoing ion exchange to recover uranium.
After ion exchange, the resin loaded with uranyl carbonate will undergo elution using sodium bicarbonate. The eluted uranium stream will be further concentrated by nano-filtration. The sodium bicarbonate recovered from the filtration process will be recycled back to the leach circuit. Uranium will then be precipitated with sodium hydroxide as sodium diuranate, which will be filtered and dissolved in sulphuric acid as uranyl sulphate.
Hydrogen peroxide will be used to precipitate uranium and produce uranium oxide concentrates. The final yellowcake product will be packed in secure steel drums and transported by road to the port of Nouakchott.
Off-take agreements
Aura Energy signed a seven-year offtake agreement with uranium concentrates trading company Curzon Uranium in January 2019.
Curzon agreed to buy 800,000 pounds of U3O8 at fixed prices with an option to purchase another 1.8Mlbs of U3O8 as optional volumes at fixed and market pricing.
Aura Energy also entered a $10m offtake financing agreement with Curzon Uranium in October 2021.
Site infrastructure
The project site is accessible by 665km of unsealed desert track and a 15km sealed road connecting the existing N1 sealed highway from Nouakchott port to Zouerat.
An accommodation camp for 200 personnel will be constructed 3km northeast of the plant site.
The project is expected to require up to 6.2MW of electricity, which will be met through on-site diesel-powered generators and a 2.1MW solar power plant.
Water needed for the project is proposed to be sourced from the Oued El Foule Depression, an extensive drainage system located less than 20km from the plant site.
Contractors involved
H&S Consultants and Resolve Mining Services provided the mineral resource and ore reserve estimates for the project. Resolve was also responsible for the pit optimisation, mine design, production scheduling and mining cost estimation.
Mincore provided the initial capital cost estimate, while Simulus Engineers, Adelaide Control Engineers (ACE) and Aura provided the operating cost estimates for the project.
DRA Global and its wholly-owned subsidiary Senet were contracted for the phase one front-end engineering and design study for the project in June 2022.
Wallbridge Gilbert Aztec and ACE will work together to engineer, design and deliver the Tiris uranium processing plant.
Earth Systems completed the environmental and social impact assessment for the project in 2017.