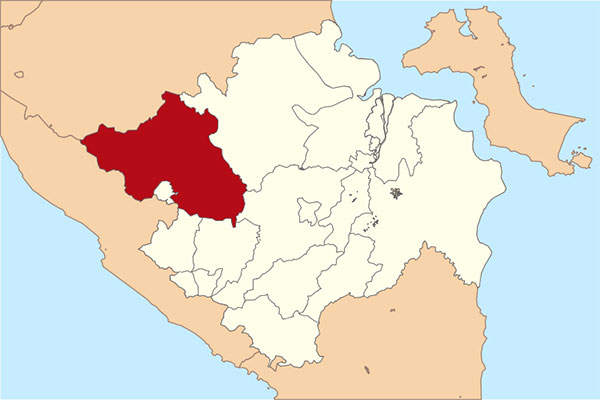 Sumatra Gold and Copper's Tembang gold and silver deposit is located in the North Musi Rawas Province of South Sumatra, Indonesia. Image: courtesy of Ewesewes at id.wikipedia.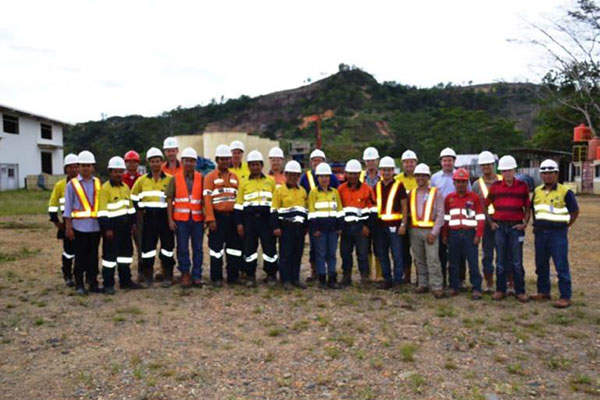 Construction works recommenced in November 2014, while open pit mining started in June 2015. Image: courtesy of Sumatra Copper & Gold.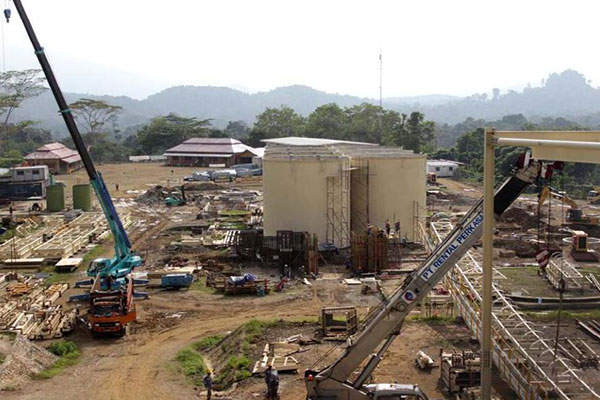 The Tembang processing plant will have a capacity of 400,000t/y. Image: courtesy of Sumatra Copper & Gold.
Sumatra Copper and Gold fully owns the Tembang gold and silver project in the North Musi Rawas Province of South Sumatra, Indonesia, through its subsidiary PT Dwinad Nusa Sejahtera (DNS).
Construction of the Tembang project started in June 2013, but was suspended in December to allow for additional drilling to revise the mineral resource estimates required for the completion of a definitive feasibility study and secure full financing.
The construction was resumed in November 2014 and open pit mining began in June 2015. The project poured its first gold in September 2015.
It is anticipated that the project will have a mine life of five years, while the processing plant will have a throughput capacity of 400,000t a year.
Tembang deposit history, geology and mineralisation
The Indonesian mine is spread over an area of approximately 850km2 in the North Musi Rawas Province. The mineralised system was originally discovered in 1986 by CRA and was explored by PT BTM until 1995.
Laverton Gold conducted open pit mining at Tembang between 1997 and 2000 and produced approximately 155,000oz of gold. The mine was, however, put into care and maintenance in 2000 due to low gold price.
Intermediate sulphidation epithermal style of mineralisation, containing gold and silver-bearing quartz veins hosted within volcanic rocks, is present at the Tembang deposit. The metal-bearing sulphide veins are contained within andesitic rocks of the Miocene Hulusimpang Formation.
Most of the vein systems at Tembang are constrained by lithologies, which are conducive to the style of brittle vein formation noted over the main mineralised zones.
Tembang gold-silver mine reserves
As of 25 March 2014, the Tembang mine was estimated to contain JORC Code 2012-compliant proven and probable reserves of 2.01 million tonnes grading 2.8g/t Au and 32.9g/t Ag. It is forecasted to contain 181,000oz of gold and 2.12Moz of silver.
Tembang mine development
The Tembang deposit consists of an underground mine Belinau and five open pits namely Asmar, Bujang, Tembang / Anang, Siamang (Buluh), and Berenai. The mine is proposed to be developed in two stages, with the first involving a combination of open pit and underground mining methods, while the second stage will double the processing plant capacity to 400,000t/y.
Mining and processing of ore at the Tembang deposit
Long-hole stoping with backfill is used at the underground Belinau mine, which is accessed through a decline portal that has a total length of 1,360m.
Conventional drilling and blasting followed by loading and hauling are used at the open pits, which have a recovery rate of 95%. The open pit mines uses a small CAT350 excavator and six-wheel rigid frame local trucks to excavate and haul the ore.
The ore undergoes single-stage primary crushing followed by grinding in a SAG mill, which consists of a 1.6MW variable speed drive motor with cyclone clusters. Resultant product undergoes gravity concentration, where cyanide is added to the material.
The concentrated material is delivered to the leach circuit, which comprises six carbon-in-leach (CIL) adsorption tanks. The loaded carbon is gravitated to the acid wash column and is eluted before transferring to electro-winning cells. Meanwhile, concentrate is pressure-filtered and furnaced to produce a silver-rich gold doré, which is transported to a refinery in Jakarta.
Financing of Tembang gold-silver project
Macquarie Bank provided a convertible debt finance facility of $5m for the Tembang project. Credit Suisse provided a $30m senior debt finance facility for the gold project.
In October 2014, DNS entered into a senior secured debt facility of up to $45m with Nomura Singapore and Indonesia Eximbank for the mine development.
Infrastructure facilities at Tembang
"The project poured its first gold in September 2015."
Initial power supply for the mine is provided by a contractor-operated power station comprising six 1MW diesel generators. Compressed natural gas (CNG), the primary source of fuel supply, are procured in 20ft container-type storage vessels on a daily basis or as required, while diesel is used as secondary fuel.
Potable water supply for the processing plant and the workforce accommodation facilities are collected from the camp bore-field and treated.
Key players involved with the Tembang mine development
Aggreko was awarded the build-own-operate (BOO) contract for developing the power station at Tembang. AMC Consultants (AMC) was engaged to undertake a geotechnical study for the underground mine along with a mining peer review for the entire project, for the feasibility study.
Entech was entrusted with the open pit and underground mine design works, while Golder Associates were engaged to conduct geotechnical studies for the open pits and groundwater and surface water facilities at the mine.
Oreway Mineral Consultants was responsible for conducting metallurgical test works and process plant peer review as part of the DFS, while SRK Consulting was engaged to design the tailings storage facility.