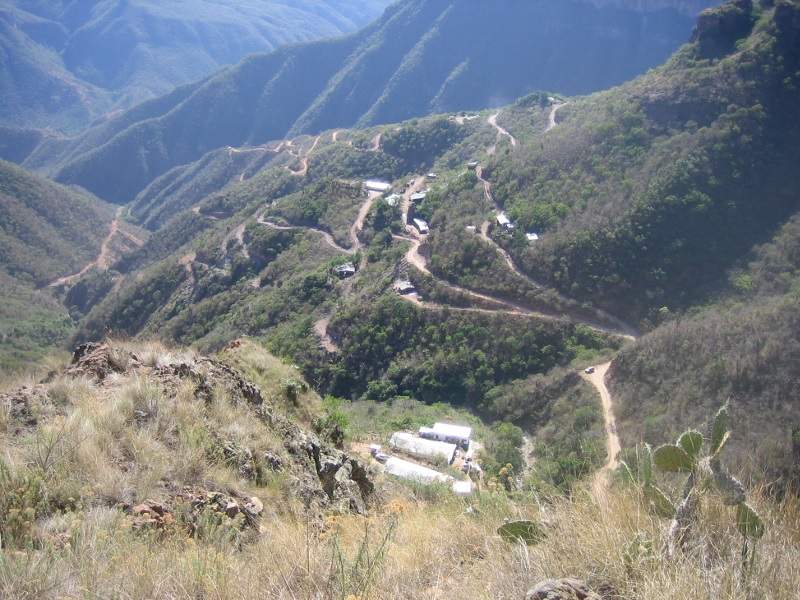 The advanced-stage Tahuehueto poly-metallic project is located in the Durango State of Mexico. Image courtesy of Telson Resources.
Tahuehueto is an advanced-stage poly-metallic project located in the Durango State of Mexico. Being developed by Telson Resources, the project is located close to the Guanacevi silver district, the Palmarejo silver and gold mine, as well as the San Dimas mining district.
Pre-feasibility study of the underground mine was completed in January 2017, while pre-production mining began in June 2017. Commercial production is expected to begin in the first quarter of 2018. The project is estimated to have a mine life of 21 years.
Telson Resources holds 100% ownership of the project through a 99.9% share ownership in its Mexican subsidiary.
The mine is expected to operate at an initial production rate of 550tpd and anticipates to double production during the first year of operations.
Tahuehueto mine geology and mineralisation
The Tahuehueto mine is located within the vast Sierra Madre mineral belt, and comprises 28 mining concessions, which are categorised into five non-contiguous blocks spread over 7,492ha.
The mine lies near the western edge of the Sierra Madre Occidental, a 1,200km-long north-northwest-trending volcanic plateau that is between 200m and 300km in width.
The property contains four main rock types, namely lower volcanic series andesite, granodiorite stocks, polymictic conglomerate, and felsic ash-flow tuffs of the upper volcanic series. The majority of the project area is underlain by andesite flows, tuffs and volcaniclastic rocks of the lower volcanic series.
"Telson Resources holds 100% ownership of the project through a 99.9% share ownership in its Mexican subsidiary."
The mineralisation at Tahuehueto is categorised as an intrusion-related epithermal low-sulphidation polymetallic Ag-Au style, which is accompanied by copper, lead and zinc mineralisation. These types of deposits are interpreted to have been derived from porphyry intrusion source rocks at depth.
The project hosts six mineralised vein structures namely El Creston, El Perdido, El Catorce, Cinco de Mayo, El Rey, and Santiago.
Tahuehueto project reserves
The Tahuehueto mine is estimated to contain probable ore reserves of 3.26Mt containing 356,000oz of gold, 4.39Moz of silver, 25Mlb of copper, 85Mlb of lead and 161Mlb of zinc.
Mining and processing of ore from Tahuehueto
Overhand cut and fill method of mining, using conventional drilling and blasting followed by mucking and hauling, will be applied at the underground mine.
Telson Resources is currently processing the ore from pre-production process at the Atocha Mill. In July 2017, the company has reached a mineral processing agreement with Compañia Minera de Atocha, the owner of the Atocha Mill, for processing approximately 21,000 of Tahuehueto ore during 2017.
Telson Resources acquired a new sulphide flotation mineral processing facility to increase the processing capacity to 1,000tpd, and anticipates starting production in the first quarter of 2018.
Ore from the mine will be sent to the grinding section in 20t capacity dump trucks. The coarse ore will be fed to a primary jaw crusher followed by a secondary crusher. The crushed dry ore will be fed to a ball mill powered by a 300HP motor, wherein fresh water and first reagents for the flotation process will be added.
The pulp mill will pass through cyclones before entering the gravimetric concentration and flotation section.
At the gravimetric concentrator, centrifugal force and specific gravity will be applied to separate heavy metals from the concentrates. The tailings from the gravimetric concentrator will be forwarded to the flotation section, which comprises three flotation circuits producing separate lead, copper and zinc concentrates.
Trucked in 30t trucks, the copper and lead concentrates will be sent to the port of Manzanillo in Colima, while the lead concentrates will be sent to Matehuala, San Luis Potosí for smelting and refining.
Infrastructure facilities at Tahuehueto
The Tahuehueto mine is accessed from Tepehuanes through a 40km paved road to Ciniega de Los Frailes, an additional 80km of unpaved road, followed by a 40km dirt road.
Power supply for the mine is proposed to be provided by gas engine generators, for which gas will be delivered by tanker truck from Durango.
The project is expected to consume approximately 250,000l of natural gas a month for generating the required power. It will include four gas storage tanks with a capacity of 30,000l each, offering a total storage capacity of 120,000l.
Water for mining operations is proposed to be sourced from the nearby Las Vueltas River.
PEMEX distributors will supply the diesel fuel required by the mine, which will be stored in two existing tanks with a capacity of 20,000l each.
Contractors involved
Colorado-based engineering firm Metal Mining Consultants (MMC) prepared the pre-feasibility study report for the Mexican project.