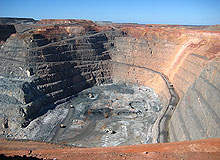 The Fimiston open pit mine, also known as Super Pit and Golden Mile, is the largest open pit gold mine in Australia, measuring 3.5km in length, 1.5km in width and 360m in depth. The oblong-shaped mine is located on the south-eastern edge of Kalgoorlie-Boulder, approximately 600km east of Perth. It is operated by Kalgoorlie Consolidated Gold Mines, a joint venture between Barrick Gold Corporation and Newmont Mining Corporation.
The mine operates with 669 employees and produces 850,000oz annually. It has an estimated 8.84 million ounces of proven and probable reserves. Operations at the mine site were temporarily suspended when a 5.2-magnitude earthquake shook Western Australia on 20 April 2010. The mine will be operative till 2017.
Super Pit geology
The mine lies within the Norseman-Wiluna greenstone belt of Western Australia. Gold-bearing ore lodes formed by a series of steeply plunging ancient shears are hosted within the mine in a massive rock unit known as Golden Mile Dolerite. The Golden Mile Dolerite hosts more than 2,000 ore lodes that extend over an area that is 5km in strike, 2km in width and 1km in depth. The ore lodes occur in different sizes, ranging from few centimetres to several hundred meters in strike and dip. Economically mined ore lodes are generally more than 10m long and 6m wide.
"The Fimiston open pit mine, also known as Super Pit and Golden Mile, is the largest open pit gold mine in Australia."
The Golden Mile Dolerite hosts the maximum gold found in Kalgoorlie. The rock unit is a tholeiitic gabbro and a layered sill with multiple fractionation.
Depending upon the mineral concentration and textures, the rock is segmented into ten units indicating an upward reduction of pyroxene and olivine, a rise in plagioclase and ilmenite and high content of quartz in the granophyric unit 8. The unit is intruded by a host of hornblende-plagioclase-quartz felsic dykes dated at 2675Ma. The dykes are similar in age and composition to the volcaniclastic sediments. Minor lamprophyre dykes also exist.
The D1 fault that occurred during 2670 Ma pushed along the Golden Mile fault and was regionalised within the black shales over the Golden Mile Dolerite. The D2 is locally dominated by large scale mostly west-over east reverse faults that cut the Super pit lodes. All D1 structures are folded by the D2 fold. The D3 faults are ductile, right lateral strike slip faults that are curved in dual directions. The faults are displaced within a scale of few kilometres.
The Golden Mile fault separates the ore lodes into two zones: the eastern lodes and the western lodes. The lodes plunge steeply and are segmented into three main sets: main lodes with northwest strike, cross lodes with north north-west strike and counter lodes with west north west strike.
Mineralisation
Mineralisation is localised in lodes as breccia veins. It includes breccia-dominated veins and open space-filling vein textures that are occasionally overprinted by a foliation. The best grade mineralisation is found in areas where lodes converge and form a pervasive mineralisation zone with their large alteration haloes.
The alteration haloes are sectioned within the mineralisation. The outermost zone that extends a few kilometres includes chlorite-calcite. Chlorite and calcite are gradually replaced by sericite and iron-rich carbonate within a few meters from the lode core. The extremely altered rocks include siderite, vanadium-rich sericite and no chlorite. Less-altered rocks consist of hematite and anhydrite.
Ore minerals found within the mine include pyrite, chalcopyrite and minor suphides, tellurides of silver, mercury, lead, gold and native gold. The ore is generally difficult to melt. The deportment of gold is approximately 30% native gold, 25% telluride gold, 35% gold included in pyrite and 10% extremely fine almost invisible gold within pyrite. In the lodes, the gold grades reach hundreds or thousands of grams per ton. The grade reduces to a few grams per ton, within alteration haloes. The average ore recovered is 2.5g/t.
"The Super Pit mine lies within the Norseman-Wiluna greenstone belt of Western Australia."
Super Pit mining
Mining at Super Pit is done using conventional open pit methods including drilling and blasting. Every year, around 15Mt of rock including waste rock is removed. Loading machines include PC 8000 hydraulic shovels that can carry 60t of material in their buckets in a single pass. Ore is loaded in Caterpillar 793 haul trucks of 225t capacity. Each day, the mining fleet at Super Pit moves approximately 240,000t of material.
Processing
Ore extracted from Super Pit is treated in two processing plants – the Fimiston plant and the Gidji Roaster plant. The processing involves crushing the ore before it is sent to a gravity circuit that recovers free gold hosted in high grade lodes. Free gold undergoes floatation to produce an auriferous pyrite concentrate. It is then roasted to recover the gold from the tellurides and pouring the dore bars.
Crushing, grinding, froth flotation and gold recovery are carried out at the Fimiston plant while roasting is performed at the Gidji plant. Carbon-in-leach is carried out at both the Fimiston and Gidji plants.