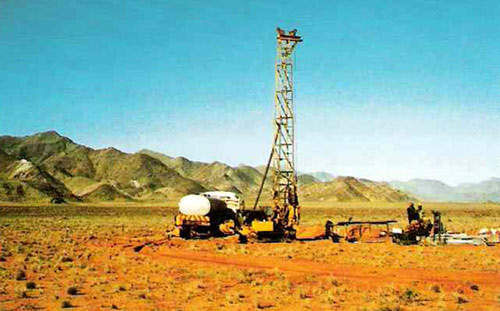 Exploration drilling at Skorpion, undertaken by Reunion Mining.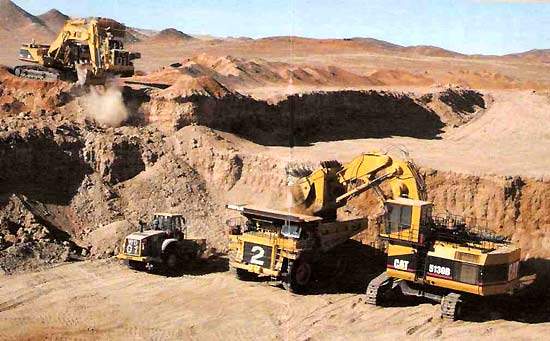 Caterpillar equipment in the Skorpion open pit.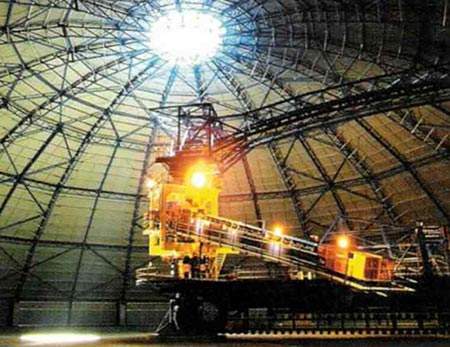 Inside the 93m-diameter, 30m-high Bateman / Schade dust-proof ore-storage dome, equipped with an internal stacker-reclaimer.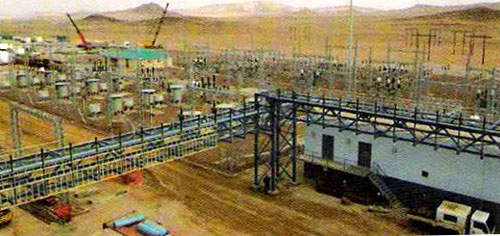 The 66/11kV step-down switchyard. Skorpion has increased Namibia's power demand by 25%.
Inaugurated in September 2003, the Skorpion zinc operation in south-west Namibia comprises an open pit mine, mill and a hydro / electrometallurgical refinery, plus a melting / casting shop. Commercial production started in May 2004, with a target of full-rate output of 150,000t/yr of special high grade zinc by the end of 2004.
Explored between 1976 and 1982 by Anglo American subsidiary, Erongo Mining & Exploration, the deposit lies approximately 25km north of Rosh Pinah, where housing and services are located. At that time, the non-sulphide mineralisation posed metallurgical difficulties and Anglo made no further investment.
However, in 1996 UK-based Reunion Mining obtained an option to earn a 60% interest in the property and proceeded to a bankable feasibility study.
"On 8 December 2010, the mine was acquired by Vedanta Resources."
Completed in November 1998 by South Africa's Bateman, this increased the size of the resource and, through a hydrometallurgical testing and solvent extraction-electrowinning (SX-EW) process designed by Spain's Tecnicas Reunidas and Union Minière of Belgium, solved the metallurgical problems.
In October 2009, Anglo American announced its intention to sell the Skorpion Zinc Mine. On 8 December 2010, the mine was acquired by Vedanta Resources through its wholly owned subsidiary Sterlite Industries for $707m. The mine is expected to establish the company's position as the largest zinc-lead producer in the world. The property was originally planned to be acquired by Hundustan Zinc, another subsidiary of Sterlite. Delays in regulatory approval, however, prompted Sterlite to proceed with the acquisition.
Skorpion development
In 1999, the Anglo American group purchased Reunion Mining, gaining 100% ownership of the project, and in September 2000 announced project go-ahead, at a capital cost of $454m, for an operating cost of $0.20/lb of zinc.
To optimise financing and assistance from the Namibian authorities, Anglo established Skorpion Mining Company to run the mine, and Namzinc to manage the refinery.
A joint venture between Canada's SNC Lavalin and South Africa's Bateman Engineering was engaged as the EPCM contractor. Namwater constructed the primary water supply system, based on a 30,000m³ reservoir. The operation has an installed power
capacity of 120MVA, which raised Namibia's total power consumption by 25%. A 250km-long, 400kV Nampower transmission line to Obib feeds a 66kV connection to a 66/11kV switchyard at the mine.
The operation is located in the Namib desert, and designs aimed at protecting this delicate environment added to the capital cost. At inauguration, Skorpion employed 600 people, with 250 more working for contractors.
Skorpion mining
Covered by 12m–14m of calcretised sand and gravel, the deposit occurs in Late Proterozoic volcano-sedimentary schists metamorphosed to Lower Greenschist facies grade. It is up to 180m thick and contains 21.6Mt ore grading 10.6% zinc. The unusual
mineralisation comprises the clay sauconite, smithsonite, hemimorphite and hydrozincite. There is no evidence of sulphide mineralization below the orebody, but there is a thin polymetallic sulphide occurrence 400km to the west that might be the source of the zinc in the silicate-carbonate ore.
"In 2009, the mine produced 150,400t, 1.5% below target."
The open pit is designed to yield 1.5Mt/yr ore, with a waste-to-ore ratio of 2.63:1, and will reach a final depth of 240m below surface through a 14-year life. The head grade of the mined ore is 11.6% zinc.
Mining started with a Caterpillar fleet, including a 5130B shovel, 375B backhoe, 992G wheel loader and 777D trucks plus an Ingersoll-Rand DM45 drill rig, all supplied and supported by Barloworld.
Zinc processing
Skorpion is the first commercial application of zinc SX-EW for processing primary leach liquor. Crushed ore is homogenised and wet milled. The refinery comprises basic zinc sulphate production, SX, EW and melting / casting facilities. Sulphuric acid leaching takes place in agitated tanks at atmospheric pressure and elevated temperature. Lime neutralisation of the Pregnant Leach Solution (PLS) precipitates impurities including iron, aluminium and silica. This precipitate is thickened and reacidified to recover co-precipitated zinc. Both the precipitate and residual solid tailings are removed by filtration.
The PLS is clarified and fed to the SX circuit where chlorides and fluorides that would interfere with electrowinning are removed by washing, and zinc is extracted using DEHPA reagent. Zinc is electrowon onto aluminium cathodes that are periodically
stripped, the zinc being melted and cast as SHG or continuous galvanising-grade ingots.
Zinc production
By the end of 2004, Skorpion had reached 95% capacity, with an output of 119,200t of zinc during the year. Production in 2005 rose by 11% to 132,800t of zinc, despite a tankhouse fire in February.
In 2009, the mine produced 150,400t, 1.5% below target. Production was hampered due to power shortages and mechanical breakdowns.
At full rate, the operation should contribute around 4% of Namibian GDP, and Anglo American expects to export some 90% of the zinc produced through Luderitz to the Asian, European and North American markets in about equal proportions, with the
remaining 10% being delivered to South Africa.