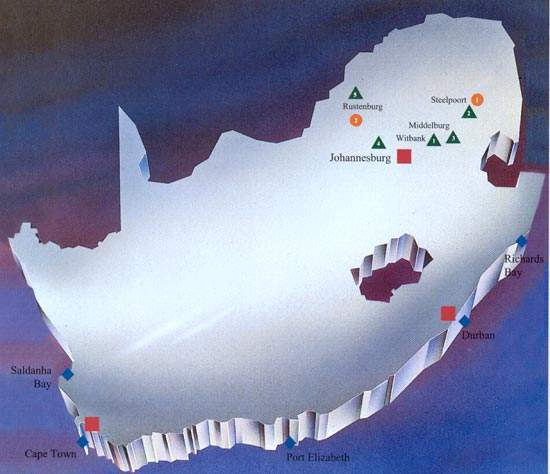 Location of Samancor Chrome operations: 1 - Eastern Chrome Mines; 2 - Western Chrome Mines; 1-5 - Ferrochrome operations.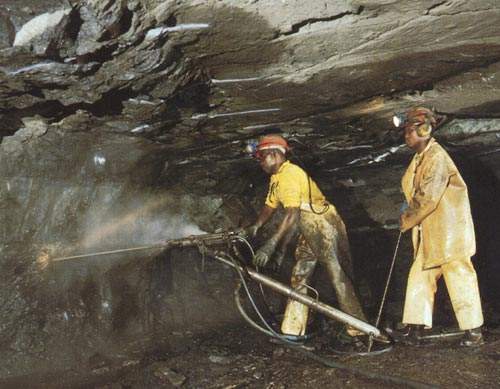 Drilling underground in one of the chromite seams.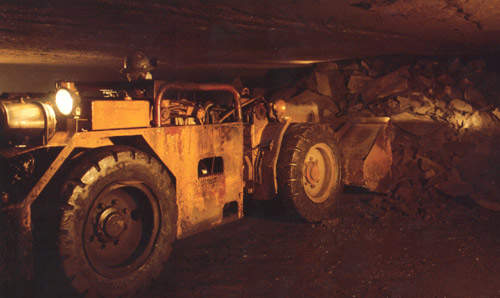 Ore-handling underground at WCM using a load-haul-dump machine.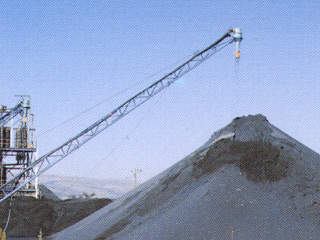 A stockpile of cleaned chromite ore.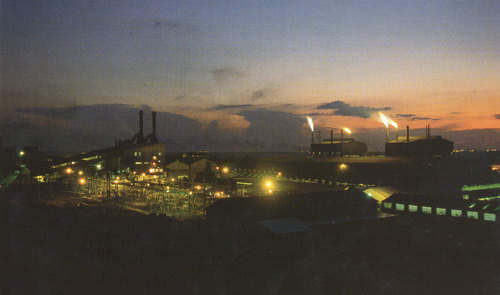 Samancor Chrome's Witbank ferrochrome plant.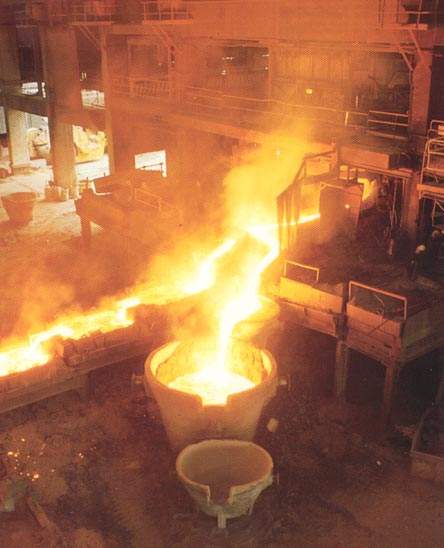 Molten ferrochrome at one of Samancor's plants.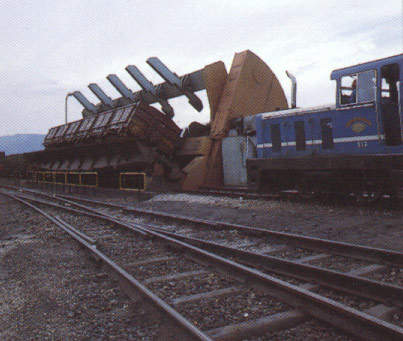 Tipping rail cars at the port of Richards Bay - through which Samancor Chrome exports both chromite and ferrochrome.
With low electricity prices, South Africa has been able to expand chromite and ferrochrome production more or less continuously since the AOD process was developed in the 1960s to use ferrochrome smelted from lower-grade ores.
Samancor was created in 1975 and its Chrome Division grew, mainly by acquisition, to become the world's largest integrated ferrochrome producer and South Africa's leading exporter of chemical-grade chromite and foundry sand.
Until June 2005, Samancor was owned by BHP Billiton and Anglo American, at which time the two companies sold the bulk of Samancor Chrome's wholly owned interests to the Kermas Group.
Xstrata and the Black Economic Empowerment company, Merafe, took over Samancor's stake in Wonderkop and certain chromite resources. In 2006, Kermas South Africa sold a 28% equity interest in Samancor Chrome to a Black Economic Empowerment consortium, Batho Barena.
Innovations introduced by Samancor have included direct chromite reduction and DC smelting. Samancor Chrome has subsequently streamlined its mine management while upgrading its smelters and improving non-metallurgical concentrates production.
To stabilise ferrochrome capacity utilisation, Samancor Chrome formed export production joint ventures with Far Eastern customers and a joint venture with local competitor Xstrata to build two new furnaces at the latter's Wonderkop smelter.
Samancor Chrome now provides employment for 5,500 people at two mines, three production plants and the corporate head office in Johannesburg.
Geology and reserves
Samancor's operations are centred on reserves held in the Bushveld layered intrusive complex, which contains approximately 70% of the world's economic chrome ore reserves in the Lower Group (LG) 6 and Middle Group (MG) 1 seams.
LG6 has a Cr2O3 content of 43-47% and a Cr:Fe ratio of 1.6:1, while MG1 averages 42% Cr2O3 and a Cr:Fe ratio of 1.5:1. LG6 is typically 1.1m thick and MG1 1.4m, both dipping gently.
At end-June 2002, Samancor's proven reserves totalled 16.6Mt grading 42.4% Cr2O3 with probable reserves of 23.4Mt. Total resources are estimated to be sufficient for 200 years of mining at current rates.
Mining
"Samancor Chrome employs 5,500 people at two mines, three production plants and the corporate head office."
Samancor has two mining centres: Eastern Chrome Mines (ECM) in the Steelport area of Mpumalanga Province and Western Chrome Mines (WCM) near Rustenberg and Brits in Northwest Province.
Both units now comprise five underground mining areas, each with a hoisting shaft, while WCM also includes an open-cut mine. Overall capacity is approximately 5.8Mtpa of run-of-mine ore.
Underground, Samancor relies mainly on room-and-pillar mining, typically with low-angle adits connecting to a horizontal access level. Thin seams limit the scope for mechanisation and blasting relies on drilling with handheld pneumatic jackleg units.
The ore is mined either up-dip or down-dip in rooms approximately 20m-wide, with the roof supported by ore pillars. Scrapers haul chromite to ore passes that load trains on the haulage level.
The trains load a conveyor in the hoisting adit. The dimensions in the Waterkloof/Millsell mining block have allowed WCM to replace scrapers with load-haul-dump machines.
The open cut mine uses 8t-capacity loading shovels and 40t-capacity trucks.
Ore processing
Samancor's concentrators – three for ECM and three plus a fluidised bed dryer for WCM – are individually configured to treat specific feed and yield a particular product range.
"Innovations introduced by Samancor have included direct chromite reduction and DC smelting."
Bushveld chromite is conveniently milled to recover a fine concentrate by gravity and elutriation techniques. However, ferrochrome furnaces need a porous charge so lumpy ore and chips must also be recovered by dense medium separation to mix with the fines.
The fines may be agglomerated at the smelters, either by briquetting or using the Outokumpu pelletisation and preheating system, to reduce the amount of lumpy ore and chip required. Further gravity separation and elutriation steps yield the specific grain sizes and reduced levels of impurities, such as silica, required for the chemical and foundry sand markets.
Samancor currently operates three flexible smelting systems with capacity in excess of 1Mt/y of ferrochrome at three sites.
The mines also feature six Submerged Arc Furnaces (SAF), a metal recovery plant, and a Pellet and Sintering Plant (PSP).
Production
In 2000, Samancor Chrome produced 3.7Mt of chromite and 1.06Mt of ferrochrome. Output fell in the depressed market of the following two years but recovered to 1.02Mt of ferrochrome in 2003.
Total saleable production in the year to June 2004 was 1.026Mt, and that in the year to June 2005, 954,000t. Approximately 0.5Mtpa of chromite is exported, mainly as chemical-grade or foundry sand.

Related content
---
Cullinan diamond mine is located in the Gauteng Province of South Africa.
The Kalahari Manganese Field, located in Northern Cape Province, about 700km southwest of Johannesburg, contains around 80% of the world's known high-grade manganese ore reserves.
---