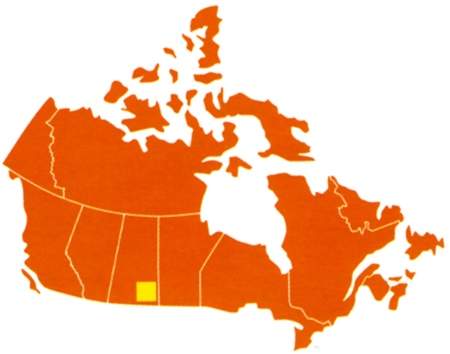 The Rocanville mine is one of six operated by PCS in southern Saskatchewan, Canada.

Rocanville's headframe, processing building and potash storage are all constructed for protection against the Canadian prairie winter.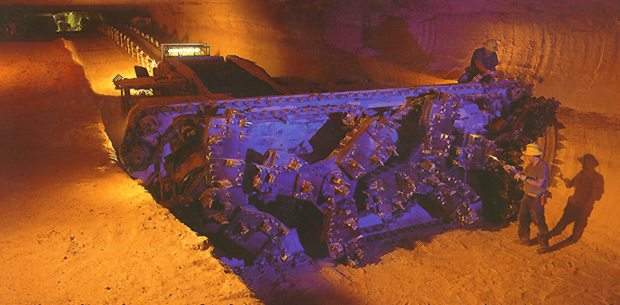 Production at Rocanville comes from the mine's fleet of Marietta four- and two-rotor miners, developed specially for high productivity in potash.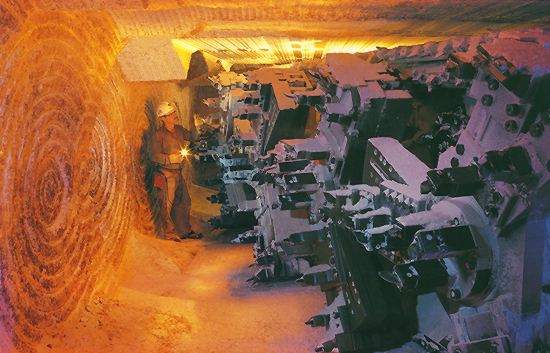 Each miner rotor cuts a circular profile, giving a three-pass cut to produce a final room width of 20m.
The Rocanville potash mine is 16km north-east of Rocanville and approximately 200km east of Regina, south-east Saskatchewan, Canada. The life of the Rocanville potash mine is estimated to be 40 years.
Due to the first stage of a nominal 400,000 tonnes per annum (tpa) expansion that came on stream in 2004, capacity increased to 749,000tpa. PotashCorp committed $80m to a 500,000tpa expansion of the operation's product-compaction capacity. The expansion was completed in the last quarter of 2005.
The mine was previously owned by the Potash Corporation of Saskatchewan (PotashCorp), which was merged with Agrium to form Nutrien in January 2018. The mine is currently owned and operated by Nutrien.
As of 2019, Rocanville had an annual nameplate capacity of 6.5Mt and an annual operating capacity of 5.14Mt of finished potash (concentrated KCl) products.
Expansion of the Rocanville potash mine
In 2007, the company announced a 2Mt mine and mill expansion project to further increase production at Rocanville. In 2008, the scope of the expansion was increased to 2.7Mt with provision for an additional 700,000t.
Completed in October 2017, a $2.8bn major refurbishment and expansion project increased the mill capacity of Rocanville to 6.5Mt KCl a year, making it one of the world's biggest potash mining operations.
The project provided the mine with two shafts capable of ore-hoisting. To transport ore from the new mining area to production shafts, a conveyance system was constructed underground. This minimises cost and ramp up time.
The expansion also included the addition of mining machines, underground services and infrastructure for power. A new mill was constructed beside the existing mill to process 2Mt of additional finished products every year.
Geology and reserves of potash
The potash zones are sandwiched between rock salt formations within the prairie evaporite. The lower Esterhazy member is mined for potash. The primary lithology is halite with variable amounts of sylvite, carnallite and clay. The main ore zone occurs at a depth of approximately 960m.
The average thickness is 2.43m with an average grade of 21.5% K₂O and 1.4% insolubles. At the end of 2005, PotashCorp stated Rocanville's reserves as being 372Mt at 22.5% K₂O, sufficient to support production at current levels for 59 years.
The total mineral reserves including proven and probable for Rocanville potash mine was 543Mt and total resource including measured, indicated and inferred was 4,479Mt as of 2018.
Mining of Rocanville mine
The mine has two concrete-sealed, 1,000m-deep shafts for production and service within the Blairmore formation.
Rocanville uses a long room-and-pillar method of mining. Ore is mined from rooms in three passes, separated by pillars supporting the overlying strata. Five automated Marietta two-rotor and four-rotor continuous miners, each capable of extracting 650tph of ore, form the production fleet.
The run-of-mine ore is loaded on to extensible conveyors attached to the continuous miners. These connect to the main haulage conveyors, which move the ore to skip-loading pockets at the shafts, where it is hoisted to the surface.
In addition to automating its Marietta miners to measure ore grades and mine selectively, the company installed a central control room at Rocanville from which the entire mine, surface and underground, is controlled.
The central control system, supplied by Allen-Bradley, oversees all aspects of the mine and mill operation and has optimised ore extraction and recovery since it was commissioned.
Rocanville recirculates a proportion of its ventilating airflow to reduce heating costs in winter.
Ore processing
The run-of-mine ore is crushed to free the KCl (potash) and is scrubbed and deslimed to remove any clay. After conditioning with reagents, the potash minerals are floated off with the products then being de-brined, dried and screened before shipment.
The mill has a central control system that monitors the ore throughout the refining process. Run-of-mine ore is dry-crushed and screened in a two-stage circuit before being slurried in a saline solution together with the fines prior to pumping to a sizing screen distributor. Mill feed is then de-slimed in a circuit of three scrubbing tanks for stationary screening, hydroseparating and thickening. Carnallite is decomposed in a cool leach stage.
Feed for reagent addition is collected from the stationary screens and cyclone underflows and is treated in vertical conditioners before being combined in a bulk flotation process. In the coarse flotation circuit, the ore treated with reagents is fed into a series of rougher, cleaner and recleaner flotation cells.
Final mill tailings are drawn off at the rougher stage and the final product at the recleaner stage. Cleaner-cell tailings are recycled to the rougher feed and recleaner tailings thickened in a scavenger cell and used as crystalliser feed.
The product is dewatered in centrifuges before drying in gravity-fed, direct-fired driers and classified according to size (granular, coarse, standard and suspension).
Rocanville has the capacity to produce 2.695Mtpa of granular, coarse and standard agricultural-grade potash, as well as industrial-grade material, and produced 1.83Mt of KCl in 2004. Having just expanded Rocanville's granular-product production capacity by 400,000tpa, PotashCorp has now committed $80m to a 500,000tpar expansion of the operation's product-compaction capacity.
More than 48 years of mine operation, 248.19Mt of potash ore was extracted and hissed at Rocanville to produce 80.967Mt of finished potash products (1970 to December 2018).
The average concentrate life-of-mine ratio (raw ore/finished potash products) is 3.07 and the total production rate is 31% during this time.
Transportation
Most Rocanville potash travels on Canadian National and Canadian Pacific railways for domestic sales and transfers to ports.
Overseas sales are exported by the potash-producers' marketing company, Canpotex, from the West Coast, Great Lakes and the Gulf of Mexico. Road transport is used for local and upper Midwest US deliveries.
Environment
During 2000, around 1,420ha of land at Rocanville were transferred into the Saskatchewan Representative Area Network, containing areas of untouched ecosystems.