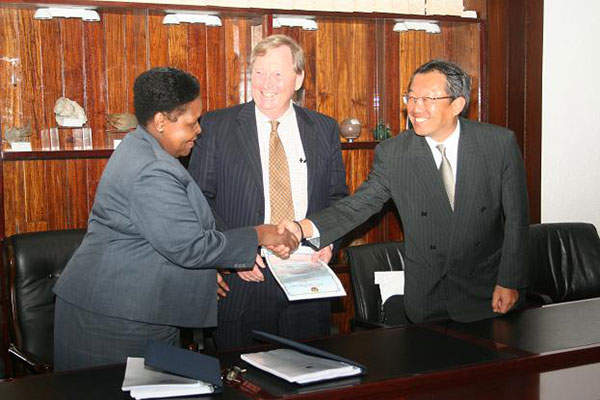 Revuboè mine is expected to commence coal production in 2016.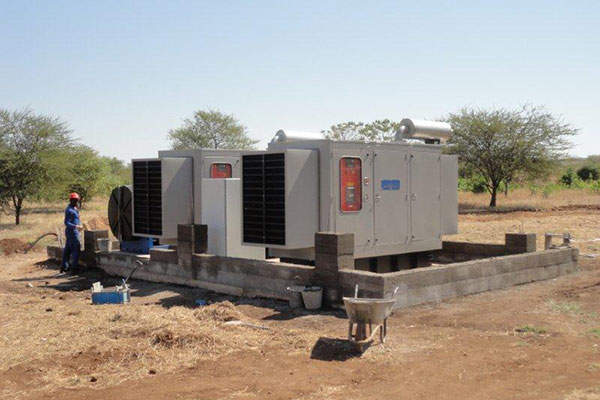 Revuboè mine located in Tete Province of Mozambique, will be mined through open-cut methods. Image courtesy of Minas de Revuboè.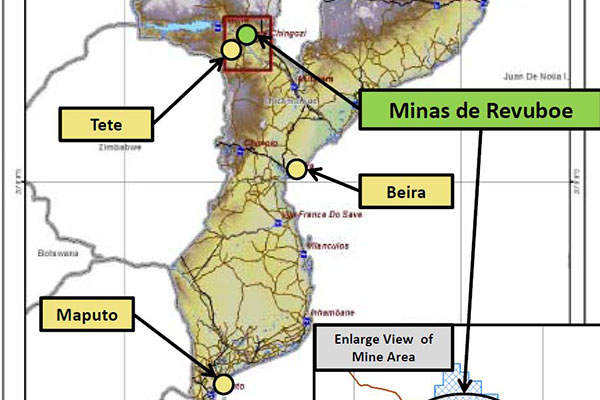 The mine is spread over 3,860ha of area.
Revuboè coal mine is located in the Moatize Basin, Tete Province of Mozambique. The mine is owned by Talbot Group (58.9%), Nippon Steel & Sumitomo Metal Corporation (33.3%) and Posco (7.8%).
It is located along-side Rio Tinto's Benga and Zambeze mines and Vale's Moatize mine. Tete Province of Mozambique is estimated to have coal reserves of 6.7 billion tonnes.
The Revuboè Mine extends across 3,860ha and will be developed as an open-cut mine with first production expected in 2016. It will produce coking coal and thermal coal.
The mining license was obtained in 2004. The project was approved by the Government of Mozambique in April 2013.
The expected life of Revuboè mine is 25 years. The mine will employ 300 employees during construction and 700 employees when operational.
Tete Province geology and coal reserves
Mozambique's coal resources are located in the Moatize, Lower Zambezi and Mucanha-Vusi basins of Tete Province. Coal deposits present in the region are believed to have formed during Permean period.
Moatize basin forms part of Palaeocene Karoo System. The basin consists of 11 coal seams, out of which the Chipanga seam is filled with coarse-grained sandstone and micaceous sandstone.
Revuboè coal mine is estimated to have a reserve base of approximately 1.4 billion tonnes of coal and is estimated to produce five million tonnes of coking coal per year. Coking coal is used in steel production.
Revuboè coal mine infrastructure and development
"Tete Province of Mozambique is estimated to have coal reserves of 6.7 billion tonnes."
The infrastructure to be developed at the Revuboè mining site includes offices, workshops, coolant and fuelling facilities, and relevant services.
A 66kv transmission line connected to the local grid will provide the electricity supply to the mine. An independent electric supply facility will also be available.
A water management system will be installed at the mine to divert clean water and manage mine area runoff and pit water for reuse. The process waste including dewatered tailings from the CHPP will be disposed off in spoil dumps at the mine site.
Out-of-pit spoil dumps will be constructed in the initial phase. In pit dumps will be developed within the mine for dumping coal, once enough space becomes available in the interior of the mine.
The coal produced from the mine will be transported from the Sena railway line. A conveyor will be installed for transfer of coal to the train load out.
Two weather stations will be constructed at the site to monitor the air and dust levels. Coal handling and preparation plant was also constructed.
Coal production and processing at Revuboè
Revuboè is expected to produce four million tonnes of hard-coking coal and two million tonnes of thermal coal per year.
"It is located along-side Rio Tinto's Benga and Zambeze mines and Vale's Moatize mine."
The initial operations will be performed at Chipanga seam with the aim to achieve higher coal recovery with a lower strip ratio.
The coal handling and processing plant at the mine will have a processing capacity of 24,000t per hour.
It is estimated to process approximately 17 million tonnes of coal per annum (mtpa).
Contractors involved with the Revuboè coal mine project
Zhengzhou Dingsheng Engineering Technology Company (DMSAC) of China is contracted to supply stone crusher for Revuboè mine.
The coal crusher unit comprises of a vibrating feeder, ring hammer crusher and a circular vibrating screen.
GIBB, an engineering consultancy firm, will assist in the design of a 20km railway system to transport the coal from the mine site.
The firm is also responsible for conducting geotechnical studies at the site to arrive at a water management plan for the project.