Rotary blasthole drilling in the open pit.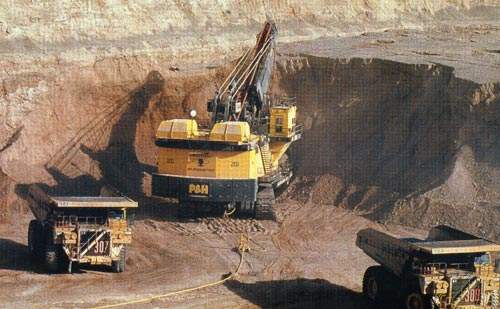 A P&H 4100 shovel loads Caterpillar 793B haulers in the open pit. Komatsu AC-drive haulers were also added to Radimiro Tomic's truck fleet during the expansion.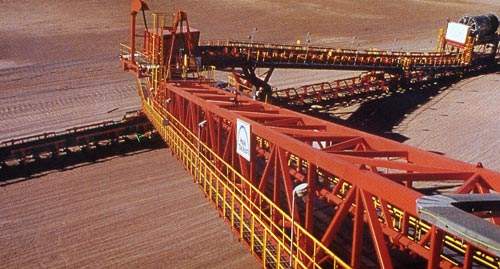 MAN-Takraf supplied conveying equipment for handling crushed material both before and after leaching.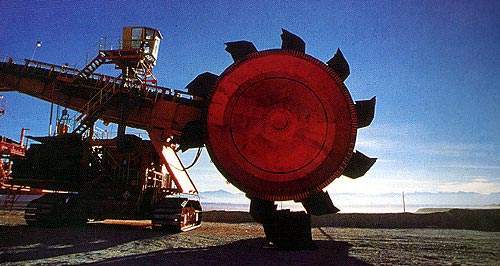 A purpose-designed bucket-wheel excavator is used to remove leached ore from the pads once the copper has been extracted.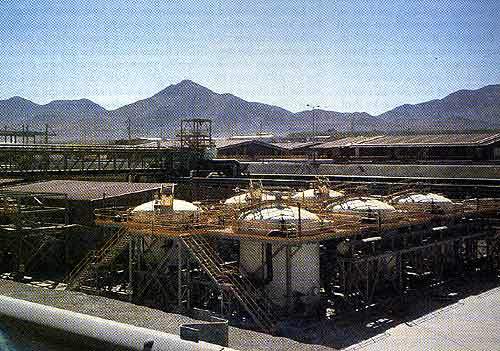 Solvent-extraction plant fluid streams are cleaned using Codelco-designed equipment.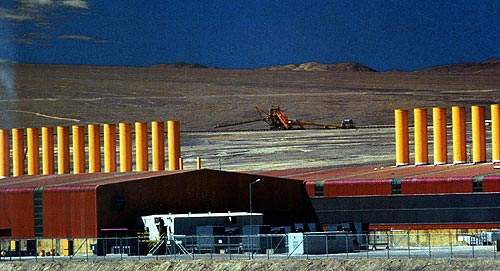 External view of the electrowinning tankhouse showing the cell ventilation system…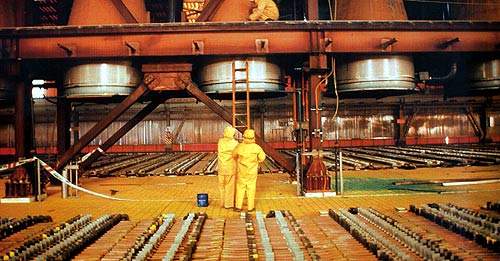 …and inside the tankhouse.
Radimiro Tomic's environmental centre, where Codelco is developing its reclamation planting strategies.
Radomiro Tomic was the first mine to have been entirely developed by the Chilean state copper-mining company, Codelco. Located at 3,000m above sea level in the Atacama Desert of northern Chile, the mining and hydrometallurgical operation is 4km from the Chuquicamata mine and smelter. Development was approved in 1995, started in 1996 and was essentially completed in 1997. The initial target capacity was 150,000t/y of copper cathodes but optimisation during construction raised the rating to 180,000t/y by the commissioning date. Prime contractor LX Ltda (Bechtel and ARA in joint venture) completed work early, below the budgeted $641m. Recovering copper by heap leaching and electrowinning, Radimiro Tomic was inaugurated in 1998.
In 1999 Codelco contracted Kvaerner Metals to increase the plant capacity to 250,000t/y of cathode copper at a cost of $220m. This expansion was completed in 2001.
Codelco initially created a new Radomiro Tomic Division with a streamlined organisation to manage the facility. In August 2002, the corporation amalgamated Chuquicamata and RT as one division – Codelco Norte – that also includes Mina Sur, and developed a consolidated resource exploitation plan for the deposits in this area. Codelco Norte employed 8,170 people at the end of 2005, of whom an average of about 600 worked at Radomiro Tomic. In December 2004, the Division was certified for ISO 14001.
To help achieve economic and environmental sustainability at Codelco Norte as a whole, and to improve workers' quality of life, Codelco has built over 2,000 new homes at the nearby town of Calama in a project scheduled for completion by late 2006.
ANACONDA GEOLOGY AND RESOURCES
Discovered in 1952 by Anaconda, which then owned Chuquicamata, the Radimiro Tomic deposit lies beneath approximately 100m of alluvial material and extends over 5km x 1.5km x 200m. During 1993-94, Codelco upgraded the geodata, establishing a resource base for the operation comprising 802Mt of oxide ore grading 0.59% copper, with 1,600Mt of refractory ore.
Hosted in porphyry intruded into Triassic and Palaeozoic rocks, the economic mineralisation is differentiated by mineral assemblage into an Upper Oxide unit – with 40% by volume of atacamite, 31% copper clays and minor chrysocolla and copper wad – and the Lower unit with 70% atacamite and minor copper clays and chrysocolla. The orebody resulted from the oxidation of a secondary sulphide enrichment blanket. The 2005 mining plan for Codelco Norte as a whole was based on a 2,263Mt demonstrated resource averaging 0.78% Cu.
MINING
The conventional open pit strips at a 1.5:1 waste-to-ore ratio using rotary drills, P&H 4100 shovels, a LeTourneau loader, Caterpillar 793B and Komatsu 330st-capacity trucks. RT is currently trialling five automated Komatsu haulers. An FFE Minerals gyratory primary crusher near the pit rim supplies coarse ore, which travels to the main processing area via a 9,615t/h Krupp conveyor. The expansion added tertiary cone crushing (SRP Hydrocones) to the secondary Symons cone. Conveyors take stockpiled ore to pre-treatment and stacking on the racetrack-style heap-leach pads. Leached material is reclaimed by a bucket wheel and is conveyed to the dump area. Rahco and MAN-Takraf supplied the crawler-mounted materials-handling equipment.
PROCESSING
Following acid leaching, the copper is separated from the heap-leach solution by four-stage solvent extraction with Acorga reagents and is fed in solution to the electrowinning tankhouse for recovery as cathodes using sophisticated technology. Four solvent-extraction trains designed and supplied by Outokumpu Engineering (including VSF mixer-settlers, Proscon 2100 NT process control system and OTI 99 titrators) remove the copper. The electrowinning feed and reagent streams are cleaned using molecular sieve coagulators and electrolyte filters designed by Codelco, and by CPT flotation columns. The large and highly automated electrowinning tankhouse was fitted with unique cathode cranes and stripping machines as well as a system of blowers and aerosol chimneys to ventilate the cells. The expansion added 272 cells, two travelling cranes and a cathode washing-stripping machine. Secondary leaching of waste will add 24,000–28,000t/y of copper to the cathode output.
PRODUCTION
After start-up, Radomiro Tomic recorded total operating costs of $0.44/lb, producing 162,000t of copper in 1998 and 190,100t in 1999. The expansion boosted output to 256,000t/y in 2001 and Codelco hoped to maintain production at around 300,000t/y thereafter. Actual output in 2002 was 297,119t at a cash cost of $0.33/lb. Codelco Norte reported 2005 aggregated production as 964,930t of copper at a cash cost of US$ 0.17/lb plus 26,826t of molybdenum. These tonnages were lower than those achieved in 2004 for copper (982,817t) but higher for moly (24,271t).
The cathodes, almost entirely Grade A, are trucked to Antofagasta for shipping.