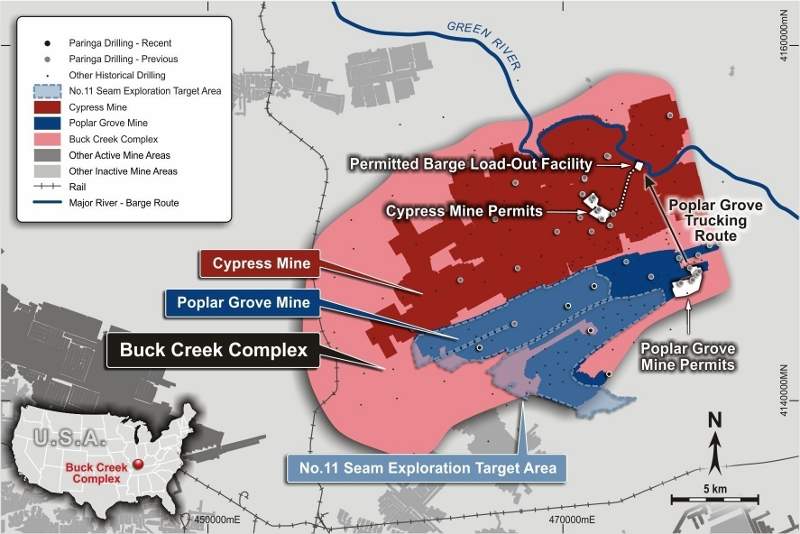 Poplar Grove mine is located within the Buck Creek Complex. Image courtesy of Paringa Resources Limited.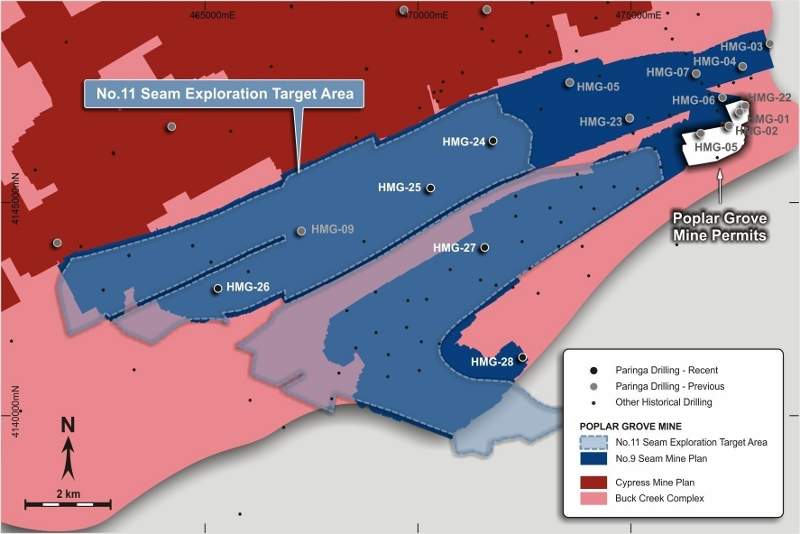 A new coal seam No.11 was discovered at the mine site. Image courtesy of Paringa Resources Limited.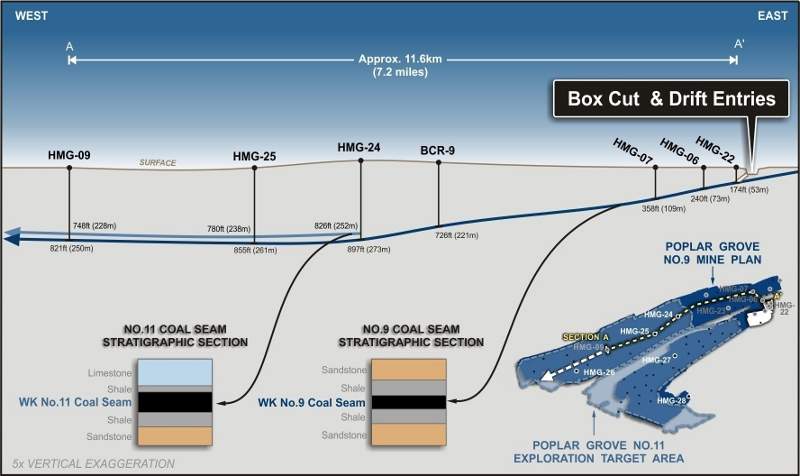 Access to Poplar Grove mine will be provided through a combination of box cut and drift methods. Image courtesy of Paringa Resources Limited.
Earlier known as Buck Creek No.2 Mine, Poplar Grove Mine is located within the Buck Creek mine complex in the Western Kentucky region, Illinois Basin, US.
Paringa Resources acquired the Poplar Grove mine in 2013, along with its adjacent coal lease, Cypress Mine (formerly called Buck Creek No.1 Mine), located within the complex.
The scoping study for the Poplar Grove project was released in February 2016. The results of the study demonstrated that the project will be a high-margin mine with low capital expenditure of $44m.
A bankable feasibility study (BFS) of the project started in April 2016 and completed in March 2017.
Paringa received Surface Mining Control and Reclamation Act (SMCRA) permit to develop the mine in March 2017. Construction works began in August 2017 and will continue for 12 months.
The mine is expected to produce 2.8Mt of coal a year over its 25-year lifetime. First coal from the mine is expected in 2018.
Background to Poplar Grove mine development
The No.1 Mine was Paringa's only priority when the company acquired the coal leases in Buck Creek. However, subsequent drilling and acquisition of additional coal leases led to the discovery of a new section of coal, which is now called the Poplar Grove mine, south of the No.1 Mine area.
On further evaluation of the Grove mine, various factors, including its favourable geology, shallow depth of the Western Kentucky No. 9 (WK No. 9) coal seam and shorter construction period, made it easy to develop at low capital expenditure (capex) compared to the shovel-ready Mine No.1.
"The mine is expected to produce 2.8Mt of coal a year over its 25-year lifetime."
Paringa then amended its staged development strategy by prioritising the development of Mine No.2 over Mine No.1.
Another contiguous coal seam, Western Kentucky No.11 (WK No.11) was discovered at Poplar Grove, just above the WK No.9 coal seam in October 2016. The new seam again transformed the economics of the Poplar Grove Mine by increasing the amount of available resources.
Poplar Grove Mine reserves
According to the expanded bankable feasibility study released in March 2017, Poplar Grove is estimated to contain total proven and probable resources of 135.7Mt.
Mining and processing at the high-quality coal mine
Room-and-pillar mining method is proposed to mine the deposit. Access to the mine will be created by a combination of box-cut and drift methods due to the shallow depth of the coal seam.
The box-cut method will create a rectangular excavation from the original surface and will also have a series of decline drifts developed through the rock from surface to access the coal. Also proposed are three drifts at the bottom of the box-cut for exhaust, conveyor and vehicle entry air portals.
Coal will be mined from three continuous miner super-section units, each featuring two continuous miners, two roof-bolting machines, and four battery haulers. Other support equipment includes scoops, supply cars, battery or diesel-powered rubber-tired equipment, and rail-rubber cars.
The coal preparation plant will have a design throughput capacity of 400t per hour, enabling the mine to produce an average of 3.6Mt of run-of-mine (ROM) coal a year.
Infrastructure at Buck Creek No.2 Mine
A driveable ramp will be constructed for conveyor belt operations and transporting supplies and equipment to the mine's operating areas. The main conveyor will transfer raw coal into a stockpile, while rubber-tired supply cars will carry supplies and other equipment to the operating areas of the mine.
Power to the mine will be supplied from a 69kV transmission line, which will be constructed approximately three miles away from the project site. Another main surface substation is also planned along with internal distribution lines to supply power to the mine, processing plant and surface facilities.
Water for plant operations will be supplied from the Green River and will be stored in a freshwater supply tank located adjacent to the surface facilities. Potable water will be supplied from existing public supply infrastructure.
Coal off-take agreements
Paringa signed coal sales agreements with Louisville Gas and Electric Company (LG&E) and Kentucky Utilities Company (KU) for the No.1 mine and is now transferring the same to the Poplar Grove mine.
The $220m agreement involves delivery of 4.75Mt of coal over a five-year period, with 750,000t to be delivered in 2018 and 1Mt a year to be delivered from 2019 to 2022.
Financing
The estimated total investment for the project is $44.7m, which will be used for purchasing surface property, mine development, construction of processing plant and barge load-out and surface facilities.
Paringa raised A$8m ($6.18m) through a private placement of 19 million shares subscribed by institutional investors. Proceeds were used to complete the BFS of the project and begin development of the mine.
In April 2017, Paringa secured a $20m debt facility from Macquarie Bank Limited to commence construction of the mine
Consultants involved
The project's scoping study was managed by Cardno with the help of local industry consultants. The project's BFS is also being managed by the same company.