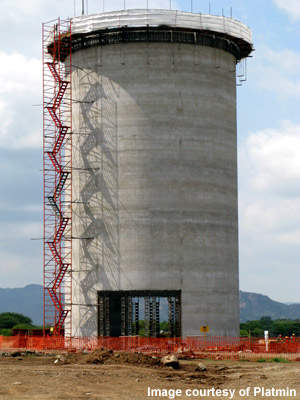 One of three crushed-ore storage silos being built at the Pilanesberg site. Each silo will hold about 5,000t of crushed ore.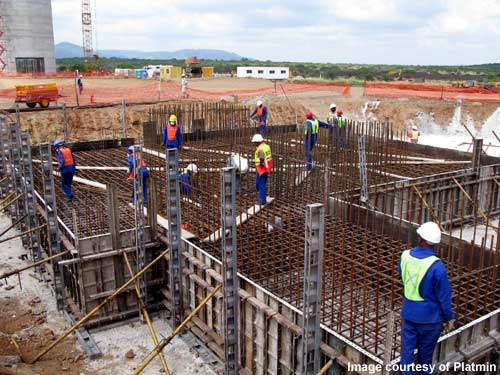 The laying of foundations for the mills; the processing plant at the Pilanesberg site will use Metso mills and crushers.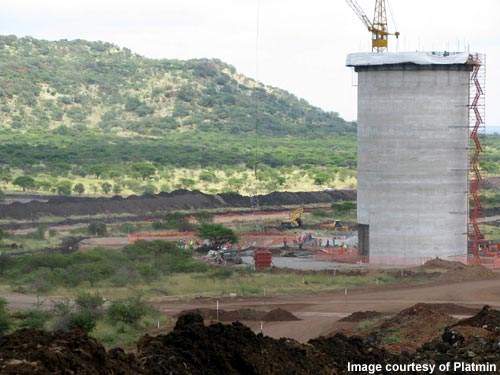 The Pilanesberg mining operation will recover all six platinum group elements, as well as gold, nickel and copper which are present in the ores.
Pilanesberg Platinum Mines (Pty) Ltd, a wholly owned subsidiary of Boynton Investments (Pty) Ltd, was granted a mining right over four properties in the Pilanesberg project area by the South African Department of Minerals and Energy in February 2008. The right covers about 85% of the Tuschenkomst, Ruighoek, Witkleifontein and Rooderand properties in the area. Initially, ore will be mined from the Tuschenkomst property followed by the Ruighoek property. Total project area is 14,511ha.
The project is located on the western limb of the Bushveld Complex in South Africa's North West Province, around the Pilanesberg intrusion and next to Barrick's Sedibelo project, which is estimated to contain about 90% of the world's platinum resources and around 80% of its chrome.
About 72% of the project is held through Boynton, with about 27% held by Platmin's Black Economic Empowerment partner, the Moepi group of companies. A smallholding making up the balance may be distributed among Boynton's shareholders on a pro-rata basis at a later stage.
"The mining operation will recover all six platinum group elements, as well as gold, nickel and copper which are present in the ores."
In November, 2007 Platmin announced the appointment of The Standard Bank of South Africa as lead arranger to secure about US$200m for the development of the project.
Platmin raised about C$92m (gross including an over-allotment option) in a private placement and public offering in December 2007, of which about C$76m was for construction at the project. The offering was underwritten by a syndicate jointly led by RBC Capital Markets and GMP Securities LP, and including Haywood Securities Inc.
Then, in mid-May 2008, the company secured a bridge loan facility of about US$46m with Standard Bank for further development at the project.
GEOLOGY AND RESERVES
The target area in the Bushveld Complex is the Merensky Reef, a layer of igneous rock which, together with an underlying layer, the Upper Group 2 Reef (UG2), contains most of the world's known reserves of platinum group elements (PGEs). The Merensky Reef, which varies in thickness from 30cm to more than 1m, is a pyroxenite unit with often coarse-grained thin chromitite stringers.
The PGEs are hosted in disseminated sulphides with typical grades ranging from 3 to 10g/t. PGEs in the UG2 are contained in finely disseminated sulphides in the predominantly chromite rock, and typical grades are between 5 and 6g/t.
The mining operation will recover all six platinum group elements – platinum, palladium, rhodium, ruthenium, iridium and osmium – as well as gold, nickel and copper which are present in the ores.
A feasibility study on the project by SRK Consulting, announced by Platmin in July 2007, indicated proven and probable PGE mineral reserves totalling 4.4Moz of 3PGEs (platinum, palladium and rhodium) and gold, 3.2Moz attributable to Platmin. Life of Mine (LoM) is predicted at 16 years, which will be extended if the mineral resources on other properties forming part of the Mining Right are incorporated.
Platmin will produce two concentrates (UG2 and Silicate) that will be combined to achieve a PGE concentrate that is low in chrome. In order to obtain a PGE concentrate, the ore will first be crushed then wet-milled. Reagents (including collectors and frothers) will then be added to the slurry and air will be blown through the mixture, enabling the grains of the required metal minerals to be collected in the resultant froth.
Payback period on capital is predicted at two-and-a-half years following first production, based on basket metals prices less than half of current market prices, and the average operating margin over the LoM is expected to be 46%. The company says the ruthenium and iridium in ores and concentrates that will be co-produced with the 3PGEs has the potential to improve project values.
CONTRACTORS AND PRODUCTION
Construction of the Pilanesberg project started in October 2007, and by mid-2008 was still on schedule. Mining officially began in March 2008 with the first blast of waste overburden for the open pit on 11 March.
Mining will be based on extracting five million tonnes of ore per year, which will be processed through a central concentrating facility on the Tuschenkomst property. This will enable production to be ramped up to reach steady-state production of 250,000 3PGE+Au oz/year (100%) within the first year of production, 2009, and production is planned to reach a peak of 296,000 3PGE+Au oz/year in 2010.
"Production is planned to reach a peak of 296,000 3PGE+Au oz/year in 2010."
In May 2008, Platmin announced it had accepted South African power utility Eskom's quotation for 37MVA of new power supply for Pilanesberg. The installation will consist of a new Pilanesberg regional sub-station to cater for all new projects in the area, installation of two newly-fabricated 20MVA transformers and 44km of overhead 132kV transmission lines.
An established water network is already in place.
In June 2008, the company announced it had struck a concentrate offtake deal with Northam Platinum Ltd, of South Africa, under which Northam will provide smelting and refining facilities for the Pilanesberg mine's PGE concentrate. Northam's smelter and base metals removal plant are located in the western Bushveld Complex, 60km from the Pilanesberg mine.
Then, at the end of July 2008, Platmin announced it had awarded the contract for conducting its open-pit operations to MCC Contracts (Pty) Ltd, of South Africa. The contract, worth nearly US$600m, will run for the first six years of the mine's life. It is anticipated that MCC will directly employ more than 500 people from the areas surrounding the Pilanesberg mine.