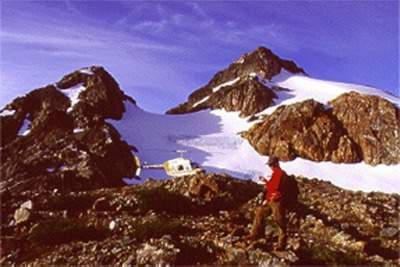 Exploration near the Myra Falls mine. The mines are located in a stratigraphic sequence of volcanic rocks over 6km long and 450m thick.
The Myra Falls mines are located in the Strathcona provincial park in the Myra Valley on Vancouver Island, British Columbia, Canada. Situated approximately 90km southwest of the coastal town of Campbell River, the property comprises the H-W and Battle-Gap underground mines, producing zinc, copper, gold and silver. The operation employs around 440 people. Production was previously sourced from the Lynx open pit and the Myra and Lynx underground mines, all of which are now closed.
Myra Falls was originally owned by Westmin Resources, which was later bought by the Swedish company, Boliden. Having unsuccessfully sought to sell the mines during 2001, Boliden closed them temporarily while developing a new mining plan. After re-opening in 2002, the 20% cost reduction achieved made the operation profitable. In mid-2004, 'New' Boliden sold the operation to the Canadian company, Breakwater Resources, for $12.5m in shares and options, plus the assumption of environmental liabilities.
GEOLOGY AND RESERVES
The mines are located in a stratigraphic sequence of volcanic rocks over 6km long and 450m thick. The ore deposits consists of complex-metal zoned volcanogenic massive sulphides contained within the Myra Formation of the Sicker Group volcanic assemblage. The Myra Formation hosts a geologically diverse collection of orebodies, including massive and disseminated polymetallic sulphides, zoned pyritic massive sulphides and stringer massive sulphide zones.
Exploration in the Marshall zone encountered high-grade polymetallic sulphides. Preliminary underground test development started in 1999 and underground drilling revealed 23m of massive sulphides grading 11.3% zinc, 1.4% copper, 3.6g/t gold and 264.3g/t silver.
As of end-2005, proven and probable reserves were 6Mt grading 6.4% zinc, 1.1% copper, 1.3g/t gold and 46g/t silver. Measured and indicated resources added a further 2.6Mt to the inventory.
MINING
Having started as an open pit in 1966, Myra Falls has more recently relied on underground bulk-mining methods. Having carried out an extensive programme of ground support in 1998–9, Boliden increased drift-and-fill mining to maximise reserve extraction.
Both current mines produce polymetallic ore and are serviced from a single production shaft at the 700m level. The two operations are linked by a 1.8km-long adit. The main production method in the H-W mine is sub-level stoping with longhole drilling, while sub-level stoping and drift-and-fill are used at Battle-Gap. Mined ore is hauled to an underground crusher and hoisted crushed ore is taken to the mill about 1km from the shaft.
ORE PROCESSING
Myra Falls uses conventional flotation technology to recover sulphide concentrates. The current mill was commissioned in 1985 and has been progressively modernised since then. In 1990, the copper and zinc flotation circuit was streamlined by adding column flotation cells and reducing the recirculation load to improve zinc recovery. In 1992, a Knelson gravity concentrator was added to each grinding circuit to improve gold recovery.
Concentrates are transported to the deep water port at Campbell River, from where they are shipped to overseas smelters, typically in Japan and Korea.
PRODUCTION
In 2005, Myra Falls produced 912,565t of ore grading 6.1% zinc, 1.2% copper, 51g/t silver and 1.8g/t gold. Its concentrate output contained 48,084t of zinc, 7,640t of copper, 31,750oz of gold and 1.17Moz of silver, giving a cash production cost of US$0.47/lb of zinc.