The Geology of Zambia; the Mumbwa project lies within known mineralised iron oxide copper-gold terrain.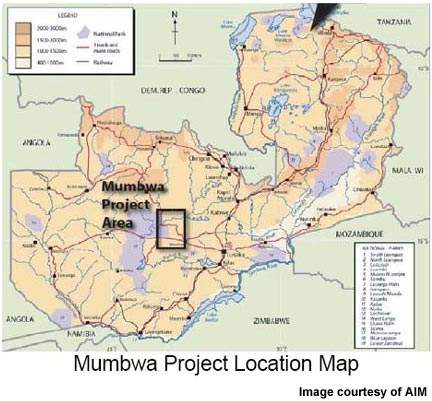 Mumbwa location map.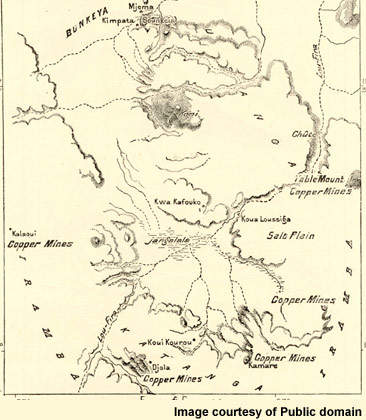 1890s historical relief map of the Katanga mines; most of the area around Mumbwa lies above sediments of the Katanga sequence.
Located in west central Zambia and lying within known mineralised iron oxide copper-gold (IOCG) terrain, the Mumbwa Copper-Gold Project licence area is some 5,200km² in extent. Containing a large IOCG mineralisation system with anomalous uranium, comparisons have inevitably been made between this deposit and Australia's legendary world-class Olympic Dam.
The project is a BHP Billiton/AIM Resources joint venture – AIM earning a 70% interest with a budget of $1.5m being spent on the scheme during 2006/07.
A major drilling campaign was begun in mid-2006. Over 5,500m² of diamond drilling was originally planned and phase 1 was completed by the end of February 2007. The drilling targets themselves were defined by in-depth 3D geophysical interpretation of Falcon data; the programme comprised eight holes at a vertical depth of around 500m to investigate geophysical targets suggested by the preliminary integrated datasets. A total of 23 exploration targets were identified by the Falcon survey.
GEOLOGY
The mineralisation is associated with large-scale and highly variable magmatic-hydrothermal iron oxide breccia complexes, which themselves exhibit signs of multiple brecciation.
Clastic and carbonate sediments of the Kundelungu Group of the late Proterozoic Katanga Sequence underlie most of the area, with peripheral granite of the Kafue Hook batholith – intruded into the Katangan sediments during tectonic activity – underlying the western reaches.
In addition, the Katangan sedimentary rocks have undergone complex deformations, metamorphosing to form lower greenschist facies, while adjacent to the post-tectonic granitic rocks, higher grade contact metamorphism and skarn formation has taken place.
EXPLORATION
Billiton explored Mumbwa during the mid to late 1990s, finding geological, textural and geophysical data supporting the presence of intensive leaching and oxidation of the upper portions, particularly in areas where the extent of silicification is weak. A large and potentially supergene-enriched zone at the base of the oxidised zone was suggested by the geophysical and geological data.
To help ensure effective placement of the drill holes, AIM commissioned a Falcon geophysical survey, covering an area roughly 50km x 40km, to collect high-resolution gravity, magnetic and radiometric data. The magnetic and radiometric data allows for an improved identification and structural analysis of lithological units, while gravity data can help to identify mineralisation associated with iron alteration.
Drawing on the expertise of BHP Billiton and their SolidEarth software, AIM was able to obtain a direct 3D inversion of the gravity gradient, magnetic and radiometric data from the survey and subsequently analyse it for anomalies. Inverting the data on a 100m lateral and 25m vertical resolution and extending the models to 2km below the surface, dense bodies lying adjacent to the magnetic zones detected appear as valid targets, since magnetic anomalies can indicate the presence of IOCG mineralisation.
Those detected were then ranked on the basis of their related vertical gravity gradient signal amplitude as well as anomalous uranium signatures, leading to the identification of a total of 23 potential drilling targets.
DRILLING CAMPAIGN
This analysis ultimately led to 11 high-priority targets being distinguished, with eight being examined in the first round of drilling. Although the remaining three holes were made, two of them were abandoned – the targeted anomaly having yielded disappointing results – and poor progress stopped the conclusion of the third before heavy seasonal rain forced the suspension of the programme.
Drilling was initially focused on the Kitumba region, where work by BHP Billiton had previously revealed significant levels of mineralisation within eight of nine drill-holes, over a strike length 6km in extent.
A major feature, some 800m across and running for nearly 2.5km along an exposed ridge at Kitumba – corresponding with a strong uranium anomaly – forms one of the key drill targets.
Largely untested in previous drillings, where the KD3 drill-hole did intersect its far north edge at 60m, it revealed 0.6% copper and 0.11g/t gold. In addition, targets in the Mutoya and Worm regions also underwent first-pass drilling.
The outcome indicated the presence of significant mineral deposits within the target area, with seven of the holes yielding results in line with the historical findings from the earlier work.
The eighth hole – drill-hole S36 – at a total depth of nearly 700m and an inclination of 70° investigated the Kitumba ridge feature and intersected a considerable depth of mineralisation over most of its length, with higher-grade mineralisation in discrete regions.
S36 intersected variably altered syenite, quartz porphry and hematite breccias, with green copper phosphate being present from a depth of 172m to 305m and some thin veins of pyrite chalcopyrite occurring from depth of 280m. In addition, massive hematite replacement – with abundant pyrite and trace amounts of chalcopyrite – was also intersected from 640m to the end of the drill-hole.
THE FUTURE
A second phase of drilling is planned to explore further targets, with MSA GeoServices supervising the drilling of 15 additional cored holes – over 10,000m – to collect approximately 4,000 samples.