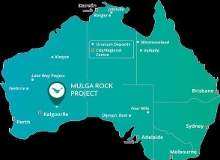 The Mulga Rock Uranium Project (MRUP) is located near Kalgoorlie in the Great Victoria Desert, Australia. Containing the country's biggest undeveloped uranium resources, the project is 100% owned and operated by Vimy Resources.
The pre-feasibility study was completed in November 2015, while the definitive feasibility study for the project was initiated in February 2016.
Western Australia's Environmental Protection Authority approved the project for implementation in August 2016.
The mine is estimated to produce 1,360t of uranium-oxide a year over its estimated mine life of 16 years. Its development is expected to create 490 new jobs in Western Australia.
Mulga Rock uranium project geology and mineralisation
The mine includes four main polymetallic deposits, including Princess and Ambassador in the Mulga Rock East (MRE) mining centre, and Emperor and Shogun in the Mulga Rock West (MRW) mining centre. Of the four, the Ambassador deposit is the biggest, flat-lying deposit that stretches over 9km.
The deposits occur in cretaceous to late-eocene carbonaceous sediments containing uranium and base metal. Minerals in these deposits appear as fine-grained sands, silts and clays within strongly oxidised carbonaceous sediments.
Reserves at Vimy Resources' uranium project
As of June 2016, the four deposits at Mulga Rock project were estimated to hold combined indicated and inferred resources of 66.6Mt at 520ppm U3O8, containing 76.2 million pounds (Mlb) of U3O8.
Mining and processing at the Mulga rock mine
Open-cut mining using both conventional truck and shovel method and mechanised strip mining techniques will be deployed at the Mulga Rock project. The mine is expected to yield 4.5Mt of ore a year and produce 1,360t of uranium oxide concentrate (UOC) a year, on an average, over its life time.
The ore will be processed in two stages, once at the beneficiation plant and then at the main process plant. Run-of-mine (ROM) ore feed will be crushed and conveyed to a semi-mobile beneficiation plant. It will then be pulped in a log washer at the beneficiation plant to wash-off the clay material. The slurry will be screened and stacked in a stockpile and trucked to the main processing plant, where it will be ground in a semi-autogenous mill.
"Western Australia's Environmental Protection Authority approved the project for implementation in August 2016."
The milled ore will be leached and pumped to a resin-in-pulp (RIP) circuit, where the uranium will be recovered from the slurry. After a few more chemical treatments, uranium product will be washed, filtered, dried and packaged in steel drums ready for transport.
Infrastructure facilities at the uranium mine
Major infrastructure at the site will include a processing plant, ROM ore stockpile areas, short-term above-ground tailings storage facility, fuel and chemical storage, and water storage facilities.
Access to the project will be facilitated by an existing road from Kalgoorlie. Power will be supplied by remote build, own and operate (BOO) power stations located within a 300km radius of the project location.
Preliminary proposals have been received for the same from two remote power suppliers, who are specialised in supplying and operating the power stations using either diesel or natural gas. A newly commissioned natural gas transmission pipeline operated by APA will supply gas for the project.
Water requirements of the project will be met using bore field pump. A remote accommodation and airstrip are planned at the project site to provide on-site accommodation for the workforce. It will accommodate approximately 330 staff and contractors.
Key players involved
The pre-feasibility study for project was completed by AMC Consultants and Amec Foster Wheeler.
GR Engineering Services was appointed as study manager for the definitive feasibility study.