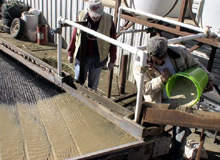 The East Manhattan Wash gold mine is located 40 miles north of Tonopah town in Nevada, US. The project area covers 133 claims or 2,660 acres. Max Resources acquired the property from Nevada-based company MSM in December 2007 for $263,000. The property is subject to 3% of net smelter return royalty.
Under the option agreement signed with MSM, Max Resources made an initial payment of $28,000. It paid $25,000 at the end of first year. The remaining amount will be paid in instalments of $25,000 on the completion of second year, $40,000 at the end of third year, $50,000 each in fourth and fifth years.
With the full exercise of the option, the company will own 100% of the project.
Reserves
After the acquisition, Max began surface sampling on the acquired property in late 2007. Preliminary analysis from one of the outcrops sampled on the East Manhattan Wash property reported 0.054 to 1.01ppm (parts per million) of gold. Assays for remaining samples have not yet been announced.
Sampling
A comprehensive bulk sampling programme at the mine was completed in May 2009, the first bulk sample collection concluded in March 2009.
Max announced the recovery of 4.9g/t gold and 1.2g/t silver from the first bulk sampling in March 2009. The sample was taken from a previously sampled outcrop containing approximately 1g of gold per ton.
Another extensive bulk sampling, with 123 samples taken from three grids, was completed in May 2009. Results for this were received by the company in July 2009.
The sampling process was designed to outline the geometry of mineralisation in three areas. Samples taken ranged between 0.05ppm to 0.32ppm gold along with two zones open in at least three directions.
Out of the three grids at the mine, the first two are located in a volcanic rhyolite lithic tuff hosting coarse gold. The Gold Pit and Old Drill Hole grids were sampled by clearing surface debris then removing the organic A and organic B soil horizons.
"A comprehensive bulk sampling programme at the mine was completed in May 2009."
Holes at these grids ranged from 12 to 48in in depth. The holes were identified with a 16in wooden stake label with an aluminium tag and backfilled to minimise disturbance.
The third grid, Gold Shaft, is located at an altered inter-bedded phyllite, quartzite and limestone. The holes were 4 to 12in deep.
The Old Drill Hole comprises 58 soil samples on 25m spacing, covering an area of around 900ft x 400ft. It was drilled by MSM and holes are shallow at this grid.
Gold Pit grid, located around 500 west of Old Drill Hole grid, covers an area of 800ft x 200ft. It includes 30 soil samples at 25m spacing. Sample grading at 4.9g/t gold and 1.2g/t silver were collected during March 2009 from the grid. Its geology comprises lithic rhyolitic and lapilli tuffs.
Gold Shaft covers an area of 500ft x 400ft and consists of 30 samples at 25m spacing. It is located about 7,000ft south of the Gold Pit grid. The grid's geological structure consists of high angle, east striking altered inter bedded phyllites, quartzite and limestone. The units are cut by high angle, north east striking structures.
ALS Laboratory group of Reno, Nevada, did the analysis for the soil sample.
Processing
The bulk sample collected in March 2009 weighed 793lbs and was crushed to particles of less than 1mm in size. The sample was processed on a Wilfley Table to concentrate heavy minerals. A fired bead is made from the concentrate to produce a gold/silver button. The 2.67g button was analysed by using NITON X-ray analyser and around 80% gold and 20% silver were found in that.
Mining
The East Manhattan Wash gold mine is a high grade epithermal deposit suitable for disseminated gold bulk tonnage open pit, similar to Kinross Gold's Round Mountain. The Round Mountain mine is located eight miles to the north of Manhattan district. A conventional open pit operation at the Round Mountain mine has produced over 12 million ounces of gold.
The East Manhattan Wash mine provides an opportunity to find high-grade deposits within mineralised province. Underground deposits available here will be in 0.5 ounces per ton (opt) gold range and higher. Open pit deposits will be in the 0.05opt gold range.
Future developments
The sampling programme at the mine will be followed by auger drilling to delineate the native gold bearing outcrop, subject to the acquisition of necessary permits.