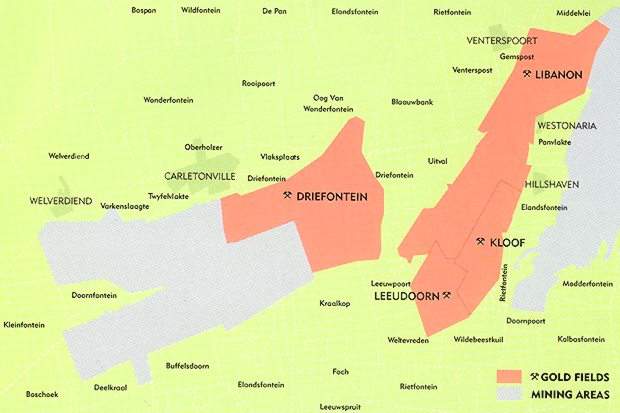 The Kloof gold mine lies approximately 60km southwest of Johannesburg and 20km from Carletonville, in Mpumalanga province, South Africa. Wholly owned by Goldfields Ltd, it consists of three divisions: Kloof, Libanon and Leeudoorn.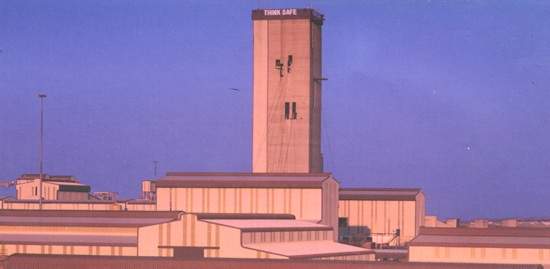 The main shaft complex at Leeudoorn. The three divisions operate six shaft systems and currently include three shaft-sinking operations.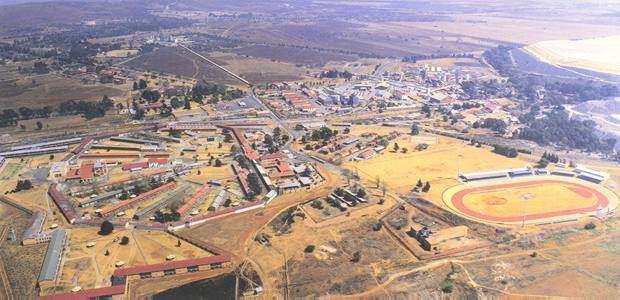 The Libanon mine complex comprises worker accommodation as well as the No.4 shaft (behind) and concentrator (right).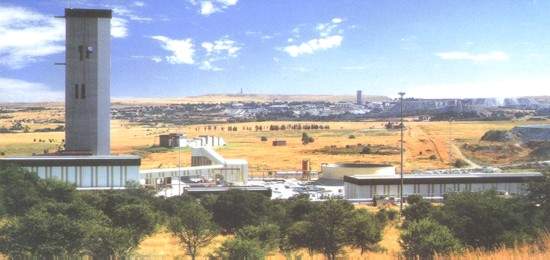 The No.4 shaft at Kloof with the mine's main shaft in the background.
The Kloof gold mine lies approximately 60km south west of Johannesburg and 20km from Carletonville, on the border of Gauteng and Northwest Provinces, South Africa. Wholly owned by Gold Fields Ltd, it consists of three sections, Kloof, Libanon and Leeudoorn, which were amalgamated into one operating division during 2001–02. The mine operates at depths of 1,000m to 3,500m and employs 14,800 people. Since 1939, when the Venterspost mine came in stream, the Kloof complex has treated nearly 250Mt of ore at an average yield of 9g/t to produce over 71Moz of gold.
GEOLOGY AND RESERVES
Kloof lies in the 'West Wits' goldfield, part of the Archaean-age Witwatersrand Basin, between the north-trending Witpoortjie Fault to the east and the Bank Fault to the west. The basin itself consists of a 6km thickness of argillaceous and arenaceous sedimentary rocks within the Kaapvaal Craton. Gold mineralisation is found in quartz pebble conglomerate reefs, the gold generally occurring in native form with pyrite and carbon. Kloof is the highest-grade gold mine in South Africa.
As of mid-2006, Kloof's proven and probable ore reserves above the existing mine infrastruture totalled 39.4Mt at 9.7g/t Au, containing 12.3Moz of gold. Below the existing infrastruture (deeper than 3,352m below surface), a further 4.6Mt of probable reserves contain an additional 1.9Moz of gold, giving a total proven and probable reserve at Kloof of 54.2Mt containing nearly 15Moz of gold.
MINING
Kloof mines the Ventersdorp Contact Reef (VCR) at depths of between 2,500 and 3,700m with minor production from the Kloof (KR), Libanon (LR) and Main (MR) reefs. The three divisions operate five shaft systems. Longwall mining is currently used while appropriate footwall infrastucture is being developed for a change to dip-pillar mining.
The Kloof Division sources the VCR and KR and has estimated reserves of 44.1Mt at a life-of-mine (LoM) head-grade of 13.9g/t gold. These are scheduled for depletion by 2021 at an average production rate of 170,000t/month.
The Libanon Division sources production from the VCR, KR and MR, with the latter predominating. Access is via seven operating shafts, the ore being transported via a surface rail system to the metallurgical plant at No.3 shaft. Mining is scattered throughout the orebodies to extract pillars and small remnant zones from earlier working. Libanon, parts of which have been in operation since 1934, will be depleted by 2009 at an average production rate of 140,000t/month.
Leeudoorn Division mines the VCR and KR via a single shaft using the same methods as the Kloof Division. Its reserves are expected to be depleted by 2009 at an average production rate of 90,000t/month.
ORE PROCESSING
Each of the Kloof divisions operates its own gold recovery plant – the Kloof (KMP), Libanon (LMP) and Leeudoorn Metallurgical Plants. The KMP and LMP process routes comprise three-stage crushing, two-stage rod and pebble milling closed by hydrocyclones, pulp thickening, air-agitated leaching, drum filtration, zinc precipitation and smelting to doré. The crushing plant includes a facility for manual waste sorting. The plant capacity is 160,000t/month and up to 180,000t/month without waste sorting. Goldfields is carrying out a feasibility study into converting the Kloof plant from conventional crushing and grinding to semi-autogenous grinding (SAG-milling).
The LMP plant mills in cyanide resulting in cyanide-bearing plant solutions requiring strict water controls. The design capacity of LMP is 145,000t/month.
The Leeudoorn Plant receives run-of-mine ore that is crushed and sent to a stacker-reclaim system where the ore is blended prior to reclamation and delivery to the milling circuits. The mills at Leeudoorn are equipped with variable-speed ring motor drives and can be operated as autogenous or SAG mills. Milled ore is leached in air-agitated tanks and treated by carbon-in-pulp prior to elution using Anglo American's AARL process. Gold is recovered from the eluted solution by electrowinning before smelting to doré.
PRODUCTION AND COSTS
During the 2005–06 financial year, Kloof produced 914,000oz of gold, 12% lower than in 2004–05, largely for geological reasons in relation to the Ventersdorp Contact Reef. These meant that larger amounts of lower-grade ore had to be mined, thereby reducing the overall yield for the year from underground ore from 9.1g/t to 8.7g/t. In all, the mine processed 3.67Mt of ore at an average yield of 7.8g/t gold, comprising 3.21Mt of ore from underground and 460,000t of low-grade surface material. Total cash costs of production rose from US$379/oz in 2004–to S$412/oz in 2005– with a total production cost of US$467/oz.
THE FUTURE
Gold Fields has been carrying out a feasibility study into the development of a tertiary decline infrastructure to access the Kloof Extension Area (KEA), which targets a 2Moz Ventersdorp Contact Reef resource below the current mine infrastruture. The company has also been re-evaluating the potential of the mine's Eastern Boundary Area in view of the current high gold price, which has enhanced the viability of previously un-economic resource areas.
Gold Fields is also looking at operating synergies between Kloof and the neighbouring South Deep mine, which it recently bought from the previous owners, Barrick Gold Corp. and Western Areas Ltd. With joint deep-level surveys already having been completed, there is significant potential for optimising both mines through greater operational integration.