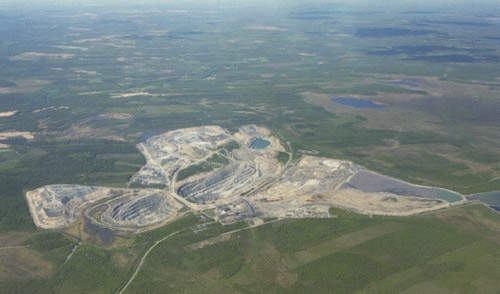 Aerial view of the Main Pit, with adjacent processing plant and office complex.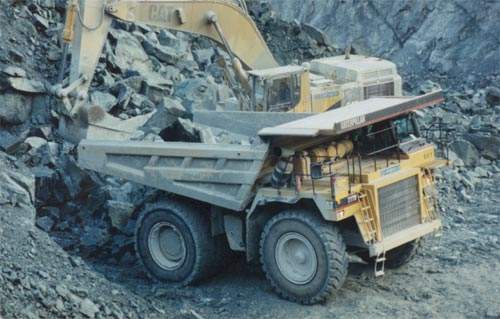 To load and transport waste and chromite from the Main Pit's five orebodies, the contractor uses Caterpillar backhoe excavators loading 60t and 90t-payload haul trucks.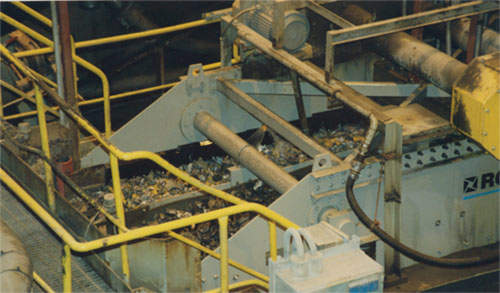 Roxon screens are used in the heavy medium separation plant to sort the crushed ore by size.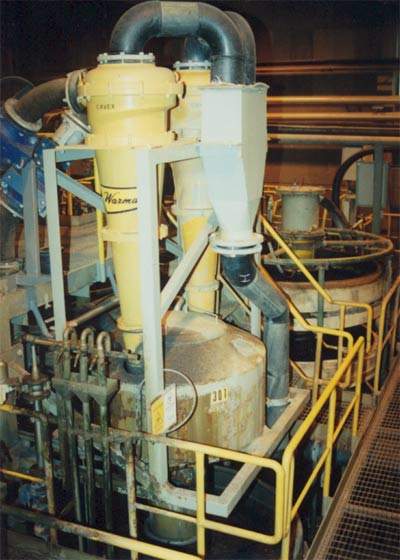 Cavex classifiers, used in the concentrating plant to handle fine-milled chromite ore before the separation process.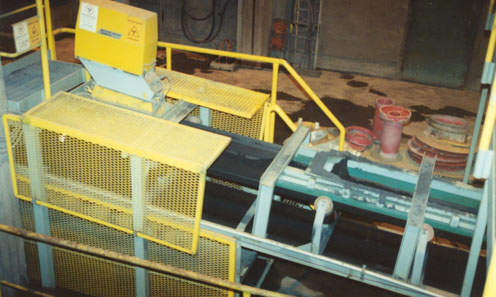 Reichert cones separate fine chromite from waste material, recovering about 90% of chromite from the classifier feed.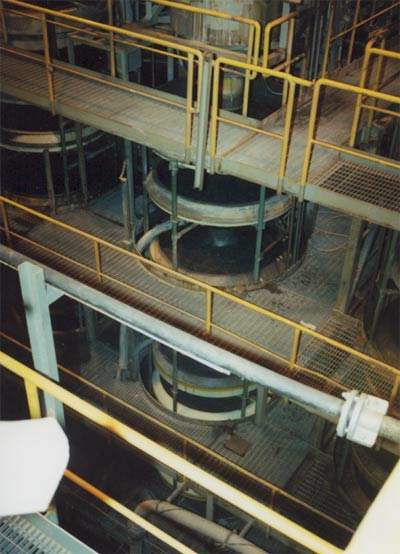 Outokumpu Mintec Beltcon 100 analysers are used to measure the Cr2O3 content of the feed conveyed to the HMS plant and of the final product of the concentrating plant.
In the 1950s, Finland's Outokumpu started nickel production with a view to making stainless steel; open-pit chromite mining began at Kemi in 1966 and ferrochrome production in 1967 at nearby Tornio, which is located at the far northern end of the Gulf of Bothnia. Stainless steel production at Tornio commenced in 1976.
In January 2001, Outokumpu and Corus merged their Outokumpu Steel and Avesta Sheffield stainless units to create AvestaPolarit, and in March 2003 Outokumpu took full ownership. Today Outokumpu Stainless does the steelmaking and Outokumpu Chrome Oy operates the Kemi mine with 132 people, and the Tornio ferrochrome plant which employs 175. Although Outokumpu has sold its base metal mines, Kemi remains an integral part of the expanded stainless steel production chain centred on Tornio.
GEOLOGY AND RESERVES
A 2.4 billion year-old mafic-ultramafic layered intrusion, extending 15km northeast of Kemi hosts 11 chromite orebodies. On average, the chromite-rich horizon dips 70° northwest and is 40m thick. As of January 2006, ore reserves totalled 41.1Mt, grading 24.5% Cr2O3, and mineral resources, mainly inferred, were 86.1Mt at 29% Cr2O3.
In quality terms, Outokumpu was less fortunate: the average Cr2O3 content is about 26% and the chromium-to-iron ratio (Cr:Fe) is 1.53:1, compared with 1,960 ferrochrome smelting norms of 45-50% Cr2O3 and a Cr:Fe ratio of 3:1. Three main ore types are defined, corresponding to the mill products – fine concentrate (12–100 micron particles), upgraded lumpy type (34–36% Cr2O3) and super upgraded lumpy (+36% Cr2O3).
MINING
Conventional shovel-and-truck bench mining started in 1968 at the present Main Pit. Satellite pits have been mined out in the intervening period. As the main immediate host rock is weak talc-carbonate, pit-slope stability had to be carefully monitored, although there is strong granite some 80m below the footwall. The operation gained ISO 9002 quality certification in 1993 and ISO 14001 environmental management system certification in 2000.
"Studies of the environmental impact and costs of concentrate transport from Kemi to Tornio have led Outokumpu to consider switching from rail haulage to road transport."
Mining in the main pit, which worked five separate ore 'lenses', was initially expected to finish around 2007 at a depth of 220m, but actually ceased at the end of 2005.
In the 1990s, Outokumpu planned a major stainless steel expansion. A parallel Intelligent Mine Programme focused on grade-based, real-time, operation-wide control using fast communications interfaced with a master database. The system is designed to allow automation of mine production as suitable equipment becomes available.
Underground development to replace the open pit and increase capacity started in 1999, production started in 2003 at 150,000t/y, and in 2006 the underground mine became the sole source of ore. Its design capacity is 2.7Mt/y of ore.
An asphalt-surfaced 1:7 access ramp descends from a portal in the footwall side of the pit to a skip-loading station on the 600 level, via workshops, pumping stations and a gyratory crusher. Ore is extracted from the 275 down to the 500 level by sub-level stoping with Atlas Copco L2C drifting and M2C production rigs. All drives in the ore host rock are Swellex bolted and secured with fibre-reinforced shotcrete; stope roofs are cable bolted. Bolting is fully mechanised.
ORE PROCESSING
Kemi originally used dry magnetic separation but switched to a wet system in 1972. Wet gravity separation by Reichert cones plus slimes treatment was added in 1979. Heavy media separation (HMS) replaced screening for the recovery of lumpy concentrate in 1984 and the Sala high-gradient magnetic separation (HGMS) system was adopted for treating slimes in 1995.
Today, 12–100mm crushed ore is fed to the HMS plant and -12mm to the concentrating plant, where it is milled and treated by the cone and HGMS circuits. Operators use extensive instrumentation and control technology. A neural network expert system is used to select the most appropriate distributed process control strategy. Total chromite recovery is around 80% and the capacity is 1.2Mt/y.
Concentrates are railed twice daily to the ferrochrome plant, which comprises the original 40MVA furnace and a 75MVA unit added in 1985. The agglomeration method was changed in 1989 to Outokumpu's rotary drum pelletising and steel belt sintering system, with a charge pre-heater above each furnace.
Studies of the environmental impact and costs of concentrate transport from Kemi to Tornio have led Outokumpu to consider switching from rail haulage to road transport.
PRODUCTION
Kemi mined 1.1Mt of run-of-mine ore in 2005, a small decrease from 2004 production, and the processing plant recovered 572,000t of lumpy (36% Cr2O3) and metallurgical grade (44% Cr2O3) concentrates, as compared with 580,000t in the previous year. Tornio made 235,000t of ferrochrome, down from 264,000t in 2004.