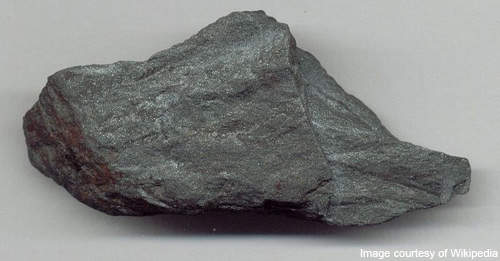 Of the 1.4 billion tons of estimated reserves, 35.5% is expected to be iron ore.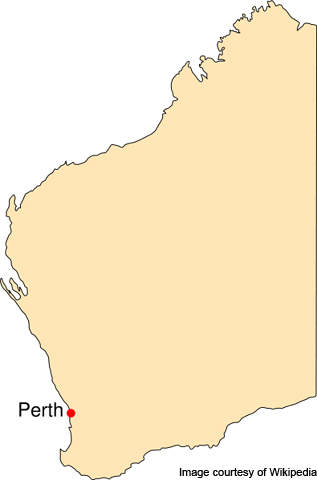 The mine is one of the few magnetite projects currently under development in Australia.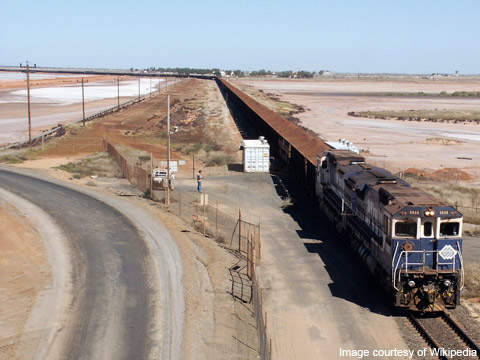 Trains are used to transport iron ore form mines to the Western Australian coast.
The Karara mine is located in Western Australia, approximately 225km east of the Geraldton Port. The mine is one of the few magnetite projects developed in Australia. It forms part of the development of a Mungada haematite project located approximately 15km from the Karara magnetite deposit. The project is jointly owned by Gindalbie Metals and AnSteel, a major Chinese steel and iron ore company.
Economic and technical viability of the mine was established in a bankable feasibility study conducted in September 2007. The final environmental approval by the state was granted in September 2009. Construction at the mine commenced in March 2010.
The project involves haematite mining on a small scale and magnetite mining on a large scale. The project cost, as of October 2012, amounts to A$1bn ($1.03bn). In March 2011, the company approved the start of scoping studies on a new expansion that will increase production from 10Mtpa to 16Mtpa..
Reserves
The Karara mine contains approximately 1.4 billion metric tons of recoverable and over two billion tons of estimated reserves.
Indicated reserves in the magnetite phase of the project total 1,417Mt at 35.5% of Fe, 43.2% SiO2, 1.25% Al2O3, 0.09% P and -0.58% LOI. Inferred reserves total 437Mt at 35.1% of Fe, 43.9% SiO2, 1.44% Al2O3, 0.09% P and -0.71% LOI.
Geology
The Karara mine is hosted within the Yalgoo-Singleton Archaean greenstone belt. The belt is characterised by a huge magnetite banded ironstone formation (BIF) unit that extends over a strike length of more than 3km.
"The Karara mine is located in Western Australia, approximately 225km east of the Geraldton Port."
The western branch of the unit is over 400m wide and more than 350m deep. The eastern limb is comparatively narrower and outcrops as a chain of 100m-wide haematite-enriched hills along an adjacent north-south trending fault.
The BIFs create a series of isolated peaks and ridges in an otherwise plain landscape. Iron is hosted within the Windanning Formation as a sequence of several jasperlitic BIF and grey-white chert units that lay above the Gabanintha Formation. The deposit is up to 150m thick and is substantially dominated by interbedded layers of shales and BIF. Dolerite and kaolinite clays are also found in irregular areas within the deposit.
Production
The mine has an estimated 60-year lifespan at an initial production rate of 8Mtpa. It can expand production in excess of 30Mtpa of iron products for more than 30 years.
Production is being carried out in a phased manner. Phase I will produce 3Mtpa of haematite and 8Mtpa of magnetite concentrate. The entire produce will be purchased by AnSteel for its new 6.5Mtpa Bayuquan steel mill in China.
Mining
Mining is being carried out through conventional open-pit methods including drilling, blasting, loading and haulage. The open-cast pit is nearly 3,400m long, 1,300m wide and 300m deep. The pit will be gradually stripped of topsoil and overburden to get access to the ore. Drilling is being carried out using hydraulic hammer drills. Mixed explosives are supplied directly to the drill holes via purpose-built trucks.
"Mining is being carried out through conventional open-pit methods including drilling, blasting, loading and haulage."
Blasting is being carried out using ammonium nitrate-based explosives. To support a mining rate of nearly 45Mt/y, explosives in the order of 12kt/y are being used. Excavated ore and waste is loaded using hydraulic excavators into rear dump off-highway haul trucks. Loading is carried out on 4m benches. Haul trucks transport the loaded ore along the pit ramp directly to the processing plant.
The first year of mining will largely oversee removal of overburden and mineralised waste rock with minimum ore excavation. Following this, magnetite ore will be excavated simultaneously from different depths within the pit. The pit will be gradually extended northwards. To optimise the development of the pit and ensure that ores of consistent grade are sent to the processing plant, mining will take place at several levels and in assorted ore grades.
The mine will have a 0.38:1 waste to ore stripping ratio. A trial mining project was carried out in December 2010 based on the Karara South and Karara East DSO deposits. The Karara East was bought into production in the same month.
First shipment of hematite from the mine occurred in March 2011. The first commercial shipment of 58t of hematite direct shipping ore occurred in October 2012.
Processing
The ore is processed in an on-site facility. Processing includes crushing, grinding, magnetic separation, reverse flotation and thickening to produce 12Mt/y of magnetite concentrate. Approximately 85% of ore is delivered to the crusher. The remaining 15% is stockpiled in a ROM pad for subsequent crushing.
Around 18Mt of tailings produced from the processing is stored in an on-site dry-stack tailings storage facility. The facility will feature a Mobile Stacking System supplied by FL Smidth. It will capable of handling 18.2Mt of tailings. Waste rock is stored in a waste rock dump adjacent to the pit.
Transport and handling
Processed ore is stockpiled in a storage shed at the mine. A dedicated rail line transports the iron ore from the mine to a dedicated export terminal at the Geraldton Port. The export terminal was inaugurated in September 2012. It includes a storage facility, a dedicated berth, and a 5,000tph ship-loader.
Contractors
"As of March 2011, detailed engineering design of the project site and concentrator was 88% complete."
The project management, procurement and construction management contract has been awarded to WorleyParsons. An A$70m contract for the design, supply and installation of the permanent accommodation camp was given to Doric Group in December 2009. Doric Group has engaged Vekta to assist in the project.
Metso is supplying the project mining equipment under a €3.8m contract. Rail services are provided by QR Freight under a 10-year agreement signed in April 2010. Other contractors involved in the project are Outotec for the design, supply and installation of the flotation circuit together with all the filtration technology.
In January 2012, Bis Industries was awarded a $23m contract to build the tailings management facility for the mine.
Downer EDI was awarded a six year mining contract worth $570m in February 2012. Under the contract, Downer will be responsible for construction of mine infrastructure and provide services such as, drilling, blasting, loading and waste and ore haulage. Downer was also awarded a $665m Electrical & Instrumentation (E&I) contract for the processing facility of the mine.
Finance
In April 2011, the project received a $336m loan from a Chinese banking syndicate led by China Development Bank and Bank of China. The syndicate had earlier provided a $1.2bn loan facility for the project. The project was also awarded A$300m ($311m) in bank guarantees from the China Development Bank.