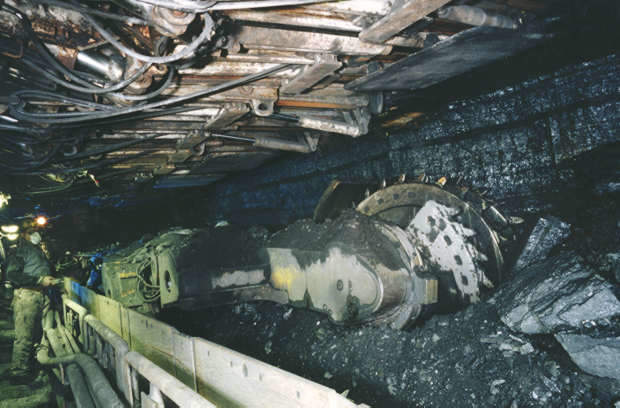 An Eickhoff shearer operating on a DSK longwall.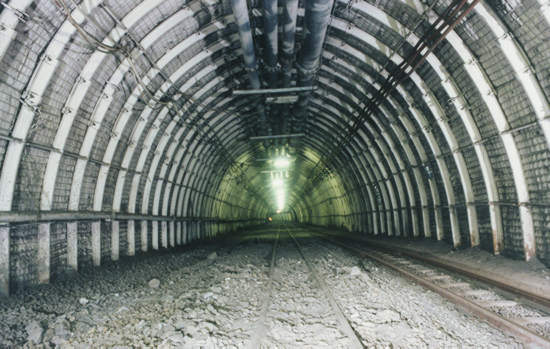 Arched development in an underground haulage.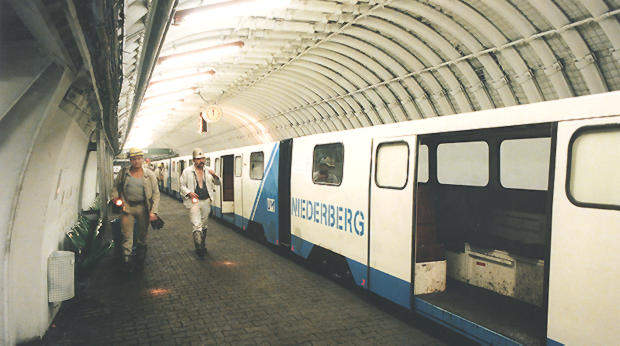 One of the man-rider trains used to transport personnel underground at the Niederberg mine
Hard coal mining in Germany, centred on the Ruhr, Saar and Ibbenbüren coalfields, was amalgamated into Deutsche Steinkohle AG (DSK) at the beginning of 1999. DSK is a wholly owned subsidiary of the RAG group.
RAG group activities are divided into two parts: black RAG, which is related to the German coal mining industry, and white RAG, which deals with chemicals, energy and real estate.
Geology and coal quality
All of Germany's hard coal resources are Carboniferous in age. While the Saar and Ibbenbüren basins represent remnants of larger coalfields, the Ruhr contains massive resources that dip towards the North Sea.
Lying at a depth of around 1,200m in the north of the active coalfield, the strata have been fragmented by major regional folding and faulting. Conditions in the Saar basin are more complex than in the Ruhr.
The high-quality coking, gas and steam coals typically contain 6–9% ash, and less than 1% sulphur, although some seams require extensive washing before sale. The Niederberg mine and the Ibbenbüren deposit contain anthracite.
Industry structure
At the end of 2000, DSK operated 15 deep mines, three in the Saar basin, one at Ibbenbüren and the remainder in the Ruhr region. By the end of 2006, just nine mines were left at work (seven in the Ruhr, and one each in the Saar and at Ibbenbüren), with the German Government having scheduled a further mine for closure in both 2009 and 2010.
The reduction in capacity has been achieved through both closures and amalgamations between neighbouring mines, with a concomitant fall in the industry's workforce from 58,100 in 2000 to 35,400 at the end of 2006.
Mining methods
In the Ruhr coalfield, mine development has taken place northwards with new shafts for ventilation and handling men and materials being sunk progressively further north. The depth of working has also increased with time, giving a current average production depth of 920m.
All of DSK's operations are based around longwall mining, using both shearers and ploughs for production. Most mines operate in several seams, with each unit operating several faces. A total of 43 faces were operated in 1999. An increasing number of longwalls are controlled remotely from surface, high levels of automation allowing saleable output of up to 20,000t/d per face.
Longwall faces of up to 400m are now in service, the longest in the world having been installed at the Freidrich-Heinrich/Rheinland mine in 1997. Seams worked range in thickness from 1.0 to 4.8m, with ploughs being used in the thinner seams and shearers in thicker applications.
Production equipment
The RAG group includes the major underground equipment manufacturer, Deutsche Bergbau Technik (DBT), from which most of the Ruhr coalfield longwall equipment has been obtained. Shearers remain the special preserve of Eickhoff, while SaarTech has developed face support and transport systems suitable for the more difficult mining conditions in the Saar coalfield.
While, in the past, equipment was specified on a face-by-face basis, DSK is now adopting a policy of standardisation of equipment wherever possible.
Coal preparation and handling
DSK operates washing plants at all of its mines, to produce saleable steam and coking coal products. The industry generates some 10–12Mt/y of discard washery waste, some of which is stowed back underground while the remainder is stored in landscaped surface dumps.
DSK transports some 60Mt/y of coal and coke, using its own 450km-long rail system and dedicated river ports, transhipment points and intermediate storage facilities.
Production and costs

Germany's hard coal mines produced 41.3Mt in 1998, 39.2Mt in 1999, 33.3Mt in 2000 and 27.1Mt in 2001. By 2006, their combined output had fallen to 20.7Mt. Production costs are three or four times the world average, Ruhr coal costing an average of around $120/t.
The formation of DSK was largely dependent on an agreement for the continuation of state subsidies until 2005, the annual payment reducing from $4.9bn in 1998 to $2.9bn in 2005. Of the 25.9Mt supplied by DSK to its customers in 2005, 19.5Mt went for thermal electricity generation and 6Mt to the German steel industry for coke production.
The future

In early 2007, the German Government announced that subsidies would be phased out completely by 2018, thereby clearing the way for a stock-market flotation of RAG since it would no longer have the social and economic liabilities generated by the country's hard-coal sector. Due to the extreme tremors in the Saarland, the subsidised coal mining of Saar coalfields will be phased out by 2012.
The announcement called into question DSK's plans, unveiled in 2005, to develop a new underground mine, Donar, to produce 3Mt/y of coking coal. Citing the high world market price for coke as justification for the project, the company intended to use private-sector finance for its development. Located near Hamm, in the eastern Ruhr coalfield, the mine would employ around 2,500 people when and if it comes on stream.