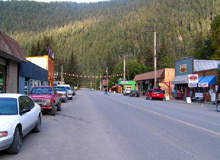 Galore Creek is one of the largest and highest-grade unexplored copper-gold-silver mines located in northwest British Columbia. Situated approximately 70km west of Highway 37 and 150km northeast of Stewart, the mine covers an area of 118,912ha (293,840 acres).
The mine was discovered in 1955 and explored by large mining companies in the 1960s, 1970s and 1990s. In 2003, Nova Gold acquired 50% interest in the mine. It is co-owned by Teck Resources and managed by the Galore Creek Mining Corporation (GCMC).
Galore Creek gold project development
"Teck Resources estimated the capital costs of Galore Creek project to be $5.2bn instead of the previously quoted $2bn."
The Galore Creek mine received environmental clearance in February 2007. In November 2007, development activities at the mine were suspended due to increased capital costs.
Teck Resources estimated the capital costs of Galore Creek project to be $5.2bn instead of the previously quoted $2bn.
The project remained under care and maintenance during 2010. GCMC invested nearly $2.5m during the first quarter of 2011 towards site maintenance. All costs related to the project are funded by Teck Resources.
The decision to construct the project resumed in 2010 when demand for copper and gold bounced back. Optimisation studies conducted in 2008 identified several modified approaches to develop the mine.
Changes to the original design include a 40% increase in the daily throughput to 90,000t, realignment of tunnels and access roads, relocating the tailings facility to construct a conventional tailings dam and relocating the treatment process facilities.
The new approaches ease construction and enable further expansions in future with fewer risks. The revised plans require amendments to the existing permits.
Based on the revised plan, GCMC initiated a pre-feasibility study (PFS) in 2010. The pre-feasibility study was completed in July 2011. A technical report was filed by Nova Gold in September 2011.
Copper-gold-silver reserves at the Canadian mine
Proven and probable reserves at the Galore Creek mine, as of December 2011, stand at 528 million tons (mt) graded at 0.59% Cu, 0.32g/t Au and 6.02g/t Ag.
Measured and indicated resources are estimated at 814.7mt graded at 0.5% Cu, 0.31g/t Au and 5.21g/t Ag. Inferred resources are estimated at 346.6mt graded at 0.42% Cu, 0.24g/t Au and 4.28g/t Ag.
The Galore Creek mine is expected to produce 6.2 billion pounds of copper, 4moz of gold and 65.8moz of silver over an 18-year mine life.
Mine geology
The mine lies within the Stikine Gold Belt, a terrain evolved from the North American craton. The deposit hosts a series of sedimentary rocks belonging to the lower and middle Triassic period, and also contains volcanic rocks from the upper Triassic period.
The rocks overlie calc-alkaline bimodal flows from the Permian, Mississippian and Devonian age that, together with volcaniclastics, interbedded carbonate, small shales and chert, form a volcanic pile at the centre of Galore Creek.
The pile is divided into six huge volcanic units and three adequately stratified sedimentary facies that are folded, sheared, faulted, brecciated and metasomatised towards the syenite complex.
The base unit features plagioclase and hornblende-phyric volcaniclastics and flows. The middle unit is characterised by stratified tuffs, interlayered pyroxene-phyric flows and minor siltstones. Partially sub-aerial and maroon potassium feldspar (apart from pseudoleucite contained flows, tuffs and epiclastics) form part of the upper unit.
Galore Creek mineralisation
Mineralisation in the Galore Creek project contains porphyry copper systems, which are primarily alkaline in nature. Mineralisation is formed with early-stage potassic alteration, with disseminated pyrite being the mineral mostly found.
The main copper minerals include chalcopyrite and bornite found in the ratio 10:1. Garnet-rich areas host sphalerite and galena. Slight amounts of molybdenite, local silver, local gold and tetrahedrite are also found in the deposit.
Magnetite is found within vein-lets. Often cementing breccias, magnetite is hosted with or without chalcopyrite. The secondary mineralisation consists of chalcocite, cuprite, local copper and tenorite.
Bornite and gold of higher grade is found in combination with magnetite and sparse pyrite within the potassic alteration zone. Zones of medium potassic alteration associated with chalcopyrite and pyrite mineralisation are found in the propylitic zone.
Within this zone, replacement lodes of gold, silver and base metals are created in areas that lie outside the potassic zone.
Galore Creek exploration
Exploration at Galore Creek has been carried out since 1955. The exploration techniques used until 2007 included geological mapping, geophysical surveys, reconnaissance sampling, exploration drilling, condemnation drilling, geotechnical drilling, hydrology, petrology and research studies.
In this time, around 248,572m was drilled in 908 exploration diamond holes, 811 of which were at Galore Creek. Geotechnical and monitoring drilling was carried out on an additional 106 holes.
A nine hole, 2,803m diamond drill programme was carried out by GCMC in 2010 to obtain metallurgical and in-fill data in the Central deposit.
Mining, processing and transportation at British Columbia's copper-gold-silver deposit
Galore Creek mine utilises conventional truck and shovel open-pit excavation technique to extract the precious metals.
"Galore Creek is one of the largest and highest-grade unexplored copper-gold-silver mines located in northwest British Columbia."
A 95,000tpd grinding and flotation circuit is being built adjacent to West More Valley (WMV) to produce high graded copper, gold and silver concentrates.
The run of mine ore extracted at the mine will be fed into a single gyratory crusher. The crushed ore will be conveyed to a single coarse ore stockpile area through a 14km tunnel section built between the mine site and WMV.
Stockpiled ore will be grinded in a conventional single line grinding flotation concentrator. The ground ore will be fed to the remote filter plant to produce pure concentrates. High quality concentrates will be transported to the truck loading facility near Highway 37.
Haul trucks will transfer the concentrates at the truck loading facility to a Stewart port facility for exporting to international customers.
At present, access to the mine is by helicopter only. Road construction during 2008 connected sections of an access road to a distance of 40km, enabling additional equipment to leave the site.
Upon completion, the proposed 90km road will improve access to the mine, largely eliminating the need for helicopter transportation.