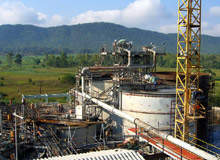 Freda Rebecca gold mine, located 90km northeast of Harare in Zimbabwe, has proven reserves of 2.4 million tons (mt). The mine was closed in March 2007 for a refurbishment programme which increased its production rate.
Phase one of the programme was completed in September 2009. The mine poured its first gold on 13 October 2009, producing 180oz. Phase two was completed by June 2011 and increased production rates to 50,000oz of gold a year by September 2011.
Refurbishment and renovation of the Zimbabwean mine
A phased refurbishment programme was announced in March 2009. Phase one, intended to increase production capacity to 30,000oz of gold a year, was commissioned in mid-August 2009. It included resumption of mining, hot commissioning of the mill and processing plant, plus installation and commissioning of smelting equipment and new switchgear. The phase one production rate of 30,000oz of gold per annum was achieved in March 2011.
The Industrial Development Corporation (IDC) of South Africa granted a $10m loan facility to Mwana Africa in November 2009 for the renovation of the Freda Rebecca mine. Mwana Africa will repay the debt in ten equal instalments over a period of five years.
Approximately $4m was invested in the first phase. Phase two developed the mine further and expanded the mine fleet. It also involved the renovation of the second mill as well as the associated carbon-in-pulp (CIP) and carbon-in-leach (CIL) sections, and increased the capacity of the remaining plant. The investments for phase one and two are estimated at $4m and $6m respectively.
Geology and reserves of the Southern African nation's gold mine
"Phase two was completed by June 2011 and increased production rates to 50,000oz of gold a year by September 2011."
The mine is situated on the Mazowe-Bindura greenstone belt. The belt's surrounding area is characterised by shamvaian sediments, diorite and granodiorite that are traversed by dolerite dykes. Ore bodies are located within two major mineralised envelopes.
The envelopes are characterised by shears. The two shears unite in the southwest and flatten at a height of about 850m before extending into metasediments. They are defined by a number of anastomosing shears that are separated by under-formed rocks.
The mine is next to Phoenix Prince, an open pit 2km southeast of Freda Rebecca. Phoenix Prince is included in the mineral resources of Freda Rebecca and lies on an east-west trending shear zone that dips towards the north at 75°.
The mine contains 2.4mt of proven reserves with an assumed grade of 2.68g/t of Au as of March 2010 estimates. At the surface it has 270,000t of minerals. It has approximately 2.1mt underground. Probable reserves are estimated at 1.7mt graded at 2.5g/t of Au.
Mineralisation at the location of Zimbabwe's Freda Rebecca deposit
The minerals are hosted largely within Prince of Wales diorite and Bindura granodiorite, with limited extensions into the metasediments. At Freda Rebecca two types of mineralisation occur. Old and widespread sulphides that differentiate in intensity and grade are hosted in diorite and granodiorites.
Young and high-grade sulphides, including arsenopyrite, pyrite, pyrrhotite and chalcopyrite are limited to shear zones.
To a large extent the minerals are characterised by uneven micaceous chloritic alteration. It contains slight silification and carbonatisation. The quartz veins carry small amounts of sulphide without gold value. The ore zones are assayed to determine visible payable gold.
Minerals in the Phoenix Prince pit occur within diorite. Pyrite minerals are defined by minor chalcopyrite, while the region's zone is characterised by strong shearing.
Mining and processing at the renovated Freda Rebecca gold mine
The development of the Freda Rebecca gold mine began in the 1980's by Cluff Resources through two open-pits (Freda and Rebecca). Oxides are extracted at Freda and Sulphides at Rebecca sections. The mine poured its first gold in 1988. The licensing rights of the mine were purchased by Zimbabwe-based Ashanti Goldfields in 1996.
"The Industrial Development Corporation (IDC) of South Africa granted a $10m loan facility to Mwana Africa in November 2009 for the renovation of the Freda Rebecca mine."
In 1996, Ashanti Goldfields started to extract the reserves from the Rebecca section through underground operations. The Freda section was exhausted in the same year, allowing the mine to become fully operational underground. Mwana Africa acquired the mine from AngloGold Ashanti in April 2005.
The mine is processed using traditional carbon in leach methods. Ore is excavated and delivered via dump trucks to the plant site. Two jaw crushers are used to crush the ore before it is stored in front of single-stage semi-autogenous grinding mills in two parallel and identical mill circuits. The grinding mills are closed with hydrocyclone.
Part of the cyclone underflow is delivered to Knelson centrifugal gravity concentrators. Before the process of gold recovery begins, gravity concentrates are processed in an inline reactor using cyanidation. Almost 20% of gold is recovered using this process. The cyclone overflow is pumped to a set of de-watering cyclones to augment the percentage solids, a requirement in conventional pre-leach and carbon in-leach type facilities.
Before this lime is added during the process at the mill feed. Calcium cyanide and oxygen are also added in a controlled manner to maintain appropriate levels of lixiviant. To extract the minerals through electro-winning, loaded carbon is separated from the adsorption circuit.
Loaded cathodes are absorbed in hydrochloric acid prior to washing, drying and smelting the ore. Eluted carbon is treated through thermal regeneration before being returned to the adsorption circuit. Adsorption leach residue is delivered to the tailings.