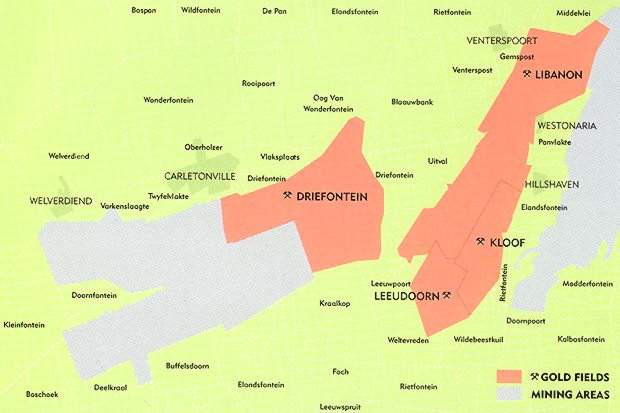 Driefontein lies near the town of Carletonville in South Africa's Far West Rand goldfield.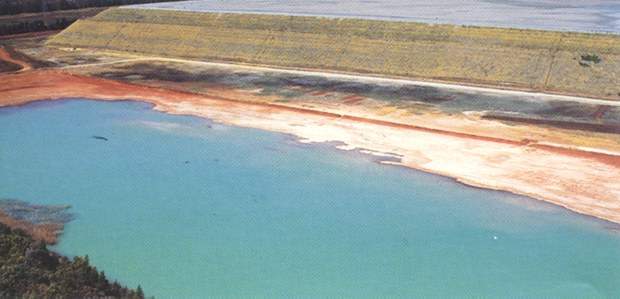 One of the slimes dams, used to retain the tailings from the concentrator.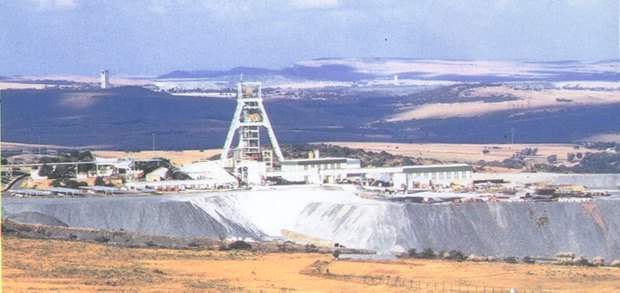 The No.5 shaft at Driefontein with the Leeurdoorn and Kloof No.3 shafts in the background.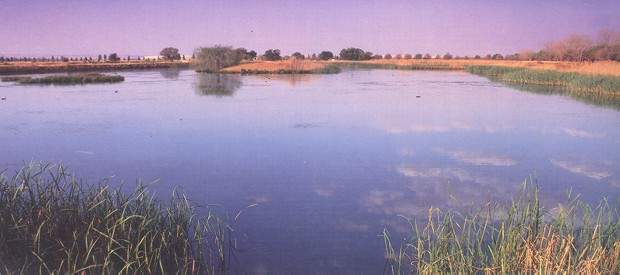 The settling ponds at Driefontein provide a wetland environment in the otherwise dry landscape.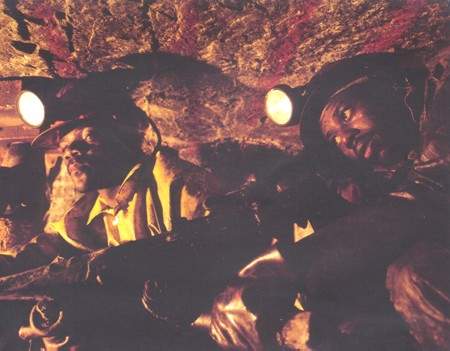 There are limited opportunities for workplace mechanisation at Driefontein.
Driefontein is located in South Africa's West Wits Line goldfield, about 60km south west of Johannesburg. Driefontein Consolidated Ltd (Driefontein) was created in 1981 with the merger of the West Driefontein and East Driefontein mines. In January 1998, Gold Fields Ltd assumed management responsibility for the operation, which became a wholly owned subsidiary in May 1999. The mine, which has milled over 222Mt of ore and recovered over 102.5Moz of gold since 1952, employs 16,600 people. The average yield over the mine's 55-year lifetime has been 14.2g/t.
GEOLOGY AND RESERVES
The goldfield is part of the Witwatersrand Basin. Gold mineralisation occurs at depths between 1,000m and 4,000m below surface and is hosted within two major orebodies; the Carbon Leader Reef (CLR) and the Ventersdorp Contact Reef (VCR). A third body, the Middelvlei Reef (MR), is a minor contributor to the resource base. The CLR comprises various facies from single carbon seam to single and multiple band conglomerates. It is a high-grade reef at the base of the Central Rand Group, and at Driefontein dips at 25°.
As of mid-2006, Driefontein's proven and probable reserves within the exiting mine infrastructure totalled 55.6Mt at a grade of 5.9g/t gold, containing 14.1Moz of gold. A further 31Mt of probable reserves at 8.2g/t lie below the existing infrastructure (deper than 3,420m below surface), containing an additional 8.3Moz of gold. The mine's total proven and probable reserves amount to 94.6Mt grading an average 7.4g/t, and containing 21.6Moz of gold.
MINING
Driefontein is a conventional South African underground mine in which opportunities for increasing workplace mechanisation are limited. It comprises eight operating shaft systems which access the VCR and CLR. Shafts 1, 2, 4 and 5 access the eastern part of the mine while shafts 5, 6 and 7 access the west part. As the west part is depleted, production will be maintained by increased use of 1 and 5 shafts.
At present, production comes from a combination of longwall and scattered mining methods. This will continue on the VCR while extraction of the CLR will be based on dip-pillar mining with backfilling of the mined-out areas to facilitate secondary extraction of some 50% of the remaining pillars. The primary layout consists of 40m wide pillars with 140m spans and, after secondary removal, aims to achieve an 87.5% extraction.
The current operations are classed as being at intermediate to deep environments, and are seismically active.
ORE PROCESSING
Driefontein operates three primary metallurgical plants and a secondary recovery plant. New milling facilities have been installed in both the No.1 and No.2 gold-recovery plants, with a two-year programme having taken place to recover gold that had been locked up in the old equipment.
The East Plant processing route consists of three-stage crushing, rod and pebble milling closed by hydrocyclones, pulp thickening, pre-aeration, air agitated leaching, drum filtration, zinc precipitation and smelting to produce doré. The current operating capacity is 240,000t/month. The company aims to incorporate run-of-mine ore milling and to replace filtration with carbon-in-pulp recovery while increasing its capacity to 300,000t/month.
The West Plant consists of the VCR and CLR crushers combined with a central milling and treatment section that is divided into high-grade and low-grade sections. The process route is similar to that of the East Plant. Waste rock comprises approximately 3% of hauled ore and the average throughput is 170,000t/month.
The West Reclaim Plant mills rock-dump (waste and low-grade) material in a circuit consisting of primary crushing, SAG milling, two-stage cycloning and thickening. The product is leached and treated in a pump-cell plant. Loaded carbon is sent to the Leeudoorn metallurgical plant at Kloof for gold recovery and carbon regeneration. The plant is operating below design capacity at 115,000t/month of feed rock.
PRODUCTION AND COST
In the 2005-06 financial year, Driefontein produced 1,150,000oz of gold from 6.87Mt of ore milled. Of this amount, 3Mt of low-grade ore were sourced from surface material, with 3.87Mt being hoisted. This was marginally lower than the output the previous year, with some higher-grade areas having been affected by increased seismicity, while the overall yield from underground decreased from 8.3g/t to 8.1g/t. The combined yield was 5.2g/t, down from 5.4g/t the year before. As a result, total cash costs rose from US$330/oz in 2004–05 to US$355/oz in 2005–06, with total production costs of US$392/oz.
THE FUTURE
Gold Fields has been carrying out a feasibility study into ways of accessing the 8.8Moz of gold that lie below the mine's existing infrastructure. Involving deepening the existing No.9 sub-vertical shaft, this would extend Driefontein's life by at least 13 years to around 2035. The company has also been evaluating the recovery of high-grade Carbon Leader reef pillars from the No.10 Shaft complex.