The Crinum Mine location, 62km north east of Queensland's regional centre, Emerald.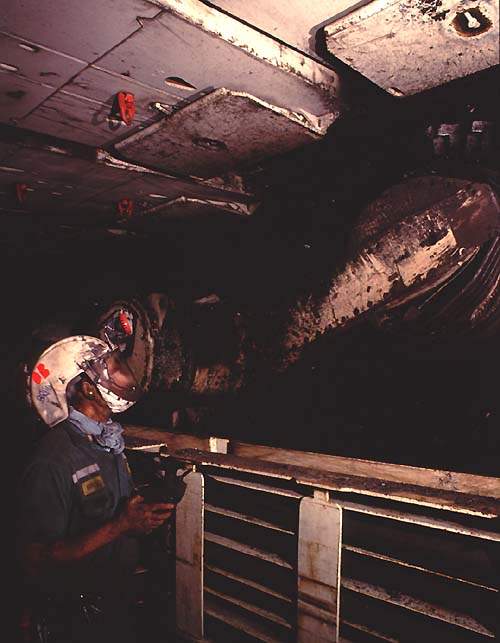 An operator monitors the longwall operation underground at Crinum. Unlike a number of current longwall projects, the mine has elected to use longwall components from a number of different suppliers.
Products are held in a 100,000t-capacity stockpile before being transported 380km by rail to the shiploading terminals at Gladstone.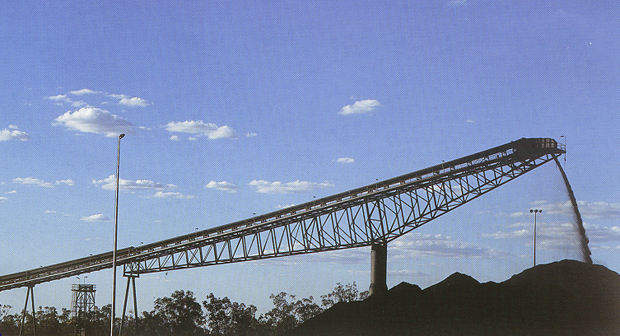 A 10km overland conveyor transports Crinum coal directly from the Crinum stockpile to the Gregory wash plant.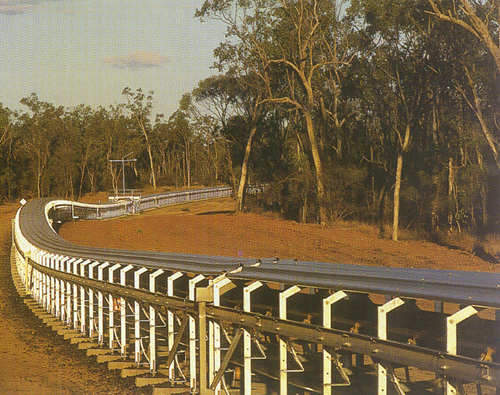 The Crinum overland conveyor incorporates the most up-to-date technology, including a modular lightweight design and concrete steeples.
One of Queensland's new generation of underground mines, Crinum produced its first longwall coal in June 1997. Located 62km north east of the regional centre of Emerald, it was planned as replacement capacity for the Gregory opencast operation. The Gregory open-cut mine, which had a capacity of 1.25Mt/y, was shut down in October 2012 due to its non profitable performance. Crinum's installed capacity is 4.25Mt/y of metallurgical coal.
Crinum is operated by the Gregory Joint Venture. Originally comprising BHP, QCT Resources and Mitsubishi Development, this is now a 50:50 venture between BHP Billiton and Mitsubishi. Capital investment totalled over A$350m, including over A$30m for the longwall. The mine employs around 200 people.
Geology and resources
Crinum lies in the central Bowen Basin, between Rio Tinto's Kestrel and MIM's Oaky Creek mines. The only viable resource in the district, the 3.5m-thick permian lilyvale seam, lies at a depth of 100m to 130m and dips at around 3° to 4°.
Measured, indicated and inferred resources at Crinum/Gregory total 182Mt, of which 27Mt is the current mining reserve. The longwall mine was depleted in 2007. Approximately 40 million tonnes were mined between 1997 and 2007.
Development
Access to the underground workings at Crinum is via twin declines and an 85m-deep, 6m-diameter vertical ventilation shaft. Contracts for the decline and shaft development were awarded to Thiess Contractors.
Development of the main in-seam infrastructure is carried out using three remote-controlled Joy continuous miners in conjunction with crawler-mounted mobile bootends that advance the panel conveyor behind the miner and allow continuous development. The miners are fitted with ARO roof and rib bolters, permitting simultaneous gateroad driveage and support.
The longwall
Production is won from a depth of between 80m and 220m below surface, with Crinum's longwall representing the state-of-the-art in current technology in terms of control of the shearer and face supports.
"With a yield load capacity of 950t, the 156 face supports are the highest capacity yet installed in any Australian mine."
The DBT Electra 1000 shearer has a total of 880kW of installed power, and has full bi-directional cutting capabilities. Both cutting drums are 2.3m in diameter and the machine can cut coal from 2.9m to 3.6m thick. Average output per pass along the face is 1,320t of raw coal.
With a yield load capacity of 950t, the 156 face supports are the highest capacity yet installed in any Australian mine. Support advance is fully automated using a shearer-initiated (SISA) system, with control from a flame-proofed computer located at the gate end. The 1.132m-wide armoured face conveyor has 1,600kW of installed power, and can transport coal along the 270m-long face at 1.55m/s.
Raw coal from the face is crushed at the stage-loader to –200mm, and is transported at a maximum rate of 3,000t/h by belt conveyor to the surface. Conveyor speed is 4.6m/s, and at 1,800kW, the installed power on the decline conveyor is one of the highest in Australia.
Safety aspects of Crinum
A major concern at Crinum is the inflow of water. Water management programmes have proved successful, with five 60l/s submersible pumps and three 80l/s portable units in place. Computer-linked systems are used to monitor excess water inflows.
All underground miners are equipped with oxygen self-rescuers and each operator can be contacted in case of emergency through a receiver connected to the caplamp battery. The mine was awarded the 2009 Queensland Mining Industry Health and Safety Innovations Award for a safety guard that prevents workers from falling onto an exposed longwall coveyor belt. The design of the guard enables blockages beneath coal stockpile feeders to be removed remotely.
---
Related project
---
Alpha Coal Project is a high thermal coal mine located in the Galilee Basin in Queensland, Australia.
---
Surface handling and preparation
Run-of-mine coal from Crinum is moved by a 1,000t/h, 15km-long overland conveyor to the Gregory preparation plant. The entire conveying and coal-handling system, including the underground decline conveyor, was designed by the Brisbane-based consulting engineers, CMPS&F.
The plant uses heavy medium cyclones, spirals and flotation to produce hard coking, soft coking and thermal coal products for the export market. Products are held in a 100,000t-capacity stockpile before being transported 380km by rail to Gladstone.
Coal quality
Typical Gregory Joint Venture coking coal quality parameters are:
Total moisture: 8.0%
Volatile matter: 33.5%
Ash: 6.5%
Sulphur: 0.65%
Crucible swelling number: 9
For thermal coals, typical analyses are:
Total moisture: 8.0%
Volatile matter: 30.5%
Ash: 13.0%
Sulphur: 0.65%
Heating value: 30.1MJ/kg (12,940BTU/lb)