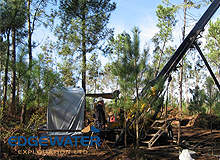 The Corcoesto gold project is located in north-west Spain, about 36km west-south-west of the port city of La Coruña in the Galician Autonomous Community. The project is in the advanced stage of exploration, with a 12,000m drilling program progressing on schedule. Directed at extending the existing resource base, the drilling began in October 2010.
The project is owned by Edgewater Exploration who acquired it in July 2010 from Rio Narcea Gold Mines (RNGM), a wholly-owned subsidiary of Lundin Mining Corporation. On 15 February 2011, the company received a 90 year mining lease from the Galician government authorities. The mine covers three exploitation concessions namely Emilita, Ciudad de Landro, and Ciudad de Masma over an area of 773.6ha.
Reserves
The mine contains 5.6Mt of measured and indicated resources graded at 1.73g/t Au. Inferred resources have been estimated at 16.5Mt graded at 1.66g/t Au.
The resource estimate is based on 42,326.2m of diamond and RC drilling as well as surface trenching and audit sampling data.
"The history of exploration at Corcoesto dates back to the late eighties and nineties."
Geology
The deposit lies within a 2km-wide north-east trending dextral shear zone in the north-west section of the Schistose Domain of Galicia-Tras Os Montes (SDGTM), a highly deformed Hercynian metamorphic unit that has undergone local scale recumbent folding and thrust faulting. The area is characterised by Precambrian to Devonian aged metasediments (phyllites, graywackes, quartzites and cherts), and orthogneisses derived from Hercynian granites and migmatites.
Hercynian metamorphisim has led to the development of several migmatitic rocks in the area. The end members in the area are categorised as metasedimentary rocks, largely biotitic schists. The biotitic schist units contain minor muscovite, scarce quartz and feldspar deformed crystals and host early-phase, strongly-foliated and folded non-mineralised quartz veins. Other rock units found in the area include Paragneiss.
Several lithologies at the deposit trend NE with a 700 dip to the NW and occur as bands parallel to the main shear zone.
Mineralisation
Mineralisation is hosted in east-north-east trending mineralised zones within paragneiss and schist structures. The zones of mineralisation comprise arsenopyrite bearing quartz veins and breccias. Several subparallel veins and veinlets are hosted in an anastomising arrangement within the mineralised zones. Pozo de Ingles, Peton de Lobo, and Cova Crea are the three main vein structures.
Depending upon the type of host rock, the veins are categorised as sheeted, quartz vein or breccias styled. Sheeted veins are found in fine grained leucocratic orthogneiss and include a network of closely spaced disseminated arsenopyrite bearing quartz veins.
Grey to bluish coloured arsenopyrite-bearing quartz veins are hosted parallel to extensional zones in quartz vein-styled mineralisation. This style of mineralisation hosts the higher grade gold mineralisation and is commonly found in coarse-grained leucocratic gneisses, biotitic gneisses, paragneisses and schists. The quartz veins form part of larger silification zones that host disseminated arsenopyrite with sericite and potassic alteration.
In the breccias style of mineralisation, grey to bluish coloured arsenopyrite bearing quartz veins partially replaces and cements the clasts of brecciated host rock to an extent. Biotitic gneiss is the original host rock. This style of mineralisation is rare across the deposit.
Exploration
The history of exploration at Corcoesto dates back to the late eighties and nineties involving several mining companies. To date, drilling has been completed to a total depth of 31,166m including 283 holes. Approximately 19,000m was drilled by RNGM.
"Upper sections of the deposit will be mined using open pit methods."
The 12,000m drilling program initiated by Edgewater is a two phase program focused on high priority targets including strike and dip extensions of open ended gold mineralisation within the Pozo de Ingles, Peton de Lobo and Cova Crea vein structures.
In phase one 6,000m will be drilled. This phase is progressing on schedule and on budget. By end of January 2011, 11 holes extending 4,221.8m were drilled with results for nine holes reported. In November 2011, Edgewater revealed its plans to drill further 1,800m as part of phase one. It also announced its plans to wait for phase two drilling until the outstanding phase one drilling results are quantified and analysed. The second phase also involves 6,000m of drilling.
Mining
Upper sections of the deposit will be mined using open pit methods. Underground methods will be adopted for the lower portions.
Infrastructure
The mine has access to excellent infrastructure. It can be accessed via a network of paved roads. The area is also crossed by a 22kV power-line.