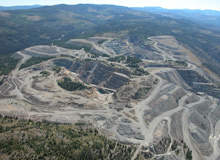 The Copper Mountain project is situated 15km south-west of Princeton, British Columbia, Canada. It covers around 18,000 acres of mining land held under a combination of 135 crown grants, 132 mineral claims, 14 mining licences, eight cell mineral claims and 12 fee simple lots.
The mining property and associated permits are under Similco Mines, a wholly owned subsidiary of Copper Mountain Mining Corporation (CMMC).
Copper Mountain is an open pit porphyry copper mine. It is expected that over 17 years of life the mine will produce 1.47 billion pounds of copper, 452,000oz of gold, and 4.5Moz of silver.
Activities at the project site were funded by company equity contributions and around $28.75m loan was availed through credit from Mitsubishi. By February 2010, the total expenditure on the project reached $285m.
"By February 2010, the total expenditure on the project reached $285m."
Mitsubishi and CMMC signed a Memorandum of Understanding in September 2008, under which Mitsubishi is also developing the project.
Mitsubishi Materials Corporation and CMMC entered into definitive agreements in July 2009. Under the agreements, Mitsubishi acquired a 25% stake in the Copper Mountain project in May 2010. In addition, Mitsubishi provided a $250m loan, and agreed to buy all copper concentrate from the mine.
The Copper Mountain mine was officially inaugurated in August 2011.
Reserves
The proven and probable mineral reserve aggregate 211.1 million tonnes, averaging 0.36% Cu containing 1.7 billion pounds of copper as of mid-2009. The mineral reserve is based on 0.15% Cu cut off. Mineral reserve is part of resource included in open pit plan framed by hatch, and is based on economic cut off grade of 0.15%.
The present resources are estimated at five billion pounds of copper at a 0.15% Cu cut off. Measured and indicated resources total 518.6Mt graded at 0.31% Cu while inferred resources are estimated at 390.7Mt grading at 0.23% Cu.
Geology, exploration and drilling
The deposit at the project site is classified as an alkali porphyry copper deposit with gold admixture. It is part of northerly trending Mesozoic tectonostratigraphic terrane known as Quesnellia. The major rock formation of Quesnellia is late Triassic Nicola group.
The Nicolo group rocks have a stratigraphic thickness of approximately 7.5km and form a 25km-wide band extending from the Canada – US border north to beyond Kamloops lake. The Copper Mountain alkalic porphyry copper gold camp exists in the eastern volcanic belt of the Nicolo Group.
"The Copper Mountain project is situated 15km south-west of Princeton, British Columbia, Canada."
CMMC worked on three-pronged exploration strategies such as initial targets, secondary targets and deep porphyry targets. Initial targets included testing historical resources within the existing pits and the areas between 1, 2 and 3 in the saddle zone area, which were untested.
The second set of targets included Virginia, Mill Zone, Alabama deposit, Oriel deposit, Voigt Zone and in Alabama and Copper Mountain trends.
The deep porphyry targets include Deep Penetration Titan 24 Geophysical survey, which was completed assisting deeper exploration for underground zones of higher grade.
The drilling programme was started in January 2007, focusing on providing additional verification of historical drill data, testing areas between the existing open pits. At the end of 2007, the company also concluded Titan deep 24 penetration geophysical survey on 13km square area over exiting pits.
CMMC completed drill exploration programme in 2007 and 2008 by drilling around 106,000m. The drilling and exploration programme's focus was to determine a new merged pit known as super pit which is more wide, deep and big to access additional mineralisation at depth. In addition, a drill data density for assisting upgrading of classification during resource estimation was also conducted.
< The company identified a potential Super pit and focused on existing pit 1, pit 2 and pit 3. To assess adjoining area and test the mineralisation at depth, a two-phased 10,000m drilling programme began in August 2010. In the first phase, additional drill information is used to obtain a detailed mine design and upgrade the mine optimisation in the Oriole deposit and Pit 2 zone.
The second-phase concentrates on deep drilling of targets below the pits.
Open pit mining
An independent feasibility study in 2008 confirmed the possibility of restarting a past open pit.
During October 2008, the company announced the go ahead of a development of the Copper Mountain project.
The project site has already developed with substantial infrastructure supporting 25,000tpd open pit operation. The project property owns water licences sufficient to support operations ranging between 25,000 and 50,000tpd. A 138kV power line provides service to existing facilities at site. Further, a new milling facility was developed on project property to integrate the operation facilities close to mining areas.
Production
The results of the feasibility study was announced in July 2008. It resulted in a few changes to project's production plan. The changes included more copper production in the initial years and higher mine life.
Gisborne Industrial Construction was chosen as a general contractor to start mill foundation work subjected to government approval on 3 September 2009. The mill was erected by mid 2010 and is undergoing installation of pieces of the exterior cladding. Interior work is proceeding well. Concrete for the concentrate stock and filtrate tanks has been poured and works on the assay lab has also begun.
History
"Exploration begun at Copper Mountain in 1884."
Exploration begun at Copper Mountain in 1884. Granby Consolidated Mining acquired the property in 1923 and developed a milling facility in Allenby adjoining Princeton. Granby extracted 31.5Mt of ore with a grade of 1.08% copper mainly from underground excavations. Currently, these are Pit1 and Pit 3 areas. Granby was acquired by Newmount Corporation in 1972.
In 1988, Cassiar Mining corporation took over Similco Mines Ltd. owner of property. Production continued from Pit1 and 3 until the mine's closure.
The deposit was mined by underground methods during 1923 to 1957. Open pit mining begun in 1968 and mine was closed in 1996 due to lack of low strip ratio reserves, increasing production costs and necessary capital expenditures.
Future development
The company plans to utilise the existing infrastructure to the maximum. The new mill facility is relocated near to Super Pit and uphill from existing tailing management facility. Power is supplied through power extension from existing 138kV power line to new mill facility, pit shovels and drills.
About 13 haul trucks with a rated capacity of 240t each are being used for trucking ore. The mining area totals 6,700ha, out of which around 875ha (13%) was developed earlier.
Furthermore, 225ha is embarked for the development of expanded facilities. The completion of the feasibility study indicates the economic feasibility of restarting production from a conventional open pit mine with a 35,000tpd mill.
The reopening of mine will produce around 1055Mlb of copper a year in a copper concentrate with gold and silver credits for the first 12 years.
Transport and handling
The first shipment of 11,200t containing 5.6Mlb of copper, 40,600oz of Ag and 2,470oz of Au was shipped to Japan smelters in September 2011.