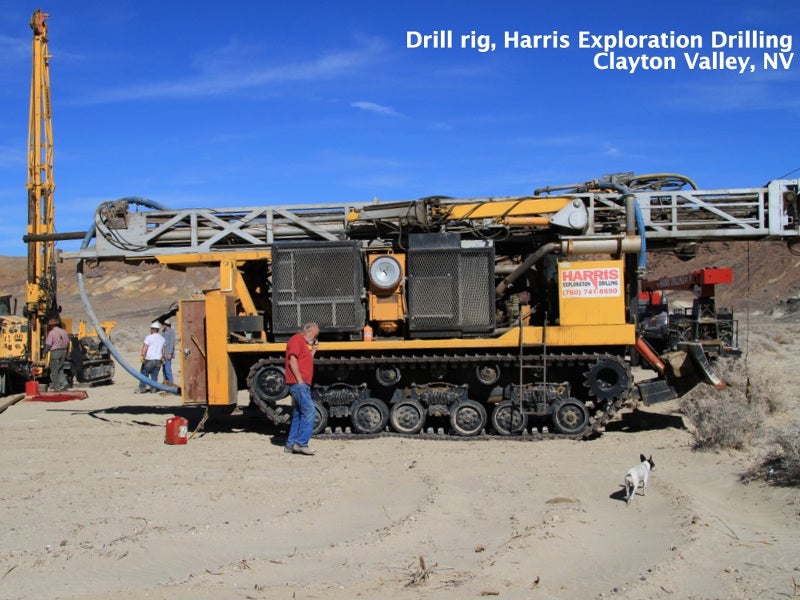 The Clayton Valley lithium project is a high-grade lithium brine aquifer in Esmeralda County of Nevada, US. Pure Energy Minerals (PEM) is developing the project and holds the mineral licenses through its indirectly owned subsidiary Esmeralda Minerals.
The project is expected to produce 10,000 tonnes (t) of lithium carbonate-equivalent (LCE) a year, which is equivalent to approximately 11,500t of lithium hydroxide monohydrate (LiOH∙H2O).
PEM is currently developing a pilot plant for the lithium project and secured water rights from the Nevada Division of Water Resources to extract the lithium-bearing brine in January 2019.
Clayton Valley lithium project location, geology, and mineralisation
The lithium project is located in southern Nevada's Basin and Range Province of Nevada and is made up of 1,085 placer claims spread over 106km² (10,600ha or 26,300 acres).
PEM acquired the Clayton NE claim blocks located in Esmeralda County from Advantage Lithium and Nevada Sunrise Gold under an asset purchase agreement made in November 2017.
The property is classified as an internally drained, fault-bounded, and closed basin. It comprises lacustrine deposits, salt beds, and lithium-rich brines, which are believed to have formed due to multiple wetting and drying activities during the Pleistocene era.
The primary aquifer system is located within the Clayton Valley basin and made up of basin-filling strata, which hold the lithium-rich brine. It is composed of layered sequences of unconsolidated to semi-consolidated Quaternary playa (ephemeral lake) sediments and volcanic ash units.
Clayton Valley lithium project reserves
The Clayton Valley lithium project is estimated to contain 40,900t of elemental lithium, at an average lithium concentration of 123mg/l. The contained lithium is equivalent to 247,300t of LiOH∙H2O and 217,700t of LCE.
Mining and processing of ore at Clayton Valley lithium project
PEM proposes to construct an extraction well field to extract brine from the aquifers at Clayton Valley and pump back the brine to surface for separating lithium. The majority of the pumped brine will be infiltrated back into the basin.
Ore processing will be performed using a unique recovery method called the LiSX process developed by Tenova Advanced Technologies to recover lithium and produce LiOH∙H2O. The process will eliminate the need for conventional evaporation ponds, while consuming much less water.
"The lithium project is located in southern Nevada's Basin and Range Province of Nevada."
The basin brines will be pumped to the brine reception area, wherein they will be pre-treated to isolate the alkaline earth metal ions in a concentrate stream. The resulting product will undergo pH elevation and be forwarded to the lithium extraction stage.
The extraction will be conducted through LiSX, which uses solvent extraction for the production and purification of lithium salts. The resultant lithium sulphate solution will be subject to electrolysis process, known as LiEL, to produce a purified lithium hydroxide solution.
The lithium hydroxide solution will then undergo crystallisation and drying process to produce dry lithium hydroxide monohydrate. The final product will be bagged and shipped to customers.
In October 2007, PEM entered a memorandum of understanding (MOU) with Tenova Advanced Technologies, TAKRAF USA, and their technology partners for constructing a pilot processing plant for the Clayton Valley project.
Infrastructure facilities at Clayton Valley lithium project
Access to the Clayton Valley lithium project is from the town of Silver Peak through a series of gravel/dirt roads.
Power supply for the project is proposed to be sourced from the substation in Silver Peak, which is connected to the main electric grid in Nevada.
Potable water required will be collected from the town of Silver Peak through a pipeline. High-quality water for LiSX will be either sourced from the brine or the potable water supply.
Contractors involved
PEM prepared the preliminary economic assessment (PEA) of the Clayton Valley lithium project with support from Montgomery & Associates and Geochemical Applications International (GAII).
Other parties involved in the PEA preparation were MetNetH2O, Andeburg Consulting Services, SRK, and Ray Spanjers, an independent consulting geologist.