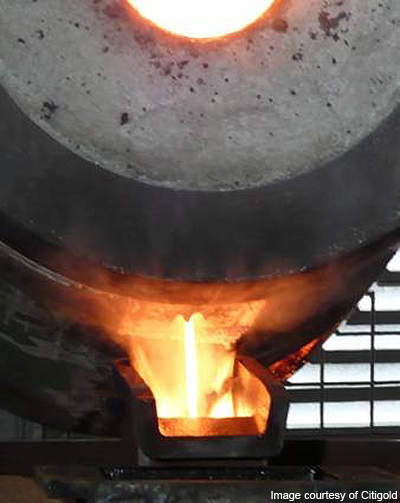 Gold bars being poured.
High grade rich gold reef underground.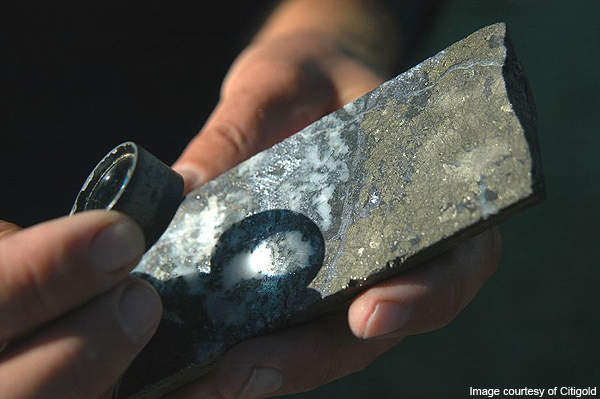 High grade rich gold drill core sample.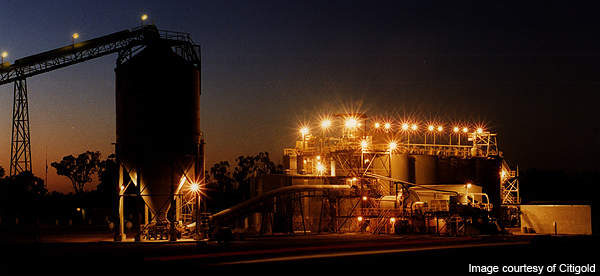 The gold ore process plant.
The Charters Towers gold mine is located near the City of Charters Towers in north eastern Queensland, Australia. Operations at the property began in 1871. Citgold became the operator in late 2006 and has since then invested A$110m towards the mine's development.
The mine covers 100km² of mineral tenements containing five major east-west reef structures. It is the largest high grade gold deposit in Australia and has produced 6.6Moz (205t) of gold over a period of 46 years with an average ore grade of 38g/t. Commercial production began on Reef structure 5 known as Warrior mine.
In collaboration with Anhui Geology and Mining Investment in China, Citigold will further explore and develop the area around the Charters Towers mining operation. The agreement was signed on 18 November 2010. The exploration program will begin in 2011. Over the next five years, Anhui will expend $30m towards the exploration for a 50% stake in Citigold's tenements extending 1,200km².
Reserves
The mine contains 800,000t of probable ore reserves at 13g/t Au containing 330,000oz at a 7g/t Au cut-off. Indicated resources are estimated at 740,000t at 15g/t Au containing 370,000oz at a cut-off of 7g/t Au.
"Citigold will further explore and develop the area around the Charters Towers mining operation."
Geology and mineralisation
The property has geologically remained the same for the past 1m years as no significant deformation occurred after gold mineralisation. The deposit contains five major goldfields within very strong granodiorite rocks of the Ravenswood batholith. The vertical continuity of the host structure extends to at least 1.3km.
The gold-bearing system is largely intact as the Ravenswood batholith is exposed only at the roof zone.
The rocks host gold-bearing quartz veins found at the edges of gravity lows that coincide with complex igneous structures or unique intrusions. The veins are between 1m to 4m in width, up to 5km in length and dip 1,200m down with virtually no cross-faults or folding. They are typical of granitic rather than subvolcanic hosts and occur within continuous straight faultlines. Gold distribution within the veins is uneven.
All the reef structures vary in width from a few cm to 2m. The Warrior mine trends sub-parallel to the ore bodies on Reef structure 1 including Brilliant and Day Dawn mines. Although the deposits are associated with igneous rocks in time and space, there have been no significant causative intrusion and fault movements after the deposit was formed. Mineralised rock fractures at Charters Towers are more than 5km in length.
Mining and processing
Mining at the deposit is by underground methods including drilling and blasting. Two declines provide access to the deposit. The ore bodies are accessed in multiple areas and interconnected where required. As of January 2011, mining has occurred until a depth of 700m.
"Citigold is planning to add a larger automated gravity gold circuit to collect high grade gold."
The operation has gradually moved to mechanised mining techniques. Long-hole open stoping is carried out on 10m to 15m spaced haulage sub-levels.
Drilling is undertaken at the bottom level using Atlas Copco 1257 Simba rig, following which a narrow slot is cut upwards to extract the ore with minimal unplanned dilution.
Mined ore is brought to surface via 40t capacity trucks and taken through a 12km approved city public heavy haulage road to the gold extraction plant.
The gold extraction plant is a typical Carbon in Leach (CIL) plant. It operates at an annual processing capacity of 340,000t. A gravity gold recovery circuit is also available to recover coarse gold particles and allows the CIL plant to process high grade ore.
Future developments
Citigold is planning to add a larger automated gravity gold circuit to collect high grade gold.
As part of the mining process in future, the ore will be pre-concentrated underground to increase plant feed-grade to 20g/t. It will also result in 250,000oz of yearly production with the existing, milling and leaching circuit.
The produced gold dore bars comprise 60% gold and 30% silver. The bars are sent to a gold bullion refiner for final refining.