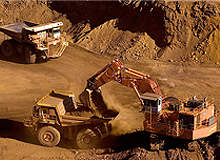 Channar iron ore mine is situated 17km south-east of Paraburdoo mine in the province of Pilbara, a region in Western Australia. It is 60% owned by Rio Tinto Iron Ore and 40% by Chinese mining company Sinosteel. Rio Tinto Iron Ore operates the mine.
The joint venture agreement between Rio Tinto and Sinosteel was signed in November 1987, with strong support from Australian and Chinese governments. The companies aim to produce 200 million tons (mt) from the Channar mine during its lifetime. First ore was produced from the mine in January 1990. Full design capacity of ten million tons per annum (mtpa) was accomplished in 1998.
In December 2010, Rio Tinto and Sinosteel unveiled plans to extend their joint venture on the Channar iron ore mine for five more years (2012 – 2017) to raise production by a further 50mtpa.
Rio Tinto Iron Ore aims to increase its operations in the Pilbara region from the current 220mtpa to 283mtpa by 2013.
Production rates at the Channar iron ore mine
Production at the Channar iron ore mine in 2011 stood at 11mt. Rio Tinto expects to produce the 200 millionth ton from the mine in 2012, assuming that the current production rate will continue at 10mtpa.
Geology, reserves and mineralisation of the jointly owned iron ore deposit
"The joint venture between Rio Tinto and Sinosteel was signed in 1987, with strong support from the Australian and Chinese."
The Channar mine is situated in the Hamersley Group which comprises Archaean and Proterozoic age rock formations. The Hamersley Range contains 80% of the iron ore reserves identified to date in Australia. The minerals were organised after a volcanic eruption that led to the formation of basalt rocks in the region. Sedimentary rocks such as sandstones were also formed in the area during the Hamersley basin's formation.
Proven and probable reserves at the mine as of December 2011 stand at 53mt graded at 63% Fe. Measured, indicated and inferred resources are estimated at 37mt at an average grade of 61.7% Fe.
The mineralisation occurs in a steeply dipping banded iron formation (BIF), which comprises high graded magnetite and haematite, as well as low graded carbonates, silicates, phosphorous and chert contaminants. The BIF was contorted due to geological processes and eroded by weathering.
Open-pit mining method used at the Western Australian mine
The Channar mine is an open-pit operation involving a conventional truck and shovel method. The iron ore deposits are extracted through drilling, exploring, blasting, loading and hauling.
Drilling is carried out by Reedrill SKS-12, Reedrill SKS-15, Reedrill QXR-920 and MT4400 Terex Unit drill rigs. Ammonium Nitrate or Fuel Oil (ANFO) explosives were placed in the drill holes and blasted to create a decent size pit necessary for digging.
Ore processing, transportation and handling at Rio Tinto Iron Ore's Channar
Stockpiled ore is processed at Channar and Paraburdoo mines before being loaded on to rail for export. It is transferred to the processing plant by haul trucks ranging from 190t to 240t capacity.
"Rio Tinto Iron Ore aims to increase its operations in the Pilbara region from the current 220mtpa to 283mtpa by 2013."
The processing plant has a primary crusher, screening plant and gravity separation system. Two stages of crushing are carried out at the plant.
The crushed ore is transferred to the Paraburdoo central plant by conveyor belt for additional processing. The Paraburdoo plant cuts the ore into small pieces to produce non-agglomerated iron ore products, including high graded haematite and magnetite of 31.5mm lump and 6.3mm fines size. Haematite is produced as an end-product with the segregation of magnetite by using gravity separation system. The final product is stockpiled and blended for export to customers.
Lump and sinter fines produced at the Channar mine are transported to Dampier and Cape Lambert ports, through the Hamersley & Robe River heavy haul railway to load onto ships for export.
A ship-loading facility was built at the Dampier Port for exporting pure iron to steel makers in Eastern Asia and Europe.