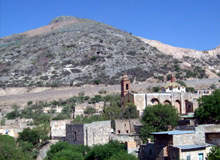 The Cerro San Pedro mine is a gold-silver producing mine located in Cerro San Pedro, 20km northeast of the city of San Luis Potosí in the state of Cerro San Pedro, Mexico. The mine is owned by New Gold and the first gold was poured in May 2007.
Cerro San Pedro has been mined since the mid-1600s and produced 2.5 million ounces of gold and 40 million ounces of silver until the 1940s. During the 1990s and the 2000s, Cerro San Pedro was operated by several mining companies before Metallica Resources and Peak Gold merged to form New Gold in June 2008.
New Gold now owns 100% of the mine and operates it through its wholly owned Mexican subsidiary Minera San Xavier.
Operations were suspended in December 2009 after a court order prohibited the use of explosives at the mine site and resumed on 17 March 2010 following the federal court ruling that lifted the restrictions imposed by the previous court order.
New Gold expects to produce between 80,000 and 100,000 ounces of gold and 2.25 million ounces of silver each year during the mine's life span of nine years. Production for 2010 was targeted at between 95,000 and 105,000oz of gold and 1.4 million and 1.6 million ounces of silver at an investment of $390 to $410 per ounce.
Cerro San Pedro reserves
"New Gold owns the Cerro San Pedro mine."
Cerro San Pedro holds an estimated 71.7 million tons of mineral reserves graded at 0.55g per ton of gold and 22.3 grammes per ton of silver. Proven and Probable reserves are approximately 1.4 million ounces of gold and 52 million ounces of silver as of 2009.
Measured and indicated resources total 1.4 million ounces gold oxide and 0.9 million ounces of gold sulphide as well as 51.5 million ounces silver oxide and 26.3 million ounces of silver sulphide.
Geology and mineralisation
The Cerro San Pedro mine lies along the western boundary of the Sierra Madre Oriental fold belt within a sequence of Cretaceous limestones. The sequence is cut across by an early tertiary diorite porphyry that hosts gold and silver-bearing ores, which are being mined. The neighbouring limestones within the deposit are also mineralised by the porphyry.
The porphyry's gold and silver-bearing oxide mineralisation lies over a larger zone of gold, silver, zinc and lead sulphide-hosted mineralisation.
Mining and processing
The Cerro San Pedro mine is being operated as an open-cast mine using conventional open-pit mining methods.
Ore is extracted in a 1.07:1 waste-to-ore ratio. Extracted run-of-mine ore is treated through heap leaching and recovered using the Merrill-Crowe process that produces the gold and silver dore.
"Ore is extracted in a 1.07:1 waste-to-ore ratio."
The ore is stockpiled on a lined heap leach pad installed on site.
A pregnant solution prepared by percolating a solution through the ore leaching gold and sliver is pumped to the Merrill-Crowe gold and silver recovery circuit. The circuit melts the pure gold and sliver into dore bars.
Cerro San Pedro production
In 2009, the mine produced 95,500oz of gold, an increase of 12.9% over 2008. Silver production reached 1.5 million ounces in 2009, an increase of 36.3% compared with 1.1 million ounces in 2008.
Exploration
New Gold commissioned the Cerro San Pedro Sulfide exploration project in July 2008. The project aims to investigate the potential of gold and silver mineralisation hosted in the area extending between the gold-silver oxide pit currently being mined at a depth of 500m.
"New Gold commissioned the Cerro San Pedro Sulfide exploration project in July 2008."
By the end of 2009, the Cerro San Pedro sulphide zone was drilled to an extent of 18,000m. Results confirmed the presence of additional high grade sulphide manto-type mineralisation.
The underlying target zone is expected to extend the mineral resources at Cerro San Pedro. The zone has been historically underground mined and has produced an estimated 235,000oz of gold, 20 million ounces of silver, 405 million pounds of zinc, 224 million pounds of lead and 93 million pounds of copper from approximately 2.2 million tons of sulphide manto-type mineralisation.
The mineralisation is graded at 3.3 grammes per ton of gold, 282 silver, 8.3% zinc, 4.6% lead and 1.9% copper.