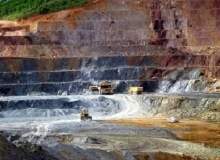 Cerro De Maimon Copper and Gold Mine is located 70km northwest of Santo Domingo in the Monseñor Nouel Province in the Dominican Republic. The mine is 100% owned and operated by Australian company Perilya.
It was initially owned by Falconbridge Dominicana and was later acquired by the GlobeStar Mining Corporation (GMC) in April 2002. Perilya acquired GMC in January 2011.
Pincock Allen and Holt (PAH) was contracted in August 2003 to conduct feasibility study for the mine. The environmental licence was sanctioned in June 2004. Construction of the mine began in December 2006 and was completed in October 2008.
Feasibility studies to develop an underground mine and commission a separate zinc circuit are scheduled for completion in 2012.
Reserves of copper and gold
Proven and probable reserves at the Cerro De Maimon mine's sulphide ore stand at 5.3 million tons (mt) graded at 2.2% Cu, 0.85g/t Au and 27.6g/t Ag. The mine's oxide ore contains 901,000t of proven and probable reserves graded at 1.58g/t Au and 26.9g/t Ag.
Measured and indicated resources (sulphide and oxide ore) of the mine stand at 10.19mt graded at 1.44% Cu, 0.8g/t Au, 23.8g/t Ag and 0.99% Zn. The inferred resources are estimated at 379,000t graded at 0.82% Cu, 0.7g/t Au, 21.1g/t Ag and 0.87% Zn.
Geology of the Monseñor Nouel Province
"Cerro De Maimon Copper and Gold Mine is located northwest of Santo Domingo, Monseñor Nouel Province, Dominican Republic."
The Cerro De Maimon is the largest volcanic massive sulphide deposit in the Maimon Formation which trends 70km along northwest to southeast of Dominican Republic.
The Maimon Formation contains metavolcanic and metasedimentary rocks including mafic, intermediate and felsic volcanic rocks belonging to the early Cretaceous age.
The deposits at the mine comprise massive to semi-massive copper-gold-zinc sulphide zone, overlaid by gold-silver oxidised gossan cap. They are 200m wide, 1000m long and 40m thick near surface.
The average thickness of the deposit is 12m. The massive sulphide zone is formed due to the venting and precipitation of the hydrothermal fluids on the seafloor, in the Caribbean volcanic island arc.
The oxidised gossan cap is formed due to the weathering of massive sulphide zone.
Mineralisation and production at Cerro De Maimon
Mineralisation at the massive sulphide zone occurs in the schists of pyrite, chalcopyrite, sphalerite, bornite, tennantite, tetrahedrite and galena.
The oxidised gossan cap contains goethite bearing gold and silver precipitates along with quartz, sericite, chlorite, minor calcite, barite, chalcocite and covellite.
Production at the Cerro De Maimon mine began in 2008. The mine produced 20.168 million pounds of Cu, 15,900oz of Au and 652,200oz of Ag in 2010. It is expected to produce 229 million pounds of Cu, 130,000oz of Au and 4.1moz of Ag between 2008 and 2017.
Open-pit mining and processing of ore at the Cerro De Maimon copper and gold mine
The deposits are mined using conventional open-pit excavation methods including drilling, exploring, blasting, loading and hauling. Hydraulic excavators, articulated and rigid body trucks are used to carry out mining operations.
"It was initially owned by Falconbridge Dominicana and was later acquired by the GlobeStar Mining Corporation (GMC) in April 2002."
The ore extracted is transferred to the appropriate sulphide or oxide ore stockpiles for processing.
Lyntek Engineers and Constructors was contracted in October 2004 to design and build two separate processing plants for treating sulphide and oxide ores. Both plants share the same crushing and conveying system.
The sulphide ore is passed through a 1,300 tons per day (tpd) flotation circuit and subsequently to a re-cleaner flotation column. The ore is grounded to 150 microns in the primary ball mill, which transfer the ground ore to secondary regrind mill for further grounding to 35 microns.
The ground ore is thickened and filtered in the flotation column to decrease the final moisture of the concentrate. It is finally transported to smelters.
The run of mine ore extracted from the gossan zone is ground in a ball mill circuit. The ground ore is conveyed to a conventional 700tpd cyanide mill to undergo cyanide leaching in a counter current decantation (CCD) circuit.
A gravity separation circuit receives the solution from CCD circuit and removes coarse grains and sulphides. The filtered solution is transferred to the Merrill-Crowe zinc precipitation circuit which recovers gold and silver dore bars for export.
Transportation and handling
The copper, gold and silver concentrates are loaded into haul trucks and transferred to the port of Rio Haina situated on the southern coast of the Dominican Republic for exportation to international customers.